Nagoya is now home to a new Studio Ghibli attraction Ghibli Park – and, buying tickets to it is hard! It sells out fast – but, there is a way to get guaranteed entry tickets. And we're about to tell you what it is.
Disclosure: Some of the links in this post are affiliate links which mean I earn a small commission if you use them to book. This does not cost you any extra. Japlanease is a member of the Amazon Associates program.
What is Ghibli Park?
It's described as a Studio Ghibli theme park, but, forget the idea of the NoFace coaster or Totoro Teacups, there are no rides, instead, the idea is that you're immersed in Ghibli's world – so, it's more like you're wandering around in the films with the characters than you whooping and hollering on rides.
There are three areas currently open in the park, but, and it's a big but, right now international travelers are only allowed in one area – The Grand Warehouse.
And, you can only enter at a set time, and international sessions are at 12 or 2pm – although once you're in you can stay until it closes.
This is essential to know before you book and even this secret trick won't get you around that restriction.
Why this is the case, I don't know. But the park have said they want to control crowds so that everyone can feel immersed in the experience, so it might be part of that. Whatever it is, it's essential that you realise this is the case so you're not disappointed when some areas of the park are off limits.
How Do You Normally Buy Tickets to Ghibli Park?
The most common way to buy Ghibli Park tickets is to try and get the tickets via the official website.
The tickets go on sale on the 10th of the month, three months before the date you want to visit – at 2pm Japanese time.
So, tickets for entries in August went on sale on May 10th at 2pm
Tickets for entries in September will go on sale on June 10th at 2pm
And so on.
It's a case of first come, first served on this and so you need to be on your computer and ready at the time they go on sale to give yourself the best chance of access.
If you can do it this way, it's the cheapest option, as you only need to pay for access to the Grand Warehouse – which is currently 2000 yen, and then get yourself to Nagoya which you can easily do as a day trip from Tokyo, or as part of an itinerary going south with the Japan Rail Pass.
However, as we said, the park often sells out, sometimes within minutes, and so, we were super interested to discover that there's another way to get tickets – one that guarantees you access if you can book it. And here's what it is…
The Alternative Option…
Book a Ghibli Park accommodation package
Some of the hotels in Nagoya are now offering packages where you book a room package which includes travel from Tokyo and guaranteed Ghibli admission tickets for the date of your trip.
Now, again, I have to mention that these are still only for the Grand Warehouse right now. Even these packages don't allow international travelers access to the whole park.
Packages Available
As I write this there are two packages on offer.
Hotel Keihan – 2 day/1 night package via Klook. Includes the bullet train
This package includes a round trip bullet train ticket between Tokyo, or Kanazawa, and Nagoya and one nights accommodation at the 4-star Hotel Keihan in Nagoya city.
And it includes one entry ticket per person for the Ghibli Park Grand Warehouse. This is for one visit on the first day of your two days – entry is between 11-12 and you must be there on time.
The rooms on offer can sleep up to three people, but, because the package includes the train ticket and Ghibli Ticket as well, you do pay per person, not per room.
It costs from AU$385 per head for an adult, AU$280 for a child (exact prices will vary by date and how many people are traveling). Prices will vary in your country, but I see the Australian prices so I'm just going to quote those.
That might sound expensive, but, remember, this includes your bullet train ticket – and a return to Nagoya from Tokyo costs 21,000 yen which is around AU$233 (US$156 or £125) per person – plus the hotel, which normally costs around 9000 yen a night for a single room (AU$100 US$67, £54, US$67 or 18,000 for a triple (AU$200, US$124, £108), and your Ghibli ticket.
So, it's actually only about AU$50 more than booking everything yourself (and as you'll see below – that's not possible!)
The hotel is about an hour away from Ghibli Park – and transport to and from the park is NOT included. It's only about 700 yen each way though.
See more about the package or book it here.
Vessel Hotel Campana Nagoya – 2 day/1 night package via Viator including bullet train
The Vessel Hotel Campana Nagoya package is offered via Viator.
Like the Klook package this is a 2-day, one night package which includes a return bullet train trip from Tokyo, a one-day ticket to Ghibli Park Grand Warehouse (access between 11-12 on one day of your tour – check your confirmation for which day exactly as the website contradicts itself) – and, a night's accommodation at the 3-star Vessel Hotel Campana Nagoya.
It says it's available for parties of up to four – although, watch out as when you try and book it, you'll discover that means two adults (or children 12 and older), one child aged 6-11 and one infant, not two adults and two older kids.
The hotel is located in Nagoya city, a bit closer to the main station than the Keihan. It also has a public 'onsen' which might be nice to relax in after your day at the park.
Like Hotel Keihan, it takes about an hour to get to Ghibli Park from the hotel, and again, your transport to and from the park is not included as part of your package.
It's a little more expensive than the Klook package, but prices vary depending on how many people are traveling, so check the exact prices for your date.
See more about the package or book it here.
Important Notes
Both packages are on request, so, wait for the official confirmation before you get too excited and tell everyone that you're going!!!
Also, make sure you read all the details on the package before and after booking, as timings are very precise so double check exactly what time your trains are and what time and day your Ghibli Park admission is as it might change from the above. And make sure this all fits you itinerary first.
What if You Don't Want the Bullet Train Too?
If you're planning on booking a Japan Rail Pass, or adding your visit to Ghibli Park to an itinerary traveling to or from Kyoto/Osaka, then you might not want the return ticket to Nagoya, so, can you buy a package without it.
Hmmm, that's complicated!
The Viator package is supposed to be available as just an accommodation and train option, but, there was no availability for this on any day that I checked – so, whether it's something that sells out really fast, or, they don't quite offer it, but hope to, I'm not sure.
Another site that says they offer just accommodation and ticket packages is JTB USA but because it's on request, I can't check the exact details myself without making a booking!
If you want to try it for your dates though, it could be worth requesting it. JTB run the Viator packages and offer a lot of Japanese packages to Ghibli Park so, they are legitimate.
See more and find the booking form here
Can I Book with the Hotels Directly?
It doesn't seem to be possible – neither of the hotels above list a Ghibli Package for sale on their website.
The Vessel Hotel does talk about it, but, it will only send you to the Japanese version of JTB which, as international travelers, you technically can't book from.
What Else is There to Do in Nagoya?
After all, this is a two day trip, with just half a day at the Ghibli Park – well, the answer is there's heaps to do in Nagoya.
We're booked there for two nights on our next trip and we do NOT have enough time – it was a last minute addition but had I researched things first, I'd have stayed there for three or four nights.
There's a lot of museums in Nagoya, any geeks will have a blast as they have an amazing science museum, a heap of car museums, a bullet train museum and much more.
There's a Legoland for little kids.
There are some fascinating shrines – super quirky ones which is where I'll be spending my time but also the Asuta Shrine which is one of the most important shrines to the Shinto religion in Japan.
And, as a special reward for reading this far, I'm going to tell you about one hidden Ghibli sight to check out.
Located in the Osu shopping district is a Ghibli-themed cafe, and it's so cute that even the Ghibli executives who turned up one day urged people to visit as they thought it was so special.
It's called Kodama and the address is 4-2-47 Nagoya – or, an easier marker, it's on the corner of Matsumoto Dori and Otsu Dori Street and located on the 4th floor. You'll also find it listed on google maps.
And that's only a selection of things to do as this is not a post on Nagoya – that will be coming when I get back from my own trip.
So, there you have it. The guaranteed way to get tickets to Ghibli Park. I appreciate it might not work for everyone, but, if you're a diehard Ghibli fan and super upset that you missed on via the official website, then you do have an option that will likely work.
If you have any more questions about this post or, anything else to do with your Japan trip, then please, join our Facebook group and I'll do my best to answer them
---
---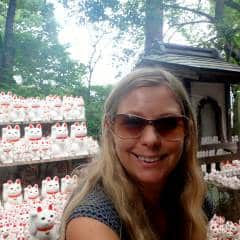 Who Writes This Blog?
My name is Helen Foster and I'm a journalist and author. My travel articles have appeared in publications including The Australian, RAC Horizons, Jetstar Magazine, Sainsbury's Magazine and more.
I've travelled to Japan seven times before, both solo and with my partner – and am just planning trip number eight