Planning a trip to Tokyo can take a little more forward planning than your normal itinerary. Not only do you have to consider how to get there, where to stay, and what to do once you arrive, but there are also some cafes, museums, and other attractions, that, unless you book in advance, you're unlikely to get into. You don't have to visit these to have a great trip in Tokyo, but, if you do want to visit them, you need to know where, when, and how to buy tickets so you don't miss out.
So, here's our list of what to book in advance in Tokyo – and when you need to be online and ready to do it … plus, we give a few tips on snagging the trickier reservations, and what to do if you miss out.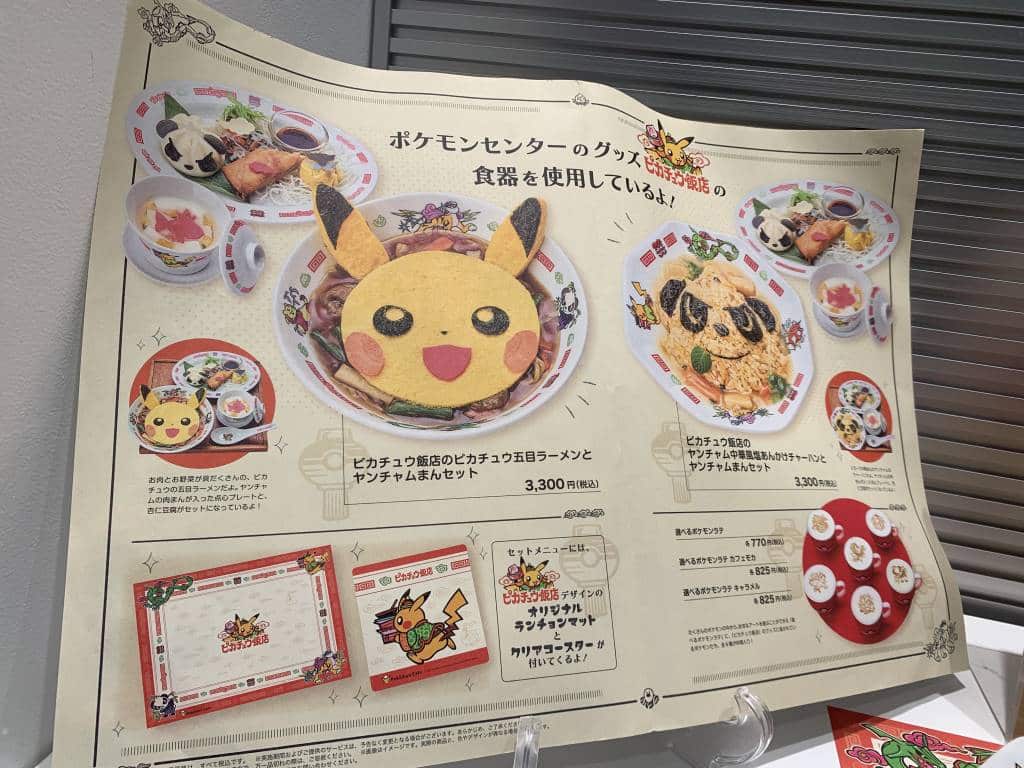 Disclosure: Some of the links in this post are affiliate links which means I earn a small commission if you use them to book. This does not cost you any extra. Japlanease is a member of the Amazon Associates program.
The amount of places you need to book in advance in Tokyo has increased since 2020. Some you need to buy in advance because they are incredibly popular, others just don't allow same-day or walk-in visits anymore. If you want to visit a themed cafe, a theme park, some museums, or a sporting event like Sumo you'll probably need to book in advance.
Some bookings are harder to get than others – Ghibli Museum, Pokemon Cafe, Kirby Cafe, and hotel rooms at Tokyo Disney Resort need to be booked within minutes of them going on sale.
Other tickets give you a little more leeway but it's still important to not leave some of them too late.
What to Book in Advance in Tokyo
So, now you know what you might need to think about scheduling, it's time to get down to the nuts and bolts of making the booking – read on to check you have everything covered, or, just use the Table of Contents below to jump down to the ticket you're most interested in.

Ghibli Museum
If you want to visit this museum, you must book it a month in advance. Tickets for a whole month go on sale on the 10th of the month before, at 10am Japanese Summer Time – and, you must be online within the first few minutes to snap them up.
So, in other words, if you're traveling in May, you need to be online by 10am Japanese time on the 10th of April to get tickets for any day in May. June would go on sale 10th of May.
Here's where to find the link to buy Ghibli Museum tickets, plus the opening days of the museum (which can vary so make sure you check these).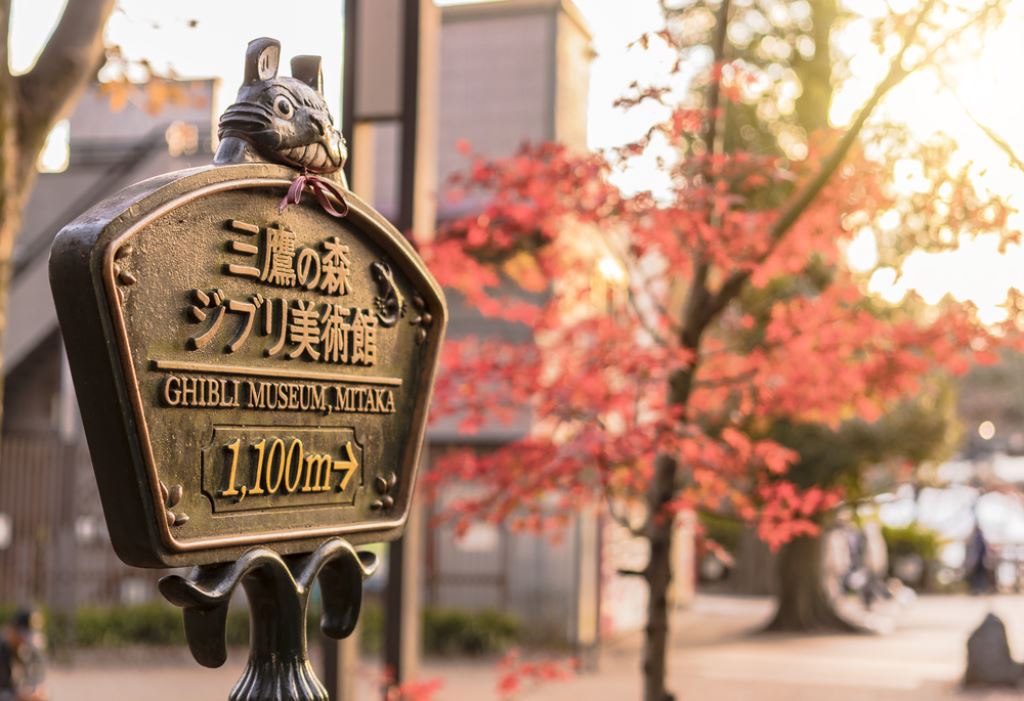 What to Do if You Miss Out on Ghibli Museum Tickets
You can book packages containing a guided tour of the park, or other areas around the Ghibli Museum, and these come with a Ghibli Museum ticket. The guide doesn't come into the museum with you, instead, once your park tour has finished you can then explore the museum on a self-guided tour at your leisure.
There are a few different types of these available but this one is the most cost-effective. It also gets booked up, but, you might find you get lucky. They have bookings open for two months before travel.
Save This if You Want to Visit Ghibli Park
Ghibli Park in nearby Nagoya is another incredibly popular destination for Ghibli fans, check out our post on how to get tickets for this – including a way to help beat the system in our post on buying Ghibli Park tickets.

Pokemon Cafe
Possibly the hardest ticket to get in Tokyo! You must be on the website, ready to hit book at EXACTLY 6 pm Japan time 31 days before the day of the reservation you want. Slots sell out in minutes.
See more details and get to the ticket link here – I'd strongly advise knowing your way around the website before you try and book so you know what you might be prompted to do at each stage.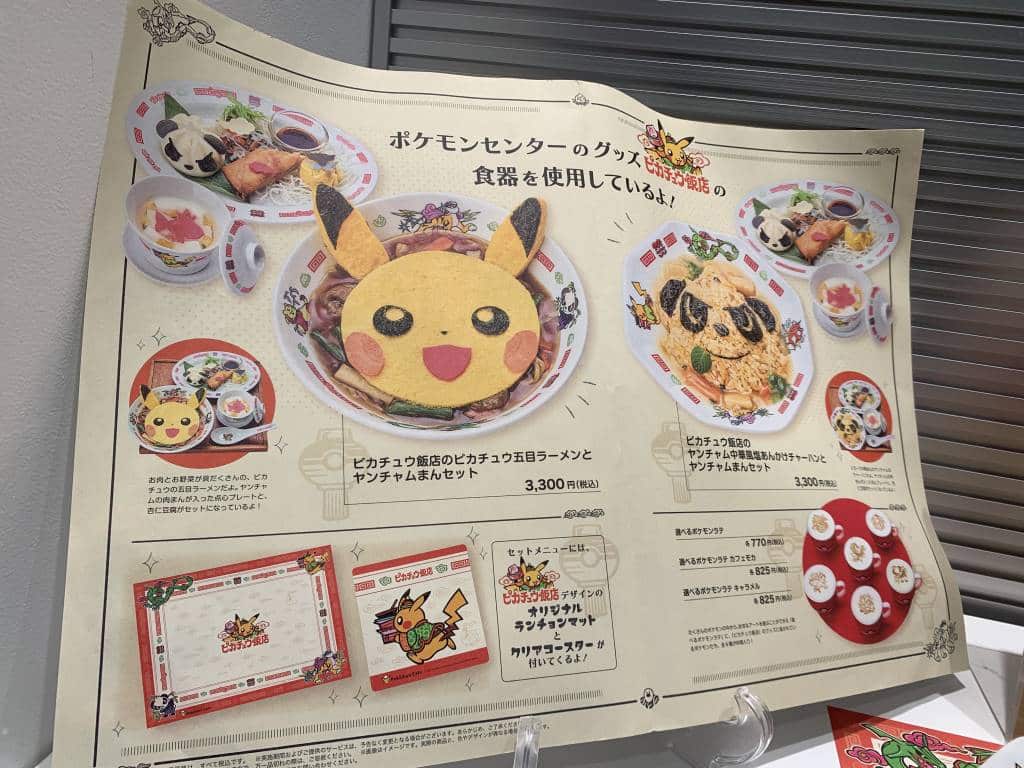 The site is in Japanese so you will need to have Google Translate on to fully understand it, but, it does affect how the site works slightly, I found that the month wouldn't change properly when it was on, so my advice would be to learn how the site works with Google Translate a few hours before booking opens, and then try and book it without it on. The important information is in both English and Japanese anyway if you change the language.
This video will also show you more about what to expect when you get to the booking stage.
Pokemon Cafe Booking Tips
There are a few tips that might help you get a reservation.
Be online just before 6 pm Japanese time, change the language to English, or your language, and go through the entry screens until you get to the point where you need to select the number of people – hit this at exactly 6pm, then choose the date you need – you will need to shift the month along by one for this to appear.
If you do see open slots do not delay – you can't sit deciding if you want a 12 or a 12.30, they will be gone by the time you've shouted to your traveling companion 'Which shall I book?' You need to know when you want it immediately and select it. Be as flexible as possible, if you see a slot grab it.
The letters you'll see are the area of the restaurant in which you are going to sit – don't get fussy – if you see a slot, grab it! If you're traveling solo you'll likely only see the option for D as that's where the individual seats are.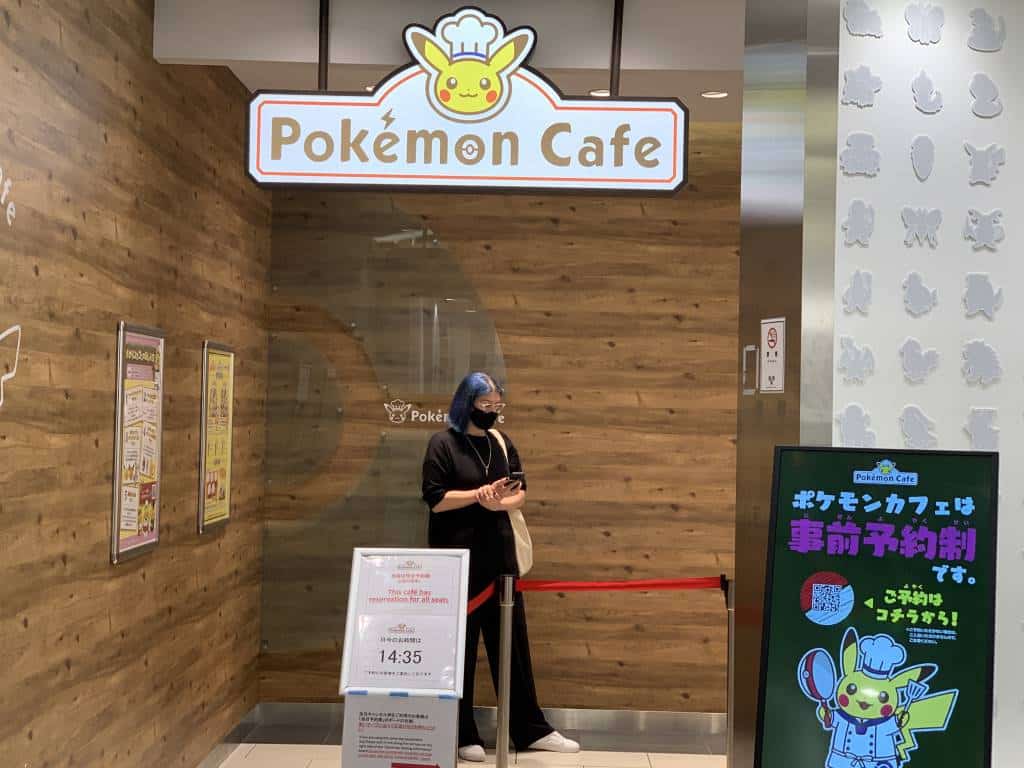 Once you get to the point of typing in your name, then you can relax, that slot is yours for 15 minutes so take your time filling everything in correctly and follow the steps about confirming your booking.
If however you get on at 6 pm and it immediately tells you that it's sold out, do not give up refresh the page every 5 minutes or so for the next 40 minutes. Each table is held for 15 minutes so, if people don't complete the booking process in time, new slots can open up.
I know this might sound a bit OTT, but if you thought getting Taylor Swift tickets was tough, you have not tried to get a spot at the Pokemon Cafe!
What to Do if You Miss Out on Pokemon Cafe Reservations
There is also a Pokemon Cafe in Osaka and while it's equally as busy, some people have said it's easier to secure a slot for this one – so, if you are going to both cities on your trip, you might want to try for both. The process is the same as the above.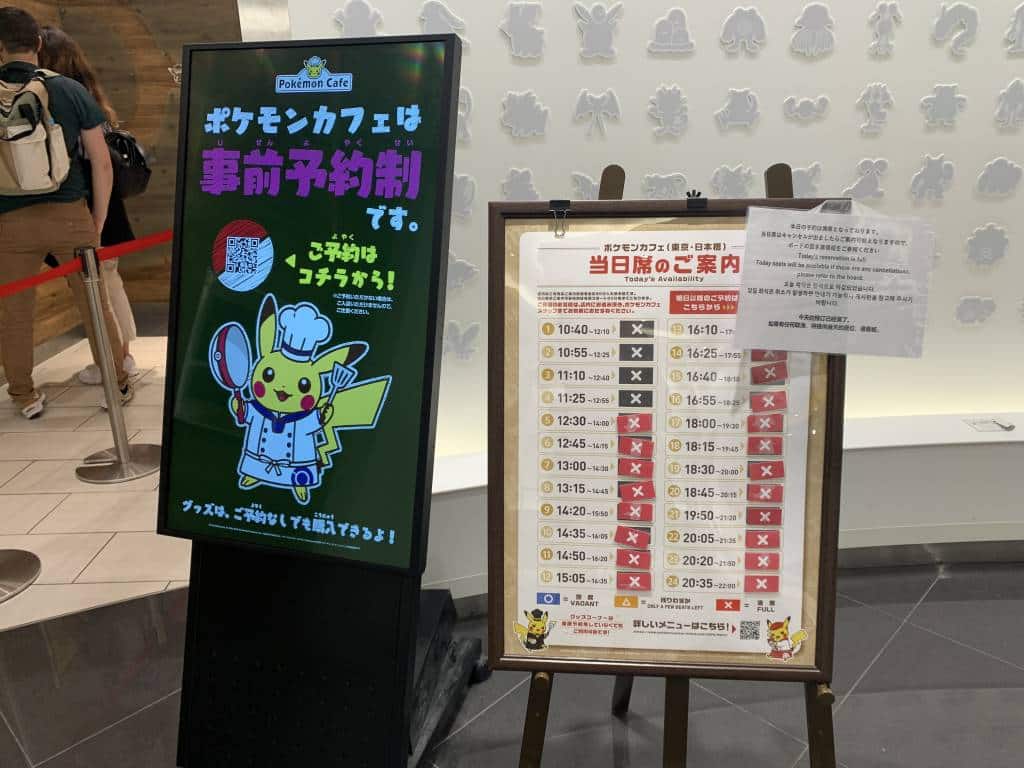 Same-day cancellations are posted on a board outside the Pokemon Cafe when it opens, so, if you're there when the board goes out, you might be lucky enough to snap one up.
There are companies who offer to snag the spots for you – but, as I haven't tried one personally I can't recommend one, or guarantee their authenticity.
Kirby Cafe
Dedicated to the cute pink game hero, the Kirby Cafe is located in the Solamachi shopping area underneath Tokyo Skytree and is also very hard to get bookings for.
Slots open at 6 pm Japanese time on the 10th of the month for the following month – so, if you want to go on September 17th you need to book on August 10th.
Like the Pokemon Cafe, it's a good idea to practice going through the process so you know what you're doing when the slots open.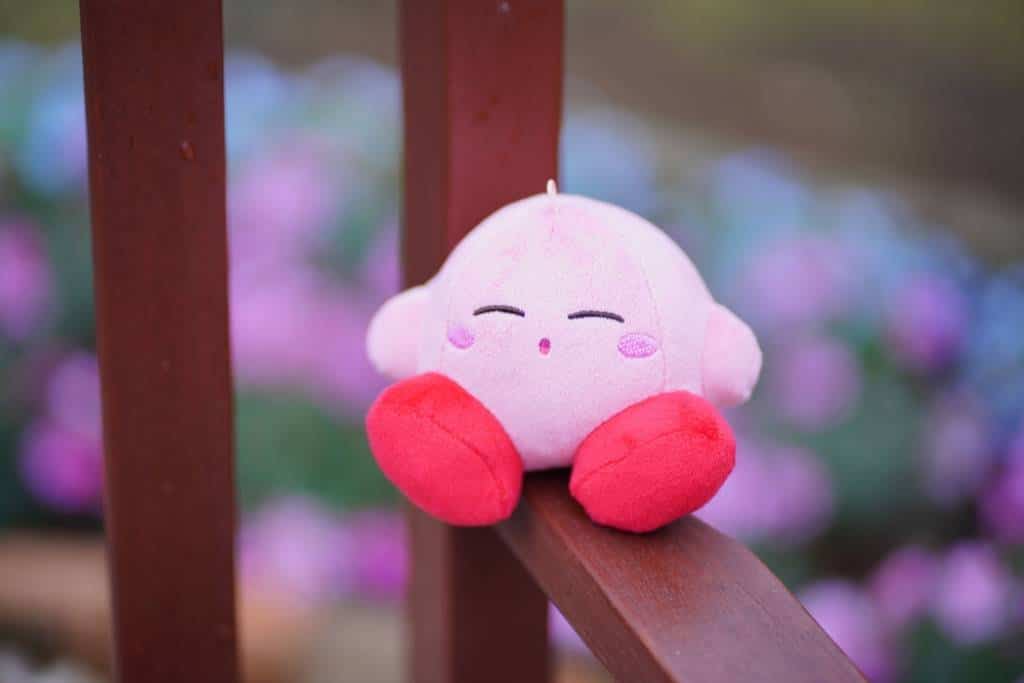 What to Do if You Miss Out on Kirby Cafe Reservations
They offer cancellation seats on the day so it's always worth asking if you're walking past.
You can also order goods to takeout from the Kirby Cafe – although note that there's often a long wait and you're going to have to find somewhere to eat them, but, it's an option.
There are companies who offer to book Kirby Cafe reservations for you but again, we can't vouch for them. But definitely do not buy resold tickets – if the name on the booking doesn't match the one on the ticket your reservation will be canceled – Kirby Cafe expressly forbids ticket resale.
There is a second place to buy cute Kirby snacks – it's called Kirby Cafe Petit and it's located in the super fun Character Street in Tokyo Station. This is takeout only so you can just wander in – but, priority to buy the adorable cakes (as opposed to other goods) is given to those who have made an online reservation to shop. You do that here.
Bookings for these go on sale at 6 pm each Monday Japanese time for the following week – don't stress too much though, they don't tend to sell out completely. I'm looking at this on a Thursday and there are heaps of slots available. Spots for first thing in the morning do tend to sell out as sometimes the cakes run out.
Make sure you have Google Translate on and type in Kirby Cafe Petit. Be careful to check which store you are booking as they also have an Osaka outlet the website design is a bit confusing – make sure it says Tokyo Station. Or if you do want to book for Osaka it should say Tennoji.
If you've got a large group you might need two tickets as only two adults and a couple of children are allowed in per ticket – check the guidelines for use to see the latest rules. Limits as to how many things you can buy are also explained above.
Shibuya Sky
This is the newest observation deck in Tokyo and it's immensely popular, particularly at sunset.
Tickets go on sale 28 days in advance and, while it's advisable to book at any time of day to ensure you get it, it's absolutely essential if you want to be up there at sunset – and, if you do you'll need to book a sunset timeslot within a day or so of the tickets going on sale.
Looking at the current booking patterns, sunset times for a given date are totally sold out within about three days.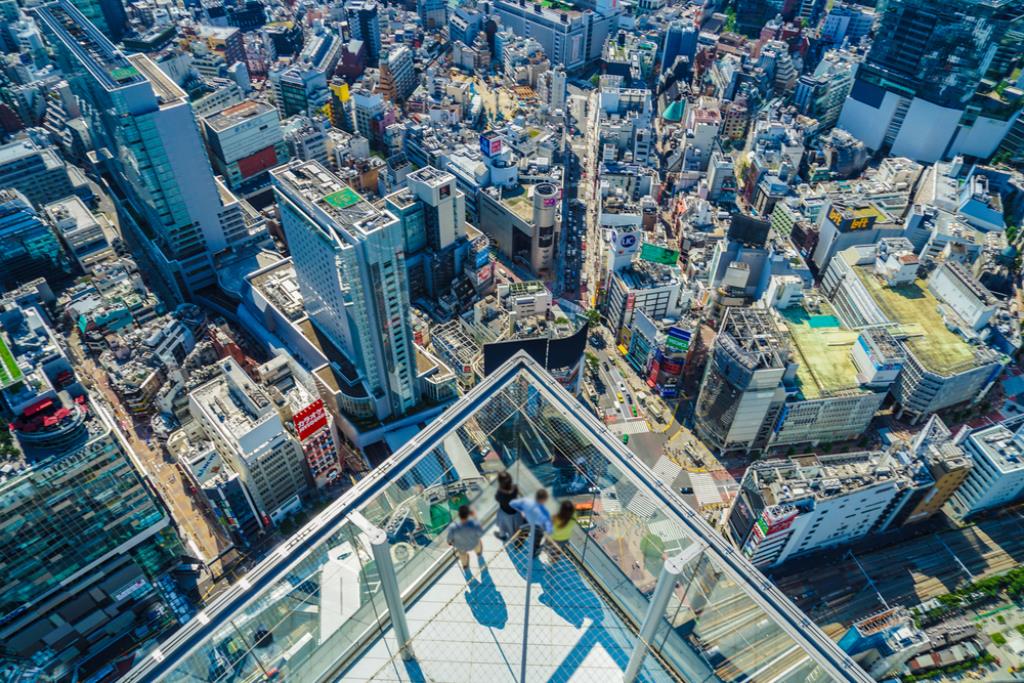 Another benefit of booking in advance at Shibuya Sky, if the weather is bad the rooftop area closes, but only tickets that have been bought by credit card are entitled to refunds.
If You Miss Out
While the time you must enter Shibuya Sky is fixed, you can stay up there for as long as you like, so, if you're not time pressed you can extend your visit to try and fit in the sunset – admittedly, by the third day, even this isn't really feasible unless you want to spend three hours up there!
During the warmer months, you can also buy a bar package which gets you a couple of drinks and a seat on the rooftop. Because this is more expensive than the normal entry ticket it doesn't always sell out as quickly – but it will sell out. That's only available directly from the Shibuya Sky website.
While Shibuya Sky is the most Instagrammable deck, there are other observation towers in Tokyo that will have sunset views. Take a look at our comparison between Tokyo Skytree, Tokyo Tower, and Shibuya Sky here.

teamLab Borderless
This digital museum closed in August 2022 to relocate its premises. They are going to reopen in January 2024 and when they do you can expect it to sell out quickly – at least for the first few months.
Assuming the tickets work the same way as they used to, tickets for the new teamLab Borderless will go on sale roughly two months in advance.
We'll add a link here as soon as we know more.
In the meantime, you can visit teamLab's other site teamLab Planets which is open until the end of 2023. Again it's very popular so you should book a few weeks in advance if you can – and I'd advise booking as early as possible if you're in a group of more than two, or you have a specific time in mind.
It doesn't sell out the same way as Borderless does so, if you're traveling solo or as a couple and are flexible on days and times, you can usually snag a ticket nearer the time.
Buy teamLab Planets tickets here.
If You Miss Out
There's a free teamLab exhibit at the Galaxy Harajuku building. Priority entry is given to those who make a booking on the app, they open three days in advance. It doesn't compare to Borderless, but, if you really can't get a ticket, it's at least something.
There's also an outside evening teamLab installation at the Botanical Gardens in Osaka – again, it's not as good as Borderless, and I wasn't personally blown away by it – but, it is pretty. Book that in advance here.
Warner Bros Studios: The Making of Harry Potter
This only opened in June 2023 so it's still very popular. It's the largest indoor Harry Potter exhibition in the world and contains costumes, sets, and props from the Harry Potter movies.
Tickets are not sold on the door so you must book in advance. Tickets go on sale in chunks and so, right now as I type this in August, they are on sale until December 31st – all of September is booked out, and slots are filling for October – so, I'd advise booking them 2-3 months in advance of your date if they are available.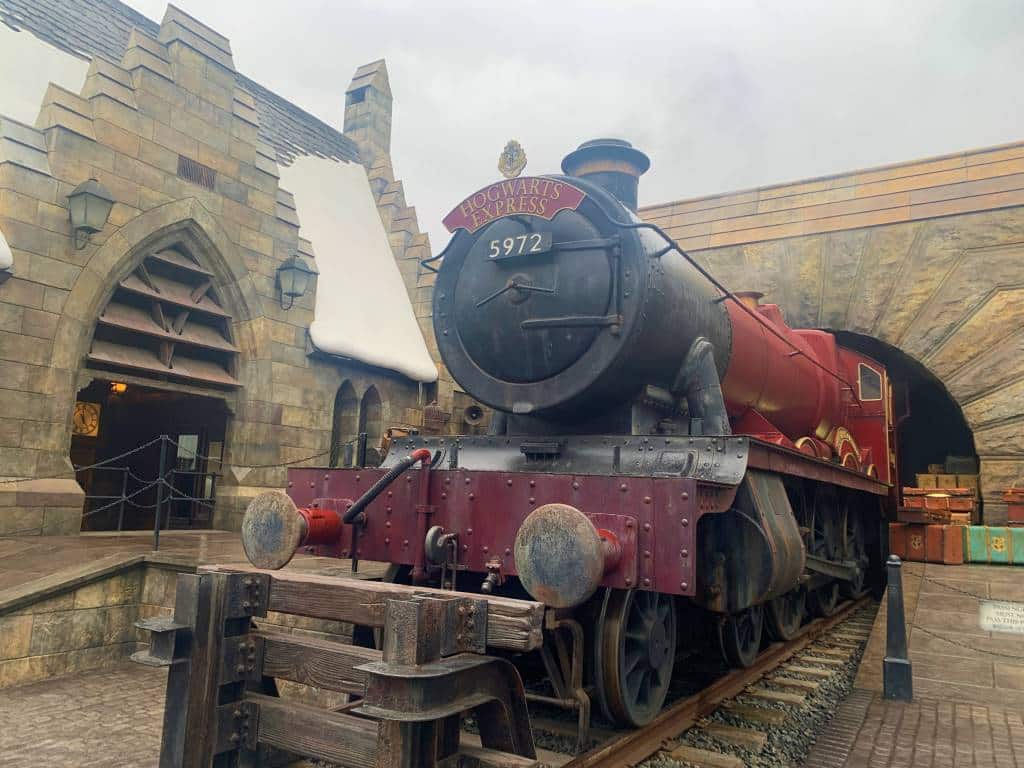 Pic from Universal Studios Japan, not WB
Saturday and Sunday sell out fastest so, time your visit for in the week for the biggest choice of dates and times.
Read This Next … If You're Also Going to Universal Studios
If you do have a Harry Potter fan in the house and are going to Universal Studios in Japan, you might want to book Express Passes in advance to help you jump the queues for the rides in the Wizarding World of Harry Potter – which can be very long.
Have a look at our guide to whether you need an Express Pass at Universal Studios to help you decide. Again, these sell out super fast so you definitely need to have a plan to book them if you want them.

Harry Potter Cafe
Located in Akasaka, this offers Harry Potter-themed dishes (the Hedwig cake is adorable) in surroundings that would make any Hogwarts resident feel at home!
It's popular so you're unlikely to get a walk-in seat, but, booking it isn't quite as frantic as the Pokemon or Kirby cafes.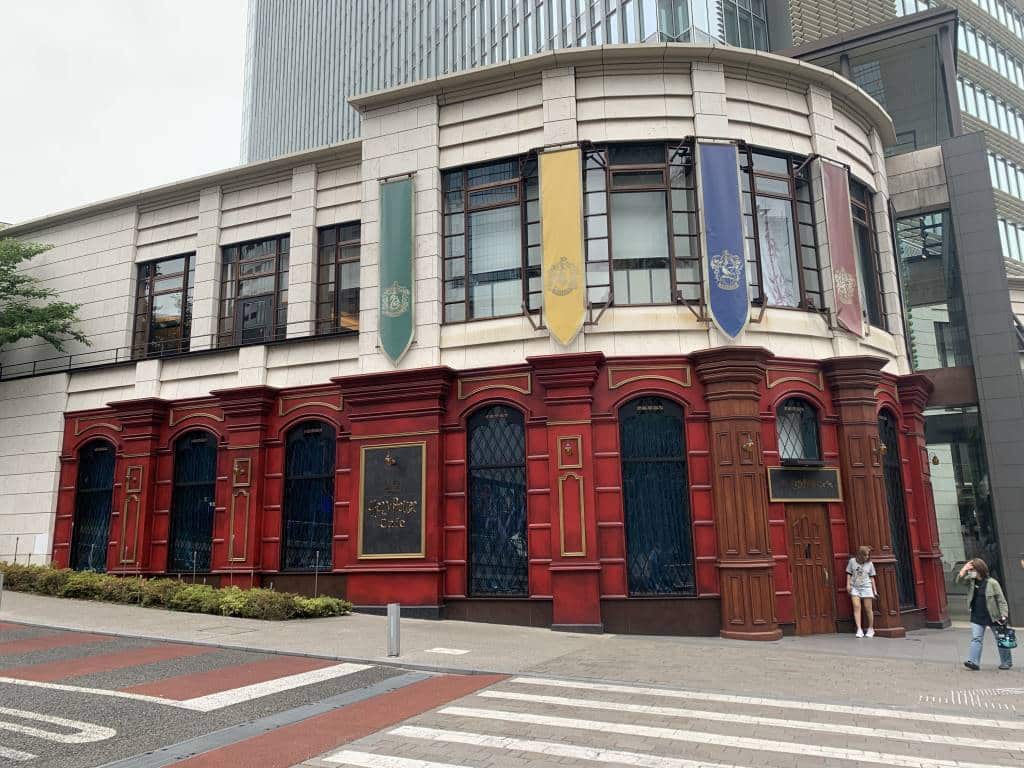 Spots are released twice a month for two-week periods – the website will let you know the exact date of release a couple of weeks before – but, to give you an idea, they released booking for September 1-15 on the 25th of August.
Bookings open at noon Japanese time.
Check the website for more details about the dates you are visiting and to be directed to their booking page. It's in Japanese so you'll need Google Translate on.
Don't Miss the Harry Potter Staircase
Located right by the Harry Potter Cafe is a Harry Potter-themed staircase full of old portraits and a time-turner. They also play the music from the films.
It's marked on Google Maps as the Harry Potter stairs
Street Go-Karting
If you want to whizz around the streets of Tokyo dressed in cute costumes from your favourite video games you need to prepare in advance – partly because it can get booked out, but also because you need to have an International Driving License from your home country.
The original company doing this had to change its name for legal reasons, they are now called Street Kart, and, sorry, but you can't dress as a cartoon plumber anymore. But you'll still have fun!
They offer a few different locations for driving in Tokyo including Shibuya, Akihabara, and Asakusa. Find booking for Shibuya here, but you'll also find plenty of other options for areas, and companies, on Klook if you need them.
Sumo Tournaments
Sumo tournaments happen in Tokyo three times a year in January, May, and September, and, if you're in town on those dates and want to catch a bout, you'll currently need to book seats in advance – same-day sales in Tokyo are suspended as I write this.
Tickets go on sale early to mid-August for the September bouts and in mid-April for the May tournament – the exact dates for 2023, 2024, and 2025 are here.
When you're checking dates, note that the Tokyo tournaments are listed as Kokugikan, as that's the name of the sumo arena. It's located in Ryogoku.
You can buy two types of tickets – head over to Klook, and you'll find packages that include not only a chair-style seat but also a guide who will explain the sport to you.
If this sounds interesting, look for Tokyo Grand Sumo Tournament tickets on the site – they'll only have these once bouts are scheduled and tickets are on sale. If you're reading this in time for the September bout, the tickets are here.
If you're not worried about having a guide, you can also just buy seated tickets via the official website and their ticketing agent Oosumo – you'll need to print these in the 7-11 once you get to Japan.
Note, that while Klook only sells Western-style chair seating, there are two types of seating sold on the official website, box and chair; Box seats require you to sit on the floor upon a cushion so do not buy this unless you can sustain that position for the whole bout. You also have to buy all four seats in the box.
What if You Miss Out
If there isn't a Tournament in town, or, you miss out on tickets but still want to see and learn about the sport, you can watch the wrestlers train at some Sumo stables around Tokyo.
Arashiyobeya Sumo Stable in Ryogoku allows people to watch outside their window for free (visit their website for the exact training days and the rules of this), or, you can book early morning Sumo tours that allow you inside the stable and give you a guide that explains what you are seeing.
See more about one of these here.
Tokyo Skytree
It's not essential to book this in advance, you'll always be able to buy tickets at the door, but the queues can be long so it's a good idea to buy a skip-the-line ticket.
We got in within about 2 minutes with our pre-booked tickets whereas the queue to buy tickets was about 30-40 people long.

Tokyo Disneyland/Tokyo DisneySea
You currently can't book tickets for Tokyo Disney parks at the front gate so you have to book your tickets in advance for a specific date.
This isn't as stressful as trying to book Universal Studios Express Passes, as unless it's a public holiday Tokyo Disney Parks don't usually sell out so you can normally buy tickets a few weeks, or even days in advance.
However, if you are going to Tokyo in 2024, a new land called Fantasy Springs is opening at Tokyo DisneySea. This will see more people than normal visiting the park at this time I wouldn't be surprised to see it sell out – so, if you're traveling at this time, you might want to book tickets for DisneySea as soon as they go on sale.
Tokyo Disney releases tickets at 2pm Japanese time for dates two months in advance – so, if you want to go on say, April 20, tickets will go on sale February 20.
You can buy them directly from the Tokyo Disney Resort website, but it doesn't always work well with foreign credit cards, so, it can be easier to buy them from Klook.
Find Tokyo Disneyland and DisneySea tickets here.
Booking Tokyo Disney Hotels
While buying tickets to the Disney Parks is relatively easy, booking rooms at the official Disney Hotels is much harder – you must be online right when they go on sale at 11am Japanese time, three months before your date of check-in.
If you miss out, Tokyo Disney Vacation Packages can be easier to secure. See our guide to those here.
Toyosu Tuna Auction
While visiting Toyosu Market is nowhere near as interesting as visiting Tsukiji Outer Market (you really can't see anything from the windows above the market visitors can access), spectators are still allowed to view the famous early morning tuna auctions from a special viewing platform – and if you want to do so, you must apply in advance.
Tickets are chosen via a lottery. You apply at the beginning of the month before your visit during a set period of a few days when applications are accepted. A couple of weeks later you will then be notified if you're lucky.
To find the exact dates when you need to apply, visit this page, on the first of the month before you want to visit to see if they have published the exact dates for accepting applications. Then go back during the application period and apply as directed.
Yayoi Kusama Museum
This is bookings only, you cannot just buy a ticket at the door and, while it might not have the urgency of some of the above, it does sell out because it is quite small.
Tickets go on sale at 10 am Japan time on the 1st of the month – and at that time you can book the whole of the following month – so, on August 1st you can make bookings for the whole of September.
The first slots of the morning tend to sell out the fastest.
See more details on the museum and the ticket availability here.
It is quite small – and don't expect to find a pumpkin room like you might see in some of the art galleries around the world. It's quite focused on her paintings and videos – but the dot room is worth the price of admission.
Hat Coffee Latte Art
Me, one morning in Asakusa – I'm going to go and see some stuff and go to that cool place that does the 3D latte art. I'll get there as it opens though as there's bound to be a queue.
Cafe staff as they open the door at 10 am – sorry, if you don't have a reservation you'll have to wait about 45 minutes.
This was despite only two other couples being in front of me … I still haven't been to Hat Coffee!
Latte art in Tokyo is fantastic and so the cafes doing it can get very busy if you don't want to wait in a very long queue make a booking at Hat Coffee
They don't have reservation forms on their website, but they do have a contact form so you can start there, or give them a call – their English was pretty good when I visited.
The other big name in Tokyo Latte Art is Cafe Reissue in Harajuku. They don't take bookings so you'll need to queue.
If you want a fun coffee and don't want to stand in a huge queue to buy it, head to the Nissan Crossing Cafe. This is above the Nissan car showroom in Ginza, and they do a neat trick where they take a photo of you and then print it on your drink. That's me above!
Other Questions About Booking in Advance in Tokyo
Do You Need to Book Ahead for Animal Cafes?
Most animal cafes in Tokyo don't need bookings that far in advance (although it's a good idea to make them if you have a tight schedule) you'll normally either just be able to wander in there and then, or, get a slot for later that day.
However, there are a couple of exceptions that I know of
MiPig Harajuku, this minipig cafe can sell out on the day so, if it's a must-do, or your time in Harajuku is tight, then you'll want to book in advance. Try their webpage.
If they don't have slots, you can also try Klook – it costs a little more, but, they may still have slots when the cafe doesn't.
Harry Harajuku Otter Terrace: You can just walk into this cafe which has hedgehogs and otters, but, if you want to book the hands-on experience with the otters it is only open to those who made a prior booking.
Note: Some animal cafes in Tokyo don't have the best environment for the animals, I've been to ones where the animals are clearly loved and cared for and get plenty of time away from people – and I've been to one that was horrific and needed to be shut down – so please do read reviews before visiting them.
Do You Need to Book Restaurants in Tokyo?
That depends on where you want to eat. You'll always find a local izakaya or ramen shop to eat in, but as with many cities, if you want to eat at the trendiest restaurant or most exclusive high-end establishments, you might need a booking (or be willing to queue).
It's also true that some of Tokyo's best restaurants don't take bookings in advance. The restaurant of sushi master Jiro, Sukiyabashi Jiro, for example, won't take reservations from those outside Japan. Your hotel concierge will have to try and book for you once you arrive.
Other famous sushi spots Sushi Dai and Sushi Daiwa, and Michelin-starred ramen spots like Nakiryu, don't take reservations at all – you have to queue on the day, or arrive in the morning and pick up a ticket. Check with each individual eating spot to determine the system.
An easy way to secure tables at many other restaurants – from 5 Star establishments like L'Atelier de Joel Robuchon to iconic ones like Gonpachi Nishiazabu aka the Kill Bill restaurant, check out ByFood which offers an easy reservation service for restaurants all over Japan.
They also show listings for many other restaurants so it's a great one-stop resource for foodies visiting Japan. See more here.
Do You Need to Book Train Tickets in Advance?
You don't need to book the local trains in Tokyo in advance, and, if you're leaving Tokyo on the Shinkansen, you can also rock up to the station and buy bullet train tickets just before you want to travel too – but there are some times when you might want to book ahead.
Check out our full post on why you might want to book your bullet train tickets in advance, and the best places to do so from.
Hopefully, that's answered all your questions about things you might need to book in advance in Tokyo, but if you do have any questions, head over to our Facebook group to ask them.