Japan is a land where almost everything can be made cuter, brighter and frankly, a bit more fun than it is elsewhere. And the humble KitKat bar is no exception – here's why you might find yourself KitKat hunting on your Japan trip. And the best places to look.
While it's true that chocolate is always a good souvenir to pick up wherever you are travelling to, there's a particular obsession for travellers to Japan with KitKats. And you might be asking yourself why – what's it all about?
Why does everyone who goes to Japan – and the Japanese people themselves – have a thing about KitKats.
I mean, their combination of chocolate and wafers doesn't make them most memorable chocolate bar out there – often the most exciting thing about them is that they make a nice snapping sound – but that's outside of Japan.
KitKats in Japan, are not boring brown biscuit bars – instead they come in bright colours, the strangest flavours… and, they bring you luck.
Disclosure: Some of the links in this post are affiliate links which mean I earn a small commission if you use them to book. This does not cost you any extra. Japlanease is a member of the Amazon Associates program.
The Magic of the Kitto Katto
The luck thing is the reason that KitKats are so beloved by the Japanese themselves.
In Japanese, the word KitKat is said as Kitto Katto which sounds rather like the phrase Kitto Katsu which translates to 'surely bound to win' in Japanese and as such, the KitKat has become kind of a good luck charm in Japan.
They are commonly given as gifts to students before they take their exams and, rather than eating them straight away, as is usually the case when small children are presented with items of chocolate, they keep them until the exams are over.
The result of this is that KitKats are one of the best selling chocolate brands in Japan. And that has led to an explosion of different flavours on sale in the country. You'll find entire shops dedicated to speciality KitKats in Japan and in some places you can even design your own KitKat – with flowers on!
What Flavours of Japanese KitKat Are There
What flavours aren't there is probably a shorter list!
When KitKat's first arrived in Japan in 1973 they were the type that most of us are used to, but in the year 2000, someone at Japanese Nestle decided to see what happened if they made a strawberry one.
It was released to a limited market in Hokkaido in northern Japan and sold incredibly well – so they decided to see what else they could do.
Since then, there have been over 300 different flavours of KitKat released in Japan including the matcha tea one that you can now often find outside of Japan, but, also, things like pineapple, pistachio, guava, banana, apple – basically, if there's a fruit, there's been a KitKat flavour of it.
There are also a lot of weird Japanese KitKat flavours like sake (probably the only one I've liked), baked potato, edamame, European cheese, red bean paste, sweet potato and soy sauce.
It's like every few months they think 'okay, now what' – and throw a baseball into the local supermarket and see what they hit first.
Japanese KitKats are made specifically in Japan and they have two factories there – they had to open a second one in Himeji (close to Osaka) in 2017 after the first one, in Kasumiguara (north of Tokyo), couldn't keep up with the demand.
If you want to get a sense of what it's like in the factory, have a look at this piece from the New York Times Magazine which is the best piece I've ever read on the Japanese KitKat (phrases you never thought you'd say in your life no 207).
What do Japanese KitKats Taste Like?
Intensely sweet is the main thing that always comes to mind when I first bite into them.
The fruit-based ones particularly are very, very sugary.
If you're expecting anything that vaguely resembles normal chocolate forget it, it might have a similar texture to the KitKats you're used to, and snap in the same way, but that's as far as the similarities go.
The good news is though, that in most cases, the KitKat's I've tried in Japan have been quite small – mini bars that consist of just two small fingers and so, that level of sweetness isn't too bad.
I certainly couldn't eat a Western-sized four finger one in something like Guava or Pineapple.
But it is a fun experience to buy a whole load of them just to see what they taste like.
Where to Buy KitKats in Japan
This depends at which level of the KitKat hierachy you wish to purchase – because there are four types of KitKat experience in Japan.
Some flavours are introduced nationwide and you'll find them everywhere, others are limited edition and even more exclusive ones are only released for a short time in specific places in Japan.
True KiKat devotees spend hours of their trips trying to track down the most interesting, or strangest, option – or, just collecting as many different flavours as they can.
Depending on how much time you want to spend in the pursuit of chocolate-based excitement may depend where you want to buy yours.

Basic KitKats
If you just want to try them for the experience (or buy some packs for the people at work) then, you probably just want to buy the big packs of small KitKats and if you want to buy these there are two easy places to visit.
The first of them, is Don Quijote or DonKi as it's also known. These massive stores sell a bit of everything and are a great place to stock up on all sorts of goodies when you're in Japan – including KitKats.
They're often open late into the evening – some are even 24 hours (if there's one of these near your hotel heading to an all night Don Quijote is a good thing to do at 7am in the morning in Tokyo when pretty much everything else is closed and you've woken up with jetlag! See some other ideas here. ).
Another good place to find your basic Japanese KitKat flavours – chemists/drugstores.
I know that seems odd to those in the UK or Australia where the only edible items in a chemist might be protein bars – but maybe not so much to those in the US where CVS is a pharmacy that also sells snacks and magazines. Certain Japanese drug stores sell a bit of everything – and they are one the cheapest places to stock up on bags of KitKats.
And if you leave things until the last minute you'll also find the more basic KitKats at the airports.
If you don't want a big bag of KitKats and just want to see what all the fuss is about, then have a look in one of the thousands of convenience stores like Lawson, Family Mart or 7-11 that you'll find in Japan. They'll sell smaller packs.
Unusual KitKats
While the shops above will have bags of Japanese KitKat flavours you haven't seen before (just because you're now in Japan), they aren't necessarily the most unusual, or unique, flavours of KitKat on offer.
If you want to find these, your first stop in seeing what's new should be the Nestle website (you will probably need to translate it) which has a What's New Section detailing the latest flavour releases – you can then keep an eye out for the packets on your travels.
Another top tip is to look for boxed KitKats, which are normally more limited-edition or unusual versions. You'll find some of these in Don Quijote but the best selection will be found in more specialist sweet stores.
And, according to those in the know, the one to visit in Tokyo is in an area called First Avenue Tokyo which is the basement under Tokyo Station.
We spoke about this in our guide to manga and anime as it's also home to Character Street where you'll find stores based around many of the cute or courageous anime and manga characters you see in Japan. But they also have a food section.
And it's AMAZING! You'd never believe that food could come in so many cute shapes and colours!
The KitKats are found in the area known as Shokoku Gotochi Plaza and the stores name translates as Countries Local Plaza. It doesn't have an English name so look for this 諸国 ご当地プラザ which is written on the front in white lettering on a clear sign (or, even easier, there's a picture of the front of it here).
They don't have a map in English, but it's store G38 on this map. In case the map has changed, it's level B1, at the far left hand side where the toilets are – past the ramen shops.It's also home to Ramen Street where you find all of Tokyo's best ramen restaurants in one precinct
Note: This area was one of the few places where I saw some very long lines in Tokyo when I accidently ended up in Tokyo during Golden Week, I'm guessing it's also going to be busy at weekends and other holidays so try and time your visit for a weekday if you can.
Posh KitKats
If you're buying KitKats as a gift for friends or family in Japan, the bars sold in the mutlipacks, don't quite cut it – in this case you might want to then go to a specialist KitKat shop known as a KitKat Chocolatery.
In these exclusive KitKat stores the flavours are created by master patisserie chef Yasumasa Takagi and contain the best chocolate and other ingredients. This is where to come if you want to try things like a volcanic chocolate KitKat.
There used to be four of these in Tokyo but as I check and update it in January 2023 only one is left ( do check the locations page though in case they open more again before I get the chance to come back for another look – you'll need google translate).
Now if you want to visit a KitKat Chocolatory in Tokyo, there's only one option and it's within the Seibo Ikebukuro department store.
You'll find it in the basement.
I haven't had the chance to check this out, but normally the Chocolatory sell larger bars, and even single sticks, devoted to some of the more exclusive flavours.
At the store in upmarket Ginza, these were even sold in drawers kind of like fine jewellery! The Sublime range is the most exclusive.
The picture of the Seibo area doesn't look quite as exclusive but if you're in Ikebukuro go down and have a look.
It's not a cheap way to buy your KitKats, you're looking at 300 yen (around US$3, AU$4 or £2) or more per single bar here, but they are fun to look round.
Customized KitKats
As I update this post in Jan 2023, this service has closed, but, I'm going to keep it here for now in case they reopen the larger stores.
If even the hand of Takagi san isn't enough to ensure the specialness of your KitKat then you might want to check out the My Kit Kat service.
In this you get to create your own KitKat with your own personal selection of toppings.
You can see a step by step post on the experience here.
And unlike the service in Sydney that I tried, you actually do make the bar yourself. In the Sydney KitKat Chocolatory, you pick everything but the KitKat chefs do the actual making and you pick up the finished product later.
My KitKat is available at the Shibuya store in the Miyashita Park complex (the full address is 6-20-10 Jingumae, Shibuya-ku, Tokyo MIYASHITA PARK South 2nd floor).
You do need to book a slot. You can do this on the Nestle website, but again, this is in Japanese so you'll need to use google translate – it's best to do it on a desktop if you can.
The other option is to just turn up at the store when it opens at 11am as same day slots are available to book from 11am.
Buying KitKats Outside Tokyo
I admit that the above list is rather Tokyo-centric.
That's because while there used to be a few KitKat Chocolatorys outside of Tokyo, most of them have closed. The last one was at the Itami International Airport in Osaka, which, despite the name, is the one that does domestic flights, but that closed in November 2022 so, as I write this, your best chance of finding a KitKat Chocolatory shop is in Tokyo.
If you're not going to Tokyo don't despair though, you will find the basic and some boxed KitKats all over Japan in Don Quijote or drugstores. It might also be worth looking in supermarkets if you find one. And, also look in convenience stores for regional specialities.
In Kyoto, have a look at the food hall of the Takashimaya Department Store where you might find some more unsual ones.
Can't Wait Until You Get to Japan?
It is possible to buy Japanese KitKat's outside of Japan. If you have a local Japanese or Asian supermarket near you then that's a good place to start looking. Ditto Daiso if you have one of those near you.
If you don't have a store nearby or want something a bit more unusual or exclusive then have a look at Amazon where you'll find all sorts of flavours.
If you're buying in the US, then you'll find a great selection here.
If you're in the UK, then you'll want to look here.
If you're in Australia, you'll find them here. You might also want to have a look at Snack Affair which sell all sorts of different Japanese sweets.
You can also order individual KitKats from Bokksu. These come direct from Japan and so they have the latest flavours – although note that they can't always ship them to the US so check the current terms and conditions if you're US-based. See more here.
Or, have a look at OMG Japan which offer all sorts of products shipped directly from Japan. Find their KitKat selection here.
So, there you have it – our guide to the magic that is the Japanese KitKat and where to buy it. Let me know which was your favourite, or the strangest, Japanese KitKat flavour that you tried in the comments.
---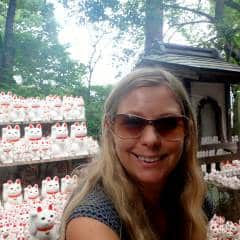 Who Writes This Blog?
My name is Helen Foster and I'm a journalist and author. My travel articles have appeared in publications including The Australian, RAC Horizons, Jetstar Magazine, Sainsbury's Magazine and more.
I've travelled to Japan seven times before, both solo and with my partner – and am just planning trip number eight