Tokyo is a not a friend to the early riser – or the jetlagged. On one recent trip, I woke up every morning around 5 am and, after a couple of hours enjoying lounging about, I was raring to explore this exciting city – but, nothing, it seemed, was open much before 11 am. Until I started looking more closely, and realised there is actually a lot to do in Tokyo before breakfast. So, here's my guide to early morning Tokyo…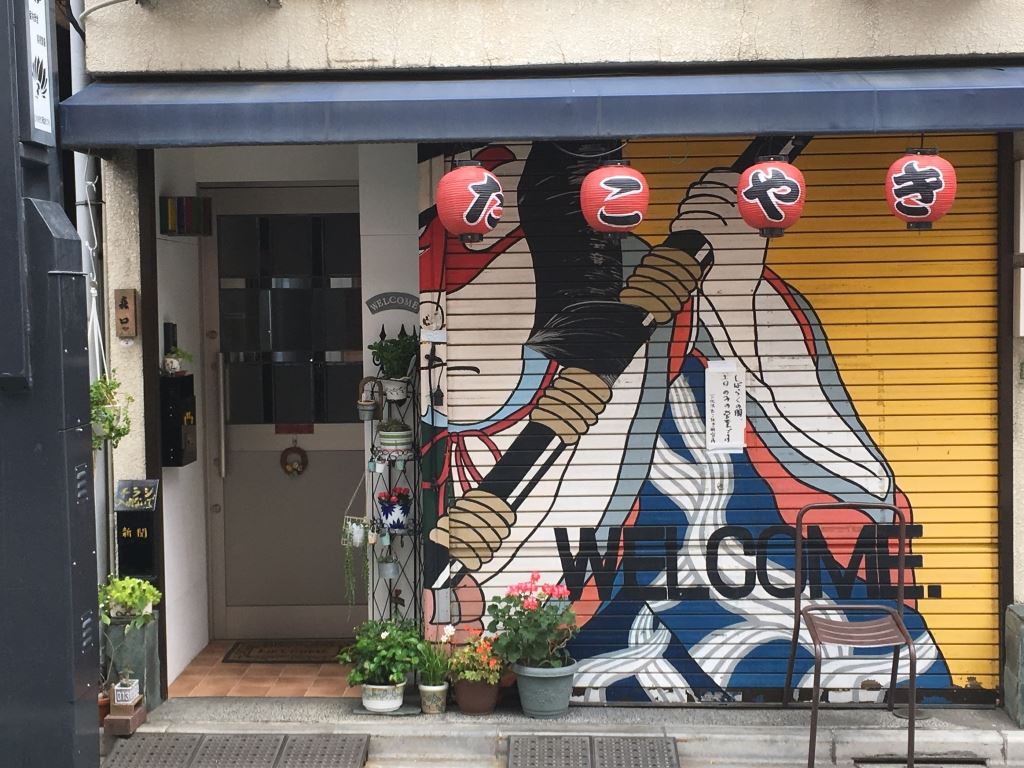 Disclosure: Some of the links in this post are affiliate links which mean I earn a small commission if you use them to book. This does not cost you any extra. Japlanease is a member of the Amazon Associates program.
This post first appeared on Japlanease's sister blog Differentville in 2018. It has been updated and moved here in July 2022.
17 Fun Things to Do in Tokyo – Before 10 am
1. Go See Thousands of Waving Cats
Shrines and temples are great things to do in the early morning in Tokyo; they are often open 24 hours, or at least open extremely early and by going before breakfast you usually beat the crowds.
One place where this definitely pays off is Gotoku-ji in Tokyo's South East.
Known as the temple of beckoning cats, this is actually a large space with an impressive pagoda, numerous outlying buildings and a cemetery to walk around, but what brings the tourists here is the area of the temple which is lined with thousands of white maneki-neko, the lucky, waving cat.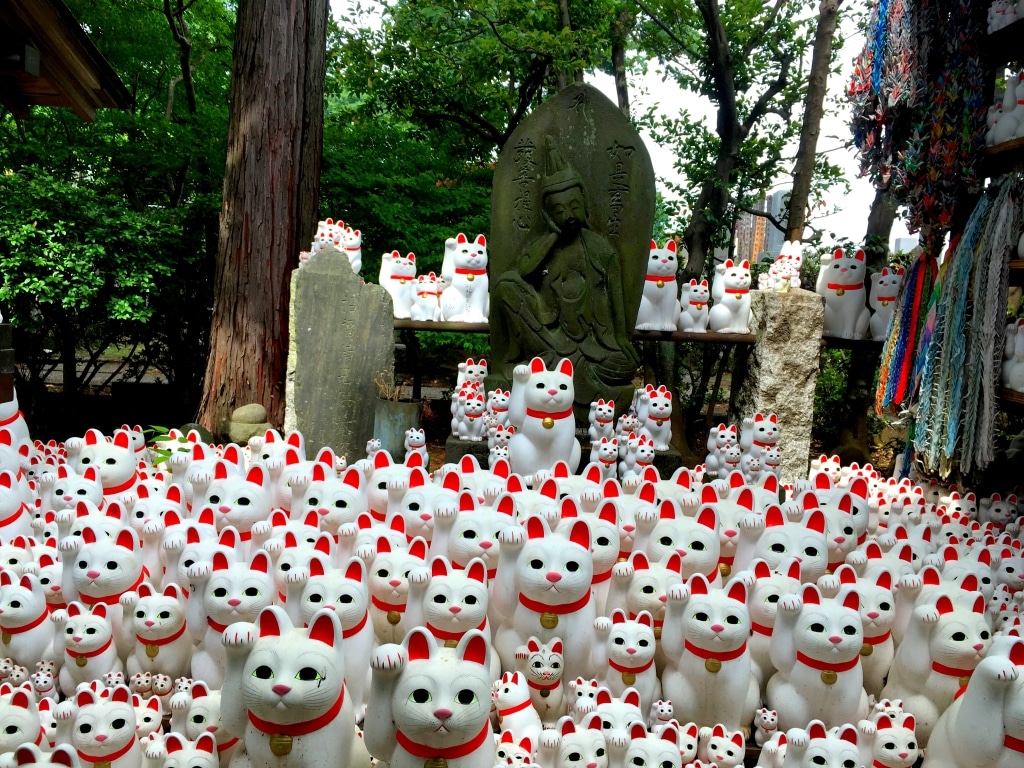 The area containing the cats, however, is very small, if there are more than about four people in it, it feels crowded. Getting there first thing gives you more opportunity to have the place to yourself – and the best chance of awesome pictures.
Gotoku-ji opens at 6 am and is about a 30-minute journey to Gotokuji station on the Odakyu line from Shinjuku. Miyanosaka on the Tokyu-Setagaya line is a little bit nearer to the temple entrance and you can connect to this via the Odakyu line or the Keio Line.
Most shrines and temples in Tokyo open early, so if Gotokoji isn't your kind of thing, have a look at our post on the 10 best shrines and temples in Tokyo to find somewhere else to spend your morning.
2. Soak in an Onsen
Onsens are the hot springs of Japan – gorgeous, warm baths in which you can soak away your cares, your aches, or the early morning hours when everyone else is asleep!
Thermae Yu in Shinjuku is now the biggest onsen in Tokyo and it's open 24 hours making it the perfect place to spend the early morning in Tokyo.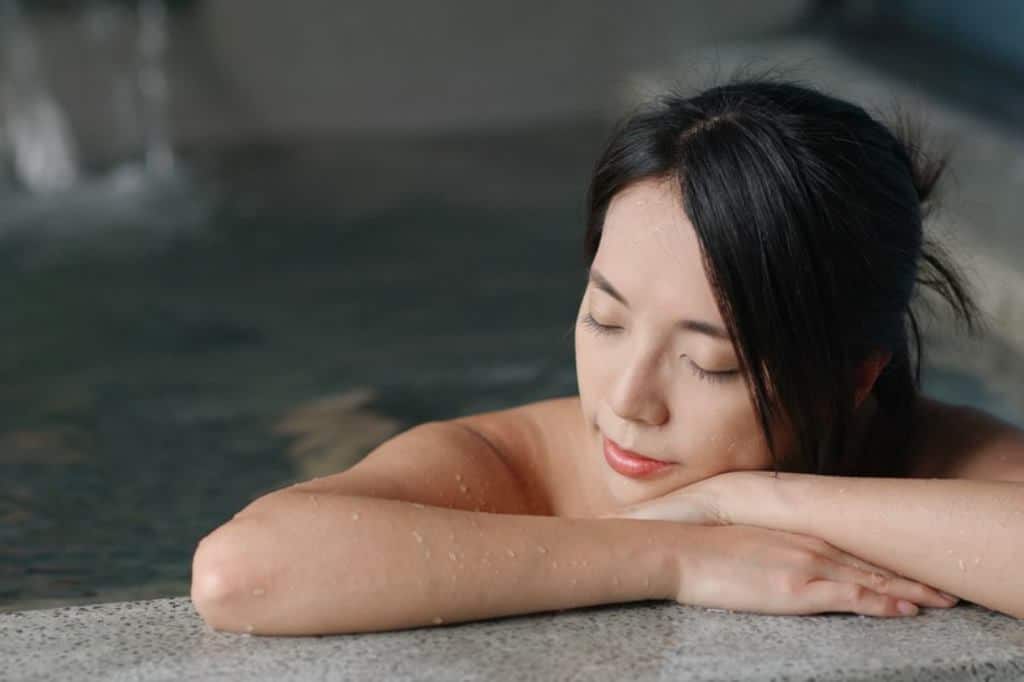 Admittedly, the first time I went to an onsen, I was terrified – for starters, there's etiquette involved. You need to make sure your whole body is cleaned before you enter the baths and I really wasn't sure what to do when, but possibly the most-scary thing is – you have to go in completely nude. Panic. Panic, Panic.
I ummed and ahhed on my first trip about whether to do it, braved it and rapidly realised the only person in their caring about my naked butt was me!
Plus, you're given a small 'draping' towel that you can subtly position over at least some of your lower half.
Going early further reduces some of that embarrassment though as it's the least busy time of the day – peak hours are around 4-10 pm, between 6 am and 9 am you'll hardly see a soul.
See more on their website. You'll need to use google translate as it's only in Japanese.
Or, if you're already liking the sound of soaking your cares away but don't want to deal with translation, you can buy a ticket on Klook – but note, this doesn't allow entry until 9am.
3. Visit Shimokitazawa
Famous for its cool vibes, vintage shops, dive bars and coffee places, you might wonder why I'm telling you to go to uber-hipster Shimokitazawa first thing in the morning when all of these things are closed. The answer is – shutter art.
Tokyo doesn't have a lot of street art in the same way other cities do – you won't find many huge murals dominating walls in the city, but what it does have are paintings on the shutters of shops that you can only truly see when the shops are closed. Some of the best examples of this are in Shimokitazawa – now do you see my logic?
Some of the art reflects what the shop sells, others are just random murals, but you can only really appreciate it all early in the morning.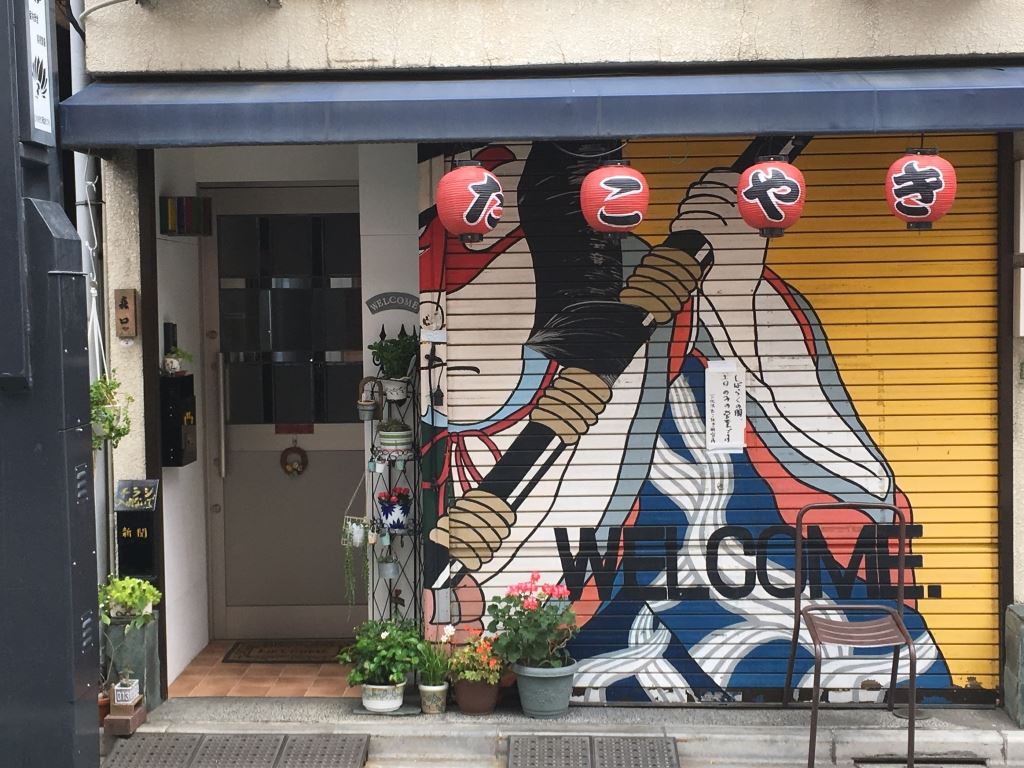 Oh and don't believe everything you read about Shimo not opening until after lunch – I got there a little after 10.00am and some shops were opening up.
For the best timing, I'd say get there about 9.30am, wander around the shops checking out the shutters for an hour or two, and then, explore again once they open.
4. Get Some Ramen
I appreciate that you can do this at any time of day in Tokyo, but bear with me.
For starters, queuing for food is not abnormal in Tokyo, people will happily line up for 3-4 hours to go to a restaurant they think is worthy of the wait.
I don't know about you, but when you've only got a few days in a city, spending that long standing in one place does not sound appealing – however, when it comes to one of Tokyo's most popular ramen joints, you can beat the system by eating it early.
It's a chain called Ichiran Ramen – Forbes magazine even went as far as to call it 'the best ramen in the world?' because of how they allow you to customise the bowl to your exact needs and queues here can be loooooong.
But some branches, including the two in Shibuya and the branch in Ueno are open 24 hours and when I rocked up 9 am one Sunday morning there was no line at all.
If you've never had soup for breakfast, give it a try – it fuels you brilliantly for a long day of sightseeing and from personal experience I can tell you it's better than a fry up for making you feel human again if you've overdone it a bit the night before!
Click here for a full list of branches and their opening times – if it says 10-6 – that means 6 am the next morning, not 6 pm that night.
Top Tip
Ichiran has a bit of an interesting ordering system, so, if you want to know what to expect before you arrive, have a look at our post on ordering from a Japanese ticket machine. The Ichiran section is at the end.
Also Check out Tsuta
If you prefer your ramen more exclusive, being an early bird also pays off.
Tsuta was the first ramen joint in Tokyo to receive a Michelin Star and as such it's super busy – far busier than it's nine seats will allow, so they have started a ticketing system.
One member of your party needs to go to their restaurant, just around the corner from Sugamo JR station first thing in the morning. They start giving these out at 7 am and while you used to have to get there dead on to get one, I've recently heard of some people getting one as late as 9 am – check out Helena's post here.
At this point, you will hand over a 1000 yen deposit per person and be given a ticket telling you what time, between 11am-4pm for lunch, to return for your award-winning bowl of soup and noodles.
Don't expect to eat exactly at this point, this just tells you what time to get back and join the queue (again) and as soon as a slot becomes free, you're in the door.
Tsuta is at 1 Chome-14-1 Sugamo, Toshima-ku, Tōkyō-to 170-0002, Japan.
Top Tip
Sugamo is a super cool area in Tokyo that's known as Granny Harajuku as it's where older Tokyoites like to shop. You'll definitely want to wander around here if you want to see a more traditional part of Tokyo
5. Watch Sumo Practise
While you can pay for tours that get you inside a sumo stable to watch the practice, you can also go it alone and watch from just outside for free.
Arashio-Beya sumo stable in Nihonbashi lets people watch their practice from the street through their giant window.
They practise from 7.30am to 10 am most days – but do call the night before to check they are going to be working that morning. I didn't call thinking they were bound to be open on a Tuesday – and missed out!
The stable only speak Japanese but don't worry as they give you an outline of what to say here or, ask your hotel to give them a call for you.
As I write this, the stable isn't allowing visitors, but, hopefully by the time you read this on your trip, that will all change, so just double check everything with the link above.
Where to Book a Sumo Tour
If you're prefer to get a closer look, and a better understanding of the practise, you can book tours to see early morning Sumo practise.
Taking a tour not only ensures you get to see the guys in action, they'll also explain all the nuances of this complicated sport.
6. Visit The Fire Temple
I actually didn't mind missing out on the Sumo too much as it meant I clawed back an hour that allowed me to head to Fukagawa Fudo-do temple about half an hour walk from Nihonbashi and watch the most amazing ritual there.
The Goma Ritual uses a mix of chanting, drumming, prayers – and fire – to strengthen the energy of the god Fudomyo-o.
It takes place 5-6 times daily with the first rite taking place at 9 am, although the temple itself opens at 8 am.
The rite lasts around 30 minutes and while I didn't really have a clue what was going on, it was amazing to watch. There are priests blowing into conch shells, others are drumming, the priests and the congregation are chanting and, in the middle of it all, there's a man sitting by a huge flame and much burning of blessings and wooden sticks for people who have asked for help.
At the end of the rite, people went up to get their handbags blessed by the flames. While I understand the concept, I can't find out why, specifically, handbags are held over the fire, so if you know, please tell me in the comments.
The temple also has a few other interesting touches including nearly 10,000 crystal statues, a bridge inside that people cross for luck and a second floor that allows you to do one of Japan's most holy pilgrimages without even leaving Tokyo. It's also where you go to get your car blessed for road safety – so expect to see a few vehicles lined up alongside.
If you're looking for somewhere to write all your Japan plans check out our Japan-themed notepads on Amazon.
With 120 lined pages they are perfect for planning all the elements of your Japan visit.
Make Planning Your Trip Easier
Organise your trip essentials like Japan rail passes, Sim cards and wifi, airport pick ups and advance tickets to the most popular attractions in Tokyo, Osaka and Kyoto in one place via our trusted suppliers in the Japlanease shop.
7. Go to Tsukiji Outer Market
The name Tsukiji is best known in Tokyo for the fish market that was based here until late 2018, that has now moved to nearby Toyosu, but the Tsukiji Outer Market is still in the old area and it's an amazing place to spend a few hours.
If you've already read our post on Tsukiji Outer Market you'll know I could visit time and time again and that I think it's absolutely one of the must see spots in Tokyo for any visitor – and particularly if it's your first time in Tokyo
And if it is your first time in Tokyo, See more must-see sights for your first trip here.
The traders here are happy to see you, will try to explain things to you if you look confused enough about what something is. Importantly for the foodies among us, they can also actually sell you things and between that and the free samples that many stalls offer, you can happily munch your way around it for a good two hours.
The outer market starts to open at 5 am, although exact opening times vary from stall to stall and most stalls stay open until 2 pm.
If you want to see all the raw fish, make sure you don't miss the newer buildings opened at the end of the market closest to the Namiyoke Inari Shrine. You can buy super fresh sashimi samples here and eat them on the 3rd floor.
Should You Take a Tour of Tsukiji?
You don't have to, but if you want to understand the market and the food, one of the best ways is to take an early morning tour.
The trip I choose to do this, I ate more and learned far more about how the market works, tried samples from the best stalls and explored areas I wouldn't have seen without the tour.
Click here to check it out and book.
If you still want to see the official fish market in Tokyo, that's open to the public although it's not quite as crazy as it used to be.
You'll find information on the new market in Toyuso in our Tsukiji post.
8. Queue up for Sushi
Yes, you know I said about people queuing for 3-4 hours for a restaurant – Sushi Dai and Sushi Daiwa in Toyuso fish market are two examples.
Said to be among the best sushi in Tokyo, both restaurants open when the markets do at 5 am but with just a handful of seats in each restaurant, queues start forming well before then.
No matter how dedicated I am to this blog, I was NOT getting up at 3.30am to stand in line for two hours for food, no matter how good it's meant to be.
Thankfully other people have done this, so, if you want to try it I point you toward their blogs to give you all the info you need – both refer to the restaurants at their old locations at Tsukiji, but they haven't go any less popular since the moved to the new market..
Sushi Dai by The Whole World is a Playground
Sushi Daiwa by iFat Food Chronicles
And if you need some help deciding which is going to get your hours and hours of standing time, here's a comparison of the two by Rubbish Eat, Rubbish Grow
The bowl of sashimi and rice you see before is not from Sushi Dai or Sushi Daiwa, it's from the place at Tsukiji I went the second time I was in Tokyo, but it pretty much proves what other people say – that all the raw fish around Tsukiji and Toyosu is good raw fish.
Even if you don't fancy standing in a queue, you'll find something super fresh and amazing.
Check Out Our Travel Planners Shop
Trying to plan your Japan trip? Our Japan travel planners shop on Etsy. We've made printable planners containing simple Japan-planning advice and fillable travel planning sheets to help you plan your itinerary, packing, spending etc. If you love travel printables, check out the Japlanease Shop on Etsy.com.
9. Buy All The Things in Don Quijote
Donki, as it's known in Japan, is a maze of things you didn't know you needed. Some of them you might not even know existed until you walked in through the door.
Now, while most shops in Japan don't open until around 10am, some of the bigger branches on Don Quijote – including the two branches in Shinjuku and the one in Asakusa are open 24 hours allowing you to head in there first thing in the morning.
10. Go up Tokyo Skytree
You can see it from all over Tokyo – and as such, you can see all of Tokyo from it. And, on a clear day you might even see Mount Fuji.
Clear days in Tokyo are few and far between but what I did find on my trip is that early morning usually offered the clearest skies – making the 8 am opening of Tokyo Skytree very handy.
2023 Note: Apparently, right now Skytree isn't opening until 10am, so just double check this before you rock up there super early. I'll keep my eye on things too. If that is the case, you could do some of our other Asakusa AM ideas (below) beforehand and turn up as soon as the tower opens at 10am.
The tower is 634m high and there are two viewing decks – the first at 350m has 360-degree glass windows. The second, 100m higher up, sends you up in a completely terrifying sounding glass tube that apparently sees you 'walking in the sky'.
You may be able to tell I didn't do this particular attraction – I was a skinflint and went up the free Tokyo Metropolitan Government Building, but, to be honest, that wasn't brilliant as windows are few and far between, so, if you like views, this is probably the better option.
Tickets cost from 2060 yen for adults with an extra 1030 yen fee to do the terrifying glass tube thing. There are a maximum of 10,000 same-day tickets available daily and you may be given a slot later in the day to return.
Skip The Line at Tokyo Skytree
Skip the line entry at Tokyo Skytree is available for international visitors if you show your passport, but this doesn't start until 10 am. If you want an early morning visit, you need to get same day tickets. If you like the sound of skipping the line later in the day though, here's where you can book.
Other Asakusa AM Ideas
If your visit finishes super early and you're still looking for some things to do in this area of Tokyo before breakfast, take a walk along Dempoin-dori in nearby Asakusa – like Shimotakawaza this shopping street won't be open much before 10 am but it also contains some cool shutter art – including pictures representing life in the Edo period.
You can also take a stroll down Tanuki Dori where you'll find 12 super cutesy statues or Senso-ji, one of Tokyo's most impressive temples also opens at 6.00am (6.30 in winter).
These and a few other cool things do around the area of Tokyo Skytree and Asakusa are in my guide of Quirky Things to Do in Asakusa on Japlanease's sister blog Differentville so check that out if you're in the area.
11. Visit a Garden
A short walk from the heaving madness of Shinjuku is the elegant and peaceful Shinjuku Gyoen Garden which opens at 9 am.
It offers three different types of garden to visit – an English flower garden, a more formal French-style garden and, of course, a traditional Japanese garden. And yes, if you're here in cherry blossom season it has those too. Note: it's closed on Mondays.
But it is Monday, you cry…. don't worry, Hama-rikyu Gardens near Shinbashi is absolutely stunning, open seven days a week and also opens its gates at 9 am (it's also easily combined with a trip to Tsukiji), or try the smaller but still super cute Kyu Shiba Rikyu Garden, which has great plum blossoms during their season.
12. Go on a Hachiko Tour
Most people who end up in Tokyo hear about the faithful dog Hachiko. If you're not yet familiar with the story, here's how it goes.
Every day, Hachiko used to follow his owner, Professor Ueno to their local station, Shibuya, where he caught the train to work. At night Hachiko would be waiting at the station for Professor Ueno to come off the train – until, one day, he didn't. Professor Ueno had had a fatal brain haemorrhage at work.
Hachiko, however, didn't give up, he kept going to the station every day – for the next ten years (feel free to sob right now).
There's now a statue of the faithful dog at the point he used to wait outside Shibuya station and, if you want a photo of it without 200 other people in it, early morning is your best time to get one. However, the main Shibuya statue isn't the only tribute to the most famous dog in town.
For starters, look down as you approach the statue and you'll notice the manhole covers have Hachiko on them. Across the square is a wall full of Hachiko artwork. There are also tiny pawprints leading to the exit in the station.
Now take a walk up to the Shibuya branch of Tower Records and outside you'll find a statue of crooked Hachiko that's meant to reflect the slant in the Tower Records logo.
Retrace your steps and head to the Shibuya Disney store and, if it's still there (as I'm not sure if it was a purely temporary addition), you'll also find a statue of Hachiko nestled in one of the tiny gardens in plant pots that line the side of the road.
However, your Hachiko tour doesn't end here. It's now time to jump onto the metro and make your way to Todaimae station. Come out of Exit 1 and turn left to reach the gate of the University of Tokyo. This was the University in which Professor Ueno worked and in the grounds you'll find a statue of a reunited Hachiko and Professor Ueno. That's it above – look at his happy, little doggo face – I admit I might have a had a cry at this point too.
The small part of the Nou-seimon Gate which is closest to the statue opens from 6 am, the main gate opens from 7 am and you can view the statue up until just after midnight,
See more about Hachiko's story in our Hachiko post – it has a few other sights in it too, including the new hologram of Hachiko in Shibuya. Find it here.
13. Wander Round Yanaka Cemetery
This is one of the biggest cemeteries in inner Tokyo and you can wander looking at the ornate graves for ages. It's the final resting place to many important Japanese folks including the last shogun Tokugawa Yoshinobu.
The cemetery is also famous for the many stray cats that had made their home among the gravestones, but on my last visit, I didn't see any so not sure if they've moved or if they were just hiding from me.
The official website says the office is open at 8.30 am, but I am pretty sure the entrance I went through didn't have an actual gate, so it may be that you can wander before then.
The cemetery is also a short walk from the Nezu shrine with its stunning walkway of mini-Tori gates which is open 24/7.
When the rest of the neighbourhood wakes up, take a trip to Yanaka Ginza, an old shopping street with a quirky cat theme.
Then Take a Tour of Yanaka
You can book morning tours of Yanaka which let you see the above with a guide – they start at 10am so, take a wander around the cemetery first then join your tour.
14. Check out Some of Tokyo's Oddest Buildings
A building doesn't need to be open for you to appreciate its outside – and Tokyo has some fantastically quirky ones to choose from making a quirky architecture tour a great way to spend an early morning in Tokyo. Some of my favourites include….
The Aoyama Technical College Building close to Shibuya which looks like a robot
The Shibuya Spaceship – home to the Disney store in Shibuya this black menacing structure looks like it's going to take off any minute.
And, the Reversible Destiny Lofts which are actually a short trek out of central Tokyo and therefore a good choice to hit up first thing as the travel time won't eat into the rest of your day. But, you could also just head over to the skyscraper district of Shinjuku or the Ginza and look up
15. Go to See Fuji-San
Mount Fuji is not that far from Tokyo – in fact, on a clear day, you can see it from some of the taller buildings – which makes it one of the good things to do as a day trip from Tokyo.
How to do this solo. The closest station to Mount Fuji is Kawaguchiko, about two hours away from Tokyo by bullet train.
This is covered by your JR pass if you have one (and if you don't, you can buy one here and have it delivered to you at home).
This post explains all the transport options for getting close to Mount Fuji.
Once here there are a number of potential photo spots to get your shot of the mountain. However…
Top Tip
If you've seen an iconic photo of a long thin road of shops with Mount Fuji in the background, here's where to find it.
You'll need to catch the local train from Kawaguschiko to Mount Fuji or Shimyoshida stations. It's taken on the road close to the Nikkawa Watch Shop.
You can also get the shot above if you take this little detour. It's taken from the Chureito Pagoda, a short, but steep, walk from the station.
Why Not Take a Tour to Mount Fuji
If you're not too keen on organising your own day trip, then there are plenty of early morning tours you can take from Tokyo to Mount Fuji.
Many of the tours visit Hakone, a hot springs area with great views of Fuji – and a heap of other things to do as well.
This tour takes in the famous Pirate Shop and ropeway attractions at Hakone plus takes you to the 5th Station at base of Mount Fuji – where, depending on the season, you might get to play in some snow. It also has a shopping stop at Gotemba Outlet Mall.
Why does every tour go here? Well, if you've ever been to Premium Outlet mall in the US, its the same – if you haven't, it's basically an entire mall of outlet stores including designer brands like Alexander McQueen, Vivienne Westwood and Jimmy Choo.
16. Jump on a train to Nikko
Another incredibly popular day trip from Tokyo is the nearby town of Nikko which is famous for it's Unesco shrine complex and beautiful scenery, particularly in autumn.
If you want to beat the crowds, you definitely want to be leaving Tokyo before breakfast.
See more tips on how to get to Nikko, and some fantastic tips from a local about the best things to do when you get there in our Perfect Day in Nikko post.
17: Have a Lie In
The Japanese have a concept called Ma, which loosely translates as 'making time and space' and, it's something I'd advice you to do at least once in your trip (see our post on it here).
Travelling around Japan can be exhausting, so I strongly advise you to book either one lazy morning, or one lazy evening to just recharge your batteries.
Admittedly, most hotel rooms in Tokyo are on the small side – but the Citadines Shinjuku breaks the mold. It's an apartment hotel and each room has a good-sized double bed, a sitting area, a kitchenette and a full bathroom with a bath (which you'll need after all the walking you're likely to do). I've stayed here three times now and definitely recommend it.
Click the link to check out prices and availability on booking.com – or, if you prefer to use Agoda, then click here.
Look at the size of that room.
If you're not sure about the Citadines, but like the idea of a large hotel room, then have a look at our post on the best hotels in Tokyo with large rooms which gives a few more to choose form. .

If you're looking for other suggestions, or just need to get your Tokyo neighbourhoods straight in your head, check out this guide on on where to stay in Tokyo.
So there you have it, 17 things you can do in Tokyo before 10 am. Did I miss anything? Let me know in the comments if I did – there's no way this is my last trip to this fantastic city so I'll be looking for ideas of things to do in the early morning in Tokyo too!
---
Have you joined our Japlanease Facebook Group yet? It's the perfect place to ask questions and get answers from me, and other Japan fans and travelers. Join it here.
---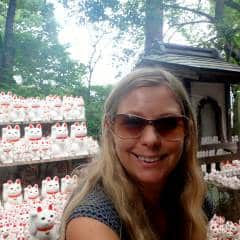 Who Writes This Blog?
My name is Helen Foster and I'm a journalist and author. My travel articles have appeared in publications including The Australian, RAC Horizons, Jetstar Magazine, Sainsbury's Magazine and more.
I've travelled to Japan seven times before, both solo and with my partner – and am just planning trip number eight