If you've decided to visit both Kyoto and Osaka on your Japan trip, but have to decide which to stay in and which visit for a day trip this is the post that can help. It explains the differences between Kyoto and Osaka – and helps you choose the perfect one for you.
Many people on their first, or second, trip to Japan decide to follow what's known as the Golden Route. This means staying a few days in Tokyo, and then taking the bullet train down the country to visit Kyoto and Osaka.
But, if you don't have time to stay in both cities where should you choose to base yourself? Which is better – Kyoto or Osaka?
Well, there's no one right answer as it depends on your personality and what you want to get out of your trip – which is why we've come up with nine questions to ask yourself when considering Kyoto vs Osaka to find the best spot for you.
Disclosure: Some of the links in this post are affiliate links which mean I earn a small commission if you use them to book. This does not cost you any extra. Japlanease is a member of the Amazon Associates program.
First Though, Consider Both
It won't be the most in-depth exploration of either city, but if you have 5-7 days to spend outside of Tokyo, you could split your time between Kyoto and Osaka.
The two cities are just 15 minutes away from each other by bullet train and so it's easy to swap between the two as you won't waste valuable time travelling.
You can do a split trip in fewer than five days, but allowing for travelling to and from Tokyo and then getting to your hotel and settling in I think five days is the minimum to do both places – especially if you want to add in a day trip to Nara or Hiroshima while you're down there – you could then spend 2 days in one place and 3 in the other.
Exactly how many days you spend in each will probably depend on your answers to the questions below.
However, if you prefer to stay settled in one place, or need to decide which one of the two cities deserves that extra day in the plan above, here's what you need to think about…
How to Decide Between Kyoto or Osaka
Okay, I've tried to be as unbiased as possible here, even though I do have a favourite from the two cities which I'll reveal at the end, but these are the questions I think you need to ask yourself to decide whether Osaka and Kyoto is the perfect base for you.
1. What Do You Want to do During the Day?
Kyoto has the big ticket items that you've probably seen on Instagram – it's full of jaw-dropping temples like the golden temple of Kinkaju-ji or Fushimi Inari with its hundreds of scarlet tori gates.
In town, there's winding alleys lined with homes, restaurants and teahouses from years ago and the enticing thought that you might see a geisha popping out from behind a curtained doorway of one of the small wooden buildings.
Take a train the short trip to Arashiyama and you're spoilt for sights with the famous Bamboo Forest, the stone man temple (officially known as Otagi Nenbutsu-ji) and the pretty views from the Sagano Romance train.
And I haven't even touched on the full list of Kyoto attractions here, there are hundreds more.
You'll find our list of the top 10 Kyoto attractions here.
If you love temples, Kyoto is your happy place. If you get templed out in a day or two though, you might want to look at Osaka instead.
Osaka doesn't have so many 'wow' sites (unless you're travelling with kids – but more on that later). It actually has more temples than Kyoto, but they are small and subtle – like Hozen-ji with its interesting moss-covered sculpture or Namba Yasaka with its lion's head design.
It's biggest historic site is probably Osaka Castle.
Wandering around Osaka is more varied than Kyoto.
Each distinct district carries it's own vibe – one minute you'll be wandering around kitsch Shinsekai with it's garish signs and cute Billiken statues but a short walk will lead you to Amerikamura and a few hours of wandering around vintage shops and checking out Japanese street fashion.
Find our list of the Top 10 Sights in Osaka here.
Verdict: If you like your days jam packed with noteworthy sights to tick off, the Kyoto is the place for you. You can't possibly do it all in a day trip. It's huge.
If you can't get enough of big showy temples and shrines and want somewhere with a sense of history, staying in Kyoto is absolutely your best bet.
But, if you love to wander and just absorb the feeling of different areas, I think Osaka fits the bill more than Kyoto.
2. What Do You Want to do in the Evening
Osaka comes alive at night. Not only are the bright lights of Dotonbori one of the most famous – and fun – sights in Japan, the backstreets of every area team with bars and restaurants. Shops open late and there are people everywhere.
You can spend each evening of a week long trip wandering around a different area of the city a night and find heaps of places to eat and drink.
Osaka also has a great live music scene – look for clubs called Livehouses if you want to find local bands
Kyoto is not usually thought of as a great night time town – at least in the central area that most tourists spend their time. And that's also been my experience so far.
Don't get me wrong, there's hundreds of restaurants to choose from, you won't starve, but it's hard to just wander around trying to find something you like. I've never just stumbled across anything great in the centre and it tends to feel a bit hard.
One reason for this, for me at least, is that many restaurants in Kyoto, particularly in Gion and the very pretty Pontocho Alley have closed-in fronts so it can be a bit hard to work out what's going on inside and whether you'll feel comfortable there – or that the bill isn't going to come to hundreds of dollars.
One of the words I use to describe Kyoto quite often is impenetrable.
The downtown area is a little more open, it's where I usually end up finding somewhere to go on my budget – but nowhere that's blown my socks off yet.
I did like the area of Karasuma behind my hotel though. It's not in the centre, but you can wander looking in windows – and with no plan we found some appealing bars and a good dumpling restaurant to visit.
Verdict: Osaka is the pick for those who want to properly party. I also think Osaka is a town for wanderers for those who just want to see what takes their fancy as the night unfolds.
Kyoto at night is a town for planners – you need to do your research and find out where you want to go – although, considering how packed the days are there that might not be a bad thing for your feet!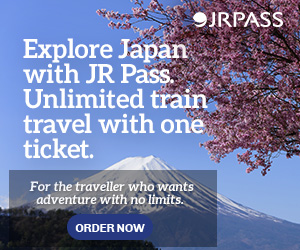 3. Are You Planning Lots of Day Trips?
Osaka has slightly more direct transport routes to most of the major places you might want to see in this area than Kyoto. Here's some examples…
Getting from Shin-Osaka to Hiroshima is a direct journey of about 90 minutes. If you travel from Kyoto, you'll need to change at Shin-Osaka and it takes at least 15 minutes longer.
Getting to Nara from Kyoto is a simple 43 minute journey on the JR Nara Rapid Line. From Osaka it takes 50 minutes from Osaka station (not Shin-Osaka)
Getting to Kobe takes 25 minutes from Osaka station – and 55 minutes from Kyoto (via Osaka)
Getting to Himeji and it's famous castle takes 30 minutes from Osaka station – and 56 minutes from Kyoto.
Verdict: It's not going to make much difference if you're just doing one trip, or, if your trip is direct from both Osaka and Kyoto, but if you're going out and about a few days from Kyoto it can get tiring to keep changing trains at Osaka.
Watch Out Though…
Do pick your accommodation in Osaka carefully if you're going to base your stay on this though and decide if you'd prefer to be near the stations for early departures, or the more fun areas to go out at night.
Shin-Osaka, where the shinkansen departs from, is about 20-minutes away from the touristy Namba district, Osaka station which has the local JR Lines is a bit nearer and, while that might sound okay while you're reading this, it can seem eternal when you just want to get back to your hotel for a quick nap before going out exploring Osaka at night (as you can tell, I learned that the hard way).

4. What's Your Hotel Budget?
I have always thought that Osaka was much cheaper than Kyoto for accommodation; every Japan group I belong to says the same thing – but on paper at least, it seems I – and they – might be wrong!
I'm writing this while Japan is closed and so the prices are completely inaccurate right now., That means I can't directly compare the two hotels I tend to stay in in each city (the Citadines Kyoto Karasuma Gojo in Kyoto or the Fraser Residence Nankai in Namba in Osaka) – or any others – and so I decided to turn to Lonely Planet to get a comparison of the two and, if you take their advice, it seems that Kyoto might be a little cheaper – at least at the base rate anyway.
The Capsule Hotel they recommend in Osaka is more expensive than the one they recommend in Kyoto – the. A dorm in the Shin-Osaka Youth Hostel is also listed at 1000 yen a night, while a dorm based guest house (K's House) near Kyoto Station.
A general business hotel in Osaka was around 3000 yen more than a hotel in Kyoto from the same chain.
The 5-star Hyatt Regency Kyoto is also listed at about 8000 yen a night less for a double, while the 4-star Hotel Nikko in Osaka.
While this might seem to make it a clear cut decision on whether to stay in Osaka or Kyoto if budget matters, do watch out as Osaka is a business town and prices can really vary if there's a large conference in town.
Looking for some extra space in Osaka? Have a look at our guide to Osaka hotels with larger rooms.
Be Careful on a Budget
Also, watch the location of some of the very cheap hostels in Osaka. While Japan is generally very safe, an area called Nishinari (near Dobutsuen-Mae metro) in Osaka is possibly not what you're expecting to find there.
It has a high percentage of homeless and is a bit run down – but it is also where you'll find some very cheap hotels.
If you find somewhere you want to stay around here, just check the reviews and maybe ask around on some forums – especially if you're a solo female.
Kyoto is more tuned to tourist seasons as to when prices rise (check out guide on when to visit Kyoto for more details on what's on when).
If you're travelling in cherry blossom season, autumn leaf season or Golden Week (end of April, beginning of May) you might find that it's cheaper to stay in Osaka.
You may also find that the cheaper rooms in Kyoto sell out faster as tourists tend to book more in advance than business people. Osaka also generally has more hotel rooms than Kyoto.
Verdict: Still to be totally decided: I'm a bit loathe to come down on one side or the other here as my research on paper goes against everything I've found in the past – but as I said, I'm not writing this in normal times.
The moral of this story therefore is, that, unless cost really is a deciding factor, decide on Osaka vs Kyoto by determining how you are going to spend your time and which you think you'd enjoy most and then try and find a hotel that fits your budget rather than picking where to stay on cost.
If cost is the main concern, then pick two comparable hotels and look at your dates as it really will come down to where you're staying, how long you're there, when you're staying and how many things are going on in town – and how far in advance you need to book.
Sorry, I know that's not a definitive answer. I'll update it more definitively once people are travelling again.
5. Do You Like Old or Modern?
Osaka is modern – all shiny lights and big glass buildings. It's brash and busy and fun.
Kyoto on the other hand reflects the more traditional side of Japan – it was one of the few cities in Japan not be bombed in the war so a lot of it is original and has a more elegant, sedate feel to the centre.
If you've already been to Tokyo you might love the change of feel and pace you get from staying in Kyoto.
It also has more natural sights than Osaka so if you need some greenery to recharge after Tokyo its the perfect choice – but if you love the buzz of cities, crowds and nightlife, Kyoto is going to feel like staying in a small town.
Verdict: They both do what they do very well!
Make Planning Your Trip Easier
Organise your trip essentials like Japan rail passes, Sim cards and wifi, airport pick ups and advance tickets to the most popular attractions in Tokyo, Osaka and Kyoto in one place via our trusted suppliers in the Japlanease shop.
6. Are You a Foodie?
Then you're going to be in your element whichever you pick! However…
Osaka is said to be the foodie capital of Japan. If you want to nibble your way around a city, then Osaka is the one to pick.
Dishes you shouldn't miss include takayoki (octopus balls), okonomiyaki (a pancake you cook yourself).
Also try kushi-katsu which basically deep fried food on sticks that you dip into sauce. Lastly, definitely visit Kuramon Market and just try whatever looks good from the stalls.
If you want to know the 9 foods you absolutely must try in Osaka, and where to try them, we have a list for you.
Kyoto is probably less renowned for specific dishes than Osaka but, you'll still eat well there.
If you're looking for high end dishes – the Michelin Guide include a few more restaurants in Kyoto than in Osaka – but it's close.
The World's 50 Best lists 10 bars and restaurants in Osaka. and has 12 listings for Kyoto.
Verdict: Neither will disappoint, but Osaka offers more speciality dishes and from my experience has better food at a lower budget – but, perhaps I just need to do more research in Kyoto..
7. Do You Have Kids With You?
All kids are different, but, Osaka has more obvious child-friendly attractions than Kyoto as it's home to Universal Studios with its amazing Wizarding World of Harry Potter, the Cup Noodle Museum, a huge aquarium, two sky scrapers with viewing decks and the smaller, but still cool Tsutenkaku tower.
You'll also find cat cafes, dog cafes and even reptile cafes in Osaka.
This doesn't mean Kyoto doesn't have things for children – the Arashiyama Monkey Park is incredibly popular with children of all ages, the stone men at Otagi Netunbusi temple will entertain kids and the Yokai Street which is full of models of Japanese monsters can be fun, still Osaka has the big ticket items.
Nara is also a great place to take children because of it's 'friendly' deer – but as it's just as easy to get to from Osaka as Kyoto either destination works there.
Verdict: Osaka has more obviously child-friendly attractions and, as they aren't all right in the centre of town from Kyoto, if you're going to do more than one of them, you're probably going to want to base yourself in Osaka.
Oh and if you are going to Universal Studios, it's a good idea to book your tickets in advance. Have a look at those here.
8. Do You Hate Crowds?
You're not going to get away from crowds in either city, but while the crowds in Kyoto tend to be speaking 15 different languages and peering at maps, the crowds in Osaka tend to more local. It doesn't feel as much like a tourist town as Kyoto does.
However, if you want to get to the temples before the crowds – or after they've gone home, you are better off staying in Kyoto.
We arrived at the Yasui Kompira-gu stone (through which you climb to bless your relationship) at dusk to find no-one there, but someone we got talking to said the queue to pass through it during the day had been 5-6 deep.
You'll also enjoy the Arashiyama Bamboo Forest much more if you can get there as close to 8am (or earlier) as you can. Fushimi Inari is also best seen when crowds are thin.
Verdict: Staying in Kyoto helps you see some of the biggest attractions before or after the day trippers arrive, but it can feel like there's no locals around in the centre of town.
9. What Season Is It?
This isn't going to be a major factor in whether to stay in Osaka or Kyoto as the general temperatures and weather in Kyoto and Osaka are likely to be very similar on any given day, but if you're still undecided about which place to stay in, I think season might play a part in that final decision.
If you're not sure when to travel, find out guide to the best time to Visit Kyoto here.
During busy events like the cherry blossoms or autumn leaves I mentioned above will see prices rise in Kyoto.
Staying in Kyoto when these are on may be considerably more expensive than Osaka – but there again, you might want to be in town to beat the crowds.
If you're day tripping to Kyoto and want to see as much as possible, it needs to be a long day so you can get to some of the big sights early in the morning or later in the evening.
That's going to be easier if it's light outside.
If the only daylight you have is between 7am and 5pm as it is in December, you're not going to see as much as in the height of summer when the sun is up at 5am and out until 7pm. So, in summer, it's easier to stay in Osaka and take one, or two, long day trips to Kyoto.
Conversely, Osaka is more of a late-rising, late-night town and you want it to be dark to see the lights, so, if you're travelling in winter, you might want to base yourself in Kyoto to catch as many sights as you can in daylight and head to Osaka later in the day.
My Choice of Kyoto Vs Osaka…
I personally love Osaka and haven't quite found my happy place in Kyoto yet so, right now, Osaka would win for me. Why?
I'm a wanderer. I don't really like to tick off big sights but instead, find small details.
I love photographing old Japanese buildings and not knowing what I'm going to find around the corner and, despite all the history in Kyoto, I prefer the neighborhoods of Osaka..
And I also love anything kitsch and garish – so, while I like Kyoto's Nishiki Market, it was Osaka's Kuramon Market with it's giant prawns hanging from the ceiling that stole my heart.
It goes without saying that the sight of giant waving crab and the bright lights of Dotonbori make my heart sing and I'm a big fan of wandering around Shinsekai.
Osaka also has Den Den town – it's equivalent of Tokyo's Akihabara, and while it's not at the same scale, it's also somewhere I can send my partner, who loves all things electronic, while I go and indulge my love of aimless meandering.
You'll find our full list of the top 10 things to do in Osaka on your first trip here.
Don't get me wrong, the temples in Kyoto are beautiful – but, I can only do two or three a day before temple fatigue sets in.
I don't quite get Kyoto. So far, I've not really found anywhere that feels comfortable there for me. It's either too touristy or too high end. The closest I've come to enjoying Kyoto at night was Karasuma.
I have also never had a truly memorable night out in Kyoto (although I did spend an evening in a bar run by a monk that was interesting if eye-wateringly expensive).
In Osaka though, I ended up going to a karaoke bar where we got talking to an English teacher, who invited us to an underground bar where we stayed until the sun come up.
She then invited us to an S&M bar the next night where she was performing (we sadly had to decline as I had nothing to wear for that little outing in my holiday capsule packing).
I do intend to spend longer in Kyoto on my next trip though in an attempt to develop the same love for it as I have for Osaka.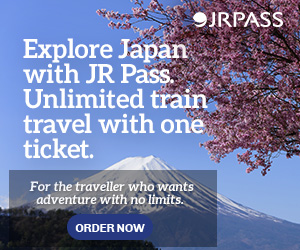 How to Day Trip Between Them
One of the nicest things about the Kyoto va Osaka question is that even if you do pick one city to base yourself in, you don't need to completely ignore the other city entirely.
Trains between Kyoto and Osaka are very regular and as I said, they are only 14 minutes apart by shinkansen and that's covered by your JR Pass if you have one.
It's therefore totally possible to base yourself in one city and visit the other one for a day. And here's some tips if you do…
Visiting Kyoto for a Day
If you do try and do Kyoto in a day you'll need to be organised and plan a very long day to see even just a fraction of the main sights as they are very, very spread out.
My advice would be to pick no more than 3-4 of the big sites to see and plan how you're going to get from A-B carefully.
You may need to get some taxis and the odd bus as trying to get around the big sites in Kyoto solely by train is going to chew up a lot of time – and unless you're just focusing on the centre itself, it's impossible to do it by walking.
Another option would be to hire a bike if you don't mind cycling.
Or, have a look at the Hop on Hop Bus which goes to most of the big sites and can save you walking – but, you will have to time your visits to the sights carefully.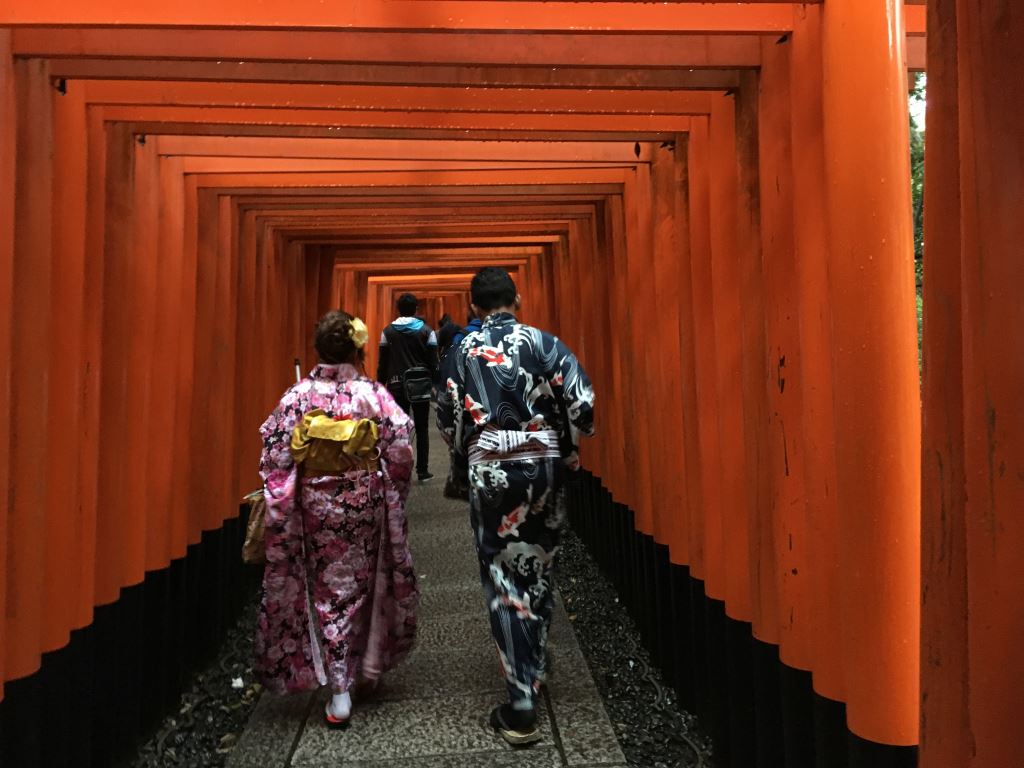 Head to either Arashiyama Bamboo Forest or Fushimi Inari first or last in your day – both are open 24 hours and so if you can get there at first light, or a little before dusk you can spread out your day that bit further.
If I'm being very honest, the Bamboo Forest is not quite as impressive in the flesh (leaves) as it is in photos.
If your day is jammed and you have to cut something (and you don't need the Instagram likes) you might want to cut that.
Saying that though, if you're in Kyoto for a while, do visit it and the rest of Arashiyama as the surrounding area has lots and lots to do.
As mentioned above, you might want to have a plan for where you want to visit for lunch or dinner just so you're not wandering around trying to find somewhere that looks good.
Osaka in One Day
You can get a lot done in Osaka as a day trip from Kyoto as generally, once you get into the main touristy areas, the distances between the sites aren't as great.
You can easily walk between them if you don't mind racking up some steps, or, Osaka does have a pretty good metro system (and the Enjoy Eco card gets you free travel for a day so you can make the most of it).
If you like to wander, then you could start at the Namba Yasaka shrine (easily accessed from Shin Osaka on the Midsuji line) which opens early, then jump back on the Midsuji line to Abeno Harkus, Japan's tallest building arriving for when it opens at 10am.
After admiring the view then walk to Shinsekai to admire the decorations and grab some lunch. Wander up through Den Den town, head to Kuramon Market to see what's on offer, or head straight to shop and see what's going on in to Amerikamura, hitting Dotombori once it gets dark..
If you want to see Osaka Castle, go here first as it opens at 9am. The pick your other favourite sights from the list above.
It is harder to combine all of the more child-friendly activities into one day trip as they are more spread out – plus Universal Studios is going to take pretty much a whole day on it's own unless you get very lucky with the crowds.
If you're coming to town with children, you might have decide between the Cup Museum and the Aquarium just so you're not spending lots of time on trains.
So, there you have it – my guide on how to choose whether to stay in Kyoto or Osaka. Did it help? Or do you have any more questions? Let me know in the comments and I'll try and answer the questions.
Also, if you have a favourite between Kyoto and Osaka, let me know why in the comments. I'd love to hear your opinions too.
---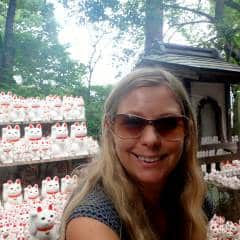 Who Writes This Blog?
My name is Helen Foster and I'm a journalist and author. My travel articles have appeared in publications including The Australian, RAC Horizons, Jetstar Magazine, Sainsbury's Magazine and more.
I've travelled to Japan seven times before, both solo and with my partner – and am just planning trip number eight