What should you see in Tokyo? That could be a very long list. The city is huge and full of amazing sights – but, if it's your first trip to Tokyo, there are a few things you really shouldn't miss. So, here's our list of the top 10 things to do in Tokyo – on your first visit.
Chances are if you're planning your first trip to Tokyo, you already know there's lots to do. Maybe you've had a look at a few guidebooks, or some blogs like this one, and you want to try and see everything.
But, after a day or two poring over a map, trying to jiggle everything you've probably also realised that's not going to be possible; the city is huge and there's so much to do.
So our list picks the 10 Tokyo attractions that pretty much everyone visiting Tokyo for the first time is going to want to tick off.
If you're only there a few days this is the list to print (and you'll find the option to do just that below!). So, here we go… the 10 top things to do in Tokyo for first timers.
1. Shibuya and the Shibuya Crossing
Shibuya Crossing is the world's busiest pedestrian crossing and during the busiest times of day, up to 3000 people can all make their way across the road at the same time.
The best way to experience it is to watch it from one of the view points nearby – walking across it yourself is interesting, and you do need to do it, but you really don't get the scale of it from on the road itself.
Each view point gives you a slightly different perspective.
The Mark City Walkway: This walkway between Shibuya Station and the Mark City Building runs just above the road to the left of the crossing – giving you a good side on view.
This is my personal favourite spot as it's free, you don't need to queue and no-one is hassling you to move on so they can take their own picture, there's plenty of room for everyone. Plus, it doesn't set off my fear of heights!
To find it, head toward a marker for the Myth of Tomorrow on google maps – that's a painting that lines the wall of the walkway and is the easiest way to work out where you need to be.
The Cafes: The Starbucks and the L'Occitane Cafe opposite the crossing have long been popular places to get a good view – particularly if you can get one of the tables close to the windows.
You do have to buy something and if you do manage to snag one of the coveted window spots expect people taking pictures over your head.
Mag's Place: If you want a view from above and don't mind paying a fee for the privilege, the rooftop terrace at the MAGNET building (the building that looks a bit like a white tube on the north side of the crossing) is where to go.
When they first opened it was free but now costs 600 yen to get in, but gives a great overhead view. Enter from the Food Court on the 7th floor. It's open from 11am to 11pm.
Shibuya Sky: The newest viewing spot – and the highest one. The viewing area is 230 metres above ground and therefore not one for those who really don't like heights – especially as it's surrounded by plexiglass – the view from the escalator makes my head spin!
If you're not acrophobic though, you can check the opening hours and also book tickets in advance.
Spots are limited so if you don't want to miss out, then advance booking is advisable (which is also slightly cheaper), or get there early in the day.
Closest station Shibuya on the Hibiya, Ginza and Fukutoshin lines and follow the Hachiko exit to reach the crossing.
What else is nearby: The other main draw right by the Shibuya Crossing is the Hachiko Statue.
If you're visiting Tokyo for the first time and don't yet know the story of Hachiko, or if you do and you want to find some other Hachiko-based sights in Tokyo, then check out this post which tells you all about Japan's most famous dog.
Beyond that Shibuya is a great place for shopping, even if you're not into Japanese fashion, you'll spot some of the newest food trends and other interesting shops in the back streets.
2. Senso-ji Temple, Asakusa
If you only have time to see one temple on your Tokyo trip, then Senso-ji should probably be it.
Located in Asakusa, this Buddhist temple is probably most famous for the huge red Karimaron gate and giant lantern that guard its entrance but there's far more to it than that.
Once you pass through the gate, you'll walk through a long shopping street full of everything your souvenir hunting heart might desire – from traditional Japanese sweets to prints with Godzilla on.
Next stop are the food stalls that line the walkway to the temple itself.
And, then you finally reach the Main Hall and pretty red Pagoda. There are other buildings on the site and link below has a map which allows you to identify them and explain their purpose.
Sensoji is thought to be Tokyo's oldest temple and the story of it's history – involving two brothers, a fishing boat and the statue of a deity is interesting (read it and some more history of the temple here).
It's definitely a Tokyo must-see sight and one of the top shrines and temples in Tokyo
The complex itself is always open and if you want to try and get pictures without too many people in them, visit first thing in the morning, or at night when the gate and lantern are lit are your best options.
The Main Hall is not open 24-7, that opens at 6.30am and closes at 5pm.
Obviously, if you want to visit the shops you'll need to arrive when those are open which is from around 10am.
A clever trick is to get there before this, head straight to the Main Hall and the rest of the temple complex itself before too many other people arrive and then do the shops on the way back.
Closest station: Asakusa which is served by the Ginza line and the Asakusa line. Take exit 1.
What else is nearby: The area of Asakusa is a great place to wander and soak up some of Tokyo's older atmosphere – although it's modernising fast.
You'll find some other temples nearby, there's a road lined with statues of cute Tanuki's, lots of bars and restaurants and it's also home to Kappabashi shopping street which is famous for it's incredible models of plastic food – and where Japan's top chefs shop to restock their kitchens.
If you have any interest in buying anything like dishes, it's a great place to do so – author Jonelle Patrick based one of her books here and she tells us why it's one of her favourite places in Tokyo, here.
Lastly, don't miss the Tourist Information Centre opposite Sensoji which has a good view from its roof and also offers free weekly walking tours which are a great way to pick up some extra Tokyo travel tips.
Find details of those here, you'll need to translate it from Japanese but it lists all the tours in one place.
3. Tsukiji Outer Market
Once upon a time a trip to the fish market at Tsukiji, and it's famous tuna auction, was a must do on every tourists Tokyo itinerary, but, then in 2018 the fish market moved to a new sight in Toyosu.
This caused many people to delete Tsukiji from their itinerary, but you absolutely shouldn't.
While the big fish aren't there any more, the labyrinthine alleys of the Tsukuji outer market that circles the old site are filled with stalls and restaurants that still offer fresh-off-the-boat sashimi and sushi for you to try plus hundreds of other foods.
While you can just wander around, buying whatever takes you fancy, the best way to visit is definitely on a food tour which will take you to the best stalls of the hundreds that fill the space.
If that's not feasible in the time you have for your visit, the Tsukiji website gives a good list of what stalls sell what items so you can highlight your favourites.
It also lists the restaurants and what type of dish they sell.
See more about why we love Tsukiji Market in our longer post on it here.
While some shops at the market can open as early as 5am. some areas are only open to those buying for trade.
If you want to get there when all the shops are open arrive from 9am – and note that most of the shops close just after lunch. Restaurants open from 11 to 2. Also note that some shops close on Sundays and Wednesday so try and avoid visiting then if you can.
How to get there: Either Tsukijishijo Station on the Ueno line (exit A1) or Tsukiji Station on the Hibiya Line (exit 1)
What else is nearby: You can easily combine a morning tour of Tsukiji with exploring the shopping district of Ginza or a trip to the grounds of the Imperial Palace.
If you're trying to fit everything on this list in a short period, Tsukiji is also connected to Shibuya by the Hibaya line – so you could go here first, then get to Shibuya for when things open there. It's also fairly near the island of Odaiba.
Book a Tsukiji Tour
While you can easily see Tsukiji on your own, you learn so much more if you take a tour. You'll also likely to be taking to the best stalls for each type of food too.
There's quite a few different tours of Tsukiji. I've already done this half day one which was great.
Or, have a look at ByFood who offer a selection of different food experiences in Tsukiji (and many other areas of Tokyo) ranging from market tours to a sushi making class with probably the freshest fish you'll every cook with!
See more about their food experiences here
4. See Tokyo from Above
To get a sense of the sprawl that is Tokyo – and maybe catch a glimpse of Mount Fuji if it's a very clear day, you need to go up one of Tokyo's tall buildings.
There's a few of these and which you choose might depend on what fits best on your itinerary, cost or your head for heights.
Tokyo Skytree
Located close to Asakusa the Skytree is Tokyo's highest building. The two Observation Decks are located 350 metres and 450 metres above ground and costs from 2100 yen to enter – the higher you go, the more it costs. It's also more expensive on the weekend than a weekday.
On a clear day you can see Mount Fuji from here, but morning is normally the best time to do so.
Skytree is also the best tower for adrenaline junkies as it has a section of a glass floor you can walk on with all of Tokyo under your feet and access from the 350m level to the 450m one is via a lift with a view!
You can buy Skytree tickets in advance that let you jump the queue, to do this or for more details check out their website here. The tower is open from 10am to 8pm.
Tokyo Tower
Located close to the nightlife area of Roppongi the red and white Tokyo Tower is one of the iconic symbols of Tokyo. If you go up it, you'll be looking down on Tokyo from up to 250m.
Like the Skytree there are two decks at the Tokyo Tower – the Main Deck is 150m above ground, the Top Deck is 250m high. You can only access the Top Deck with tickets bought in advance.
Tokyo Tower is slightly cheaper than Skytree with admission to the Main Deck from 1000 yen.
Tokyo Tower opens until late so you could combine a visit with a night in Roppongi.
Shibuya Sky
The newest high spot in town, this offers a 360 metre view around Tokyo from a 230m tower.
It's also famous for its Instagram-friendly escalator and the Sky Edge, a corner of the building with clear glass sides that looks like you're standing in air.
It gets very busy – especially around sunset, so it's a good idea to book your slot in advance. Buy tickets here
Tokyo Metropolitan Government Building
Located in Shinjuku, one benefit of this viewpoint is that it's completely free.
The viewing area is located at 243 metres above the city and you can see Fuji from the windows that look west – plus, you'll also get Tokyo Skytree and Tokyo Tower in your photos!
There are two towers in the building each with slightly different views, so if you want to check out both, make sure you go on a day when they are both open.
Full opening hours and times are on their website. Generally though at least one tower is open each day from 10am to 8pm.
What else is nearby: Skytree can easily be added to a morning at Sensoji, while the Tokyo Metropolitan Building could be your first stop of the day if you're staying in Shinjuku, or, head there for a sunset view before spending the night in Shinjuku.
Check Out Our Travel Planners Shop
Trying to plan your Japan trip? Our Japan travel planners shop on Etsy. We've made printable planners containing simple Japan-planning advice and fillable travel planning sheets to help you plan your itinerary, packing, spending etc. If you love travel printables, check out the Japlanease Shop on Etsy.com.
5. Visit an Onsen
Onsens are communal hot water baths beloved by people in Japan. If it's your first time to Tokyo, it might seem a waste to spend an hour or two sitting in hot water, but it really is a chance to experience a true Japanese tradition – plus it can help soothe the aches and pains of sightseeing
If you want to try and onsen on your trip, and aren't going outside of Tokyo to stay at a ryokan that has one, then Thermae Yu in Shinjuku is one of the easiest places to enjoy the experience.
It's one of the onsens in Tokyo most used to dealing with confused tourists who aren't quite sure about onsen etiquette and the staff are helpful.
You see when you use an onsen, there are three main things to remember…
You enter the baths naked.
You must wash before you get into the water – and there's a special area for this.
No-one cares that you are nude but you!
Once you realise that, the wonderfulness that is soaking in hot water is yours to enjoy.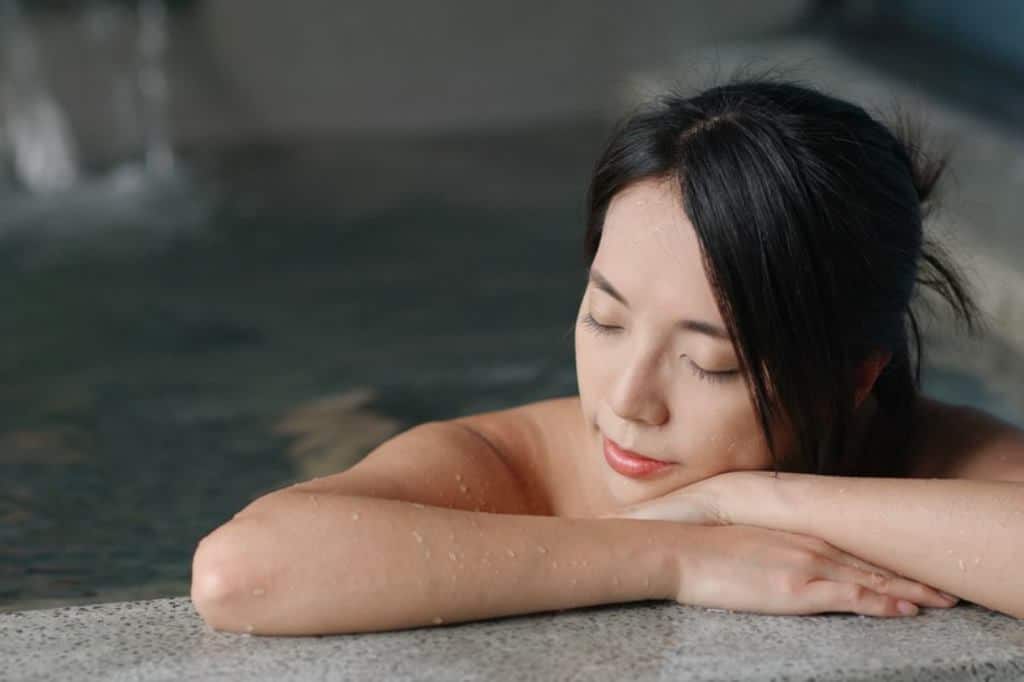 The baths are normally open 24 hours (except for between 3-5am) so visiting Thermae Yu is also one of the best things to do in Tokyo in the morning where there's not a lot else open (here's where to find some more suggestions for that). There's also likely to be fewer people here then if you are a bit nervous about getting naked with random strangers.
Thermae Yu is also unusual in that while tattoos are generally banned, they are allowing in tourists with small tattoos. You must cover them with a bandage that they sell, but if you can cover your design with a plaster either 8x10cm or 10×14.5cm you can enter
To check their opening hours and what other treatments are currently on offer, their website is here. You may need to use google translate.
Or, to make it easier, you can buy tickets in advance via Klook which explains it all in English.
Have a look at Thermae Yu tickets here.
Closest Station: Shinjuku Sanchome, Toei Shinjuku Line, Tokyo Metro Marunouchi Line, and Fukutoshin Line. Take exit E1
What else is nearby: The Tokyo Metropolitan Building, bars, restaurants and Shinjuku is easily connected with Shibuya on the Fukutoshin Line so you could soak before and then head to Shibuya.
Or come here to revive aching feet before going out in Shinjuku at night – remembering though that the baths will dehydrate you so, make sure you drink plenty of water if you're going to be drinking! And don't even think about coming in here afterwards! Alcohol and very hot baths don't mix.
6. Teamlab Borderless/Planets
While much of Japan offers visitors a sense of history and traditions of day's gone by, Tokyo always has one foot in the future and that's why this interactive art exhibit is on this list.
Well, that and the fact that's it one of Tokyo's most popular tourist attractions and has been voted most popular museum in the world dedicated to a single artist!
When it first opened, there was nothing else like it in the world and people queued for hours to see works like the Forest of Lamps or the Universe of Water.
Even now queues can be very long so you definitely want to book tickets in advance and try and arrive as early in the day as you can.
Image from Jonelle Patrick – onlyintokyo.com
Depending when your trip to Japan is happening, the queues might be even longer as Teamlab has closed their original location and will open a new one in a different location in 2023 which will no doubt, also have queues around the block.
It might not fit in everyone's interests, but there's no doubt that's it's a phenomenon. to book tickets in advance, check the current status and location and just see what all the fuss is about, check their website.
If you're travelling before the opening of the new Borderless location, then you might want to check out TeamLab Planets instead.
It's open now and while it's a lot smaller than the original (which is why it hasn't created the same mega hype), if you just want to get the Teamlab experience – and some obligatory instagram photos, you mighty decide it's worth a look.
Closest station: Teamlab Planets is located in Toyosu,
What else is nearby: Lots. Teamlab is located on Toyosu home to the new Tokyo fish market. You can easily combine a trip to Team Lab Planets with a trip to the Toyosu Fish Market with the amazing Mariakan Science Museum, the intriguing Poop Museum and the shopping and entertainment complexes around Odaiba. There's heaps to do around here.
If you're looking for somewhere to write all your Japan plans check out our Japan-themed notepads on Amazon.
With 120 lined pages they are perfect for planning all the elements of your Japan visit.
7. Takeshita Street and Harajuku
If you want to indulge in all that is cute (kawaii) in Tokyo, Harajuku is where to come.
While it used to be the in place to see people dressed in cute Japanese styles like the girly Lolita fashion, there's less of that around now, but you're still more likely to find fun food trends like giant rainbow candy floss, rainbow cheese toasts, cute animal-shaped ice creams and more.
Takeshita Street is the main drag and it can be a scrum on weekends.
Either just happily shuffle along with the hundreds of other people admiring the view, or come in the week when things are less busy.
Also make sure you explore the back streets where you'll find lots of smaller clothes shops, rabbit cafes, cute ice cream stores, art exhibits and more.
Closest station: Harajuku which is on the JR-run Yamanote Line.
Take the Takeshita Exit.
The Yamanote Line is included on your Japan Rail Pass if you're using it in Tokyo (this doesn't mean you need a Japan Rail Pass in Tokyo though so, check here to make sure it's the best choice for your trip).
What else is nearby: It's easy to combine Harajuku and Shibuya on the same day. The Meiji Shrine and Yoyogi Park are also close to Takeshita Street.
8. Shinjuku at Night
While you can wander around the many, many shops and restaurants of Shinjuku during the day, at night is when it looks the best.
The neon lights create that Bladerunner vibe you always associate with Tokyo, the giant Godzilla head starts to roar, the small bars of Golden Gai and Omoide Yokocho aka Memory Lane and hundreds of other restaurants and izakayas switch on the lights hoping to welcome hungry, thirsty, laughing people.
One part of Shinjuku, Kubukicho is often called a red-light district and yes, while there is some erm, interesting activities inside some of the bars themselves, it's not a scary or intimidating place so don't worry about walking around, or through, here at night.
Closest Station: Shinjuku. This place is mammoth and you need to know which exit is closest to where you want to go.
If you're not sure, numbers 3,7 and 9 on the East Side are good bets for getting into Kubukicho
What else is nearby: If you also want to spend the daylight hours in Shinjuku you'll find the pretty Shinjuku Gyoen garden, a museum dedicated to the art of polka-dot loving artist Yayoi Kusama and Godzilla lovers should book in for a cake at the Shinjuku Gracery hotel cafe as it gets you up close and personal with the spiky one.
Also don't forget the Tokyo Metropolitan Building for your view from above and Thermae Yu to soak your worries away.
If you'd like a sophisticated touch to your evening, the famous bar from the film Lost in Translation is also located in Shinjuku near the Metropolitan Building in the Park Hyatt hotel.
If you want to save money getting around Tokyo, have a look at the Tokyo Subway Ticket. This is valid for 24,48 or 72 hours and, if you're getting on the metro a lot could save you some money. See all about the pass here.
9. Akihabara
If you want to get a taste of the 'geeky' side of Japan, but not get too immersed in the whole thing, Akihabara is for you.
Here you'll find anime emporiums selling all sorts of model figurines, stores full of Gachapon machines where you can rid yourself of thousands of yen in small change buying tiny plastic models in little capsules, Maid Cafes where pretty girls will call you Master (or Mistress) and even Kanda Myojin a shine where you can go and pray for the health of your gadgets and gizmos.
The days where you'd also find innovations like robot vacuum cleaners that hadn't yet been seen anywhere else in the world in the Akihabara shops are no more, but gadget lovers and techies should still check out the Tokyo Radio Department Store complex to see what bits (sometimes literally) they can find in the 60 small shops there.
The famous Sega building above is also no more but video game lovers might want to try the retro selection at Super Potato.
It's also one of the best places to find Gachapons – and, if you don't know what they are then have a look at our post on one of Japan's cheapest souvenirs here.
Unless you specifically want to shop for collectibles then Akihabara is one of those areas where you'll just want to wander around and take it the sights.
Definitely pay close attention to the vending machines, this is where I've seen some of the most unusual foods and drinks inside.
Closest station: Akihabara on the Yamanote line. Take the South exit to Electric Town
What Else is Nearby: Akihabara is close to Ryogoku, Tokyo's home of Sumo and so you could combine a trip with viewing a Sumo stable (usually open very early in the morning) or a trip to the Edo Tokyo Museum. or, Akihabara and Asakusa connect easily via the Tsukuba Express line. Head to Asakusa early, then aim to get to Akihabara around lunchtime when everything is open.
10. Meiji Shrine and Yoyogi Park
The building of Senso-ji might be more visually arresting that the subtle wooden buildings of the Meiji shrine close to Harajuku, but Meiji is still an important Shinto shrine in Tokyo – and, if you visit at the weekend, it's also a good place to try and spot the beautiful sight of a Japanese wedding.
It's a long walk into the shrine, but the peaceful woodland setting gives you a break from Tokyo's hectic streets. Don't miss the photo stop of orantely decorated sake barrels close to the entrance.
Closest Station: Harajuku on the JR Yamanote Line. Take the West exit.
What else is nearby: Harajuku and Shibuya are both a short walk away, but also consider the sprawling Yoyogi Park, particularly if it's a Sunday.
While this is a peaceful place to stop any day, it comes to life on a Sunday when many young Japanese go there to practice dance lessons and meet with friends – and, the rock and roll dancers come out. They've been doing this every Sunday in the park for years – they were there when I first went to Japan 14 years ago! And they always attract a crowd.
If you love shrines and temples, you won't be disappointed in those in Tokyo – here's our list of the Top 10 Shrines you might want to add to your Tokyo itinerary.
How to Fit All the Top Ten Sights Into Your Trip
Our Top 10 Tokyo sights are a little bit spread out and so you probably need 3 days to see them all – and enjoy the areas around them.
Here's a simple 3-Day Tokyo itinerary that takes them all in without too much criss crossing – and although you won't be able to spend hours in every destination it will give you a taste.
If you have longer then you might want to spread things out a little more and visit some of the side sights suggested above.
Remember though that all the big sights attract crowds and you're not going to be able to go to everything first thing in the morning so plan your exact itinerary around the things you most want to enjoy without people and visit the others later in the day (remember Tsukiji is only open until about 2pm).
Day One
Tsukiji Outer Market, Shibuya Crossing and Shibuya; walk to Meiji Shrine, then visit Harajuku.
Day Two
Senso-ji and Asakusa, Tokyo Skytree (with booked jump the line tickets), Akihabara
Day Three
Teamlab Borderless, Odaiba and finish your day with a soak in Thermae Yu and a wander round Shinjuku
So, there you have it, our guide to the must-see sights for your first trip to Tokyo. Remember, if you want to get all of this on a handy cheat sheet checklist, sign up on the form above (or the pop up that's about to swing in from the side) and we'll send you the link to get one completely free.
---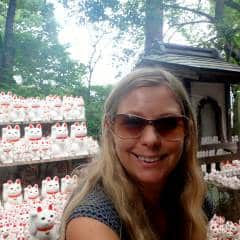 Who Writes This Blog?
My name is Helen Foster and I'm a journalist and author. My travel articles have appeared in publications including The Australian, RAC Horizons, Jetstar Magazine, Sainsbury's Magazine and more.
I've travelled to Japan seven times before, both solo and with my partner – and am just planning trip number eight