There are a lot of different transport passes in Japan and while most travellers know about the Japan Rail Pass that can save you money on longer, bullet train trips, it can be hard to work out which of the smaller passes might work on your trip. Well that's where we come in as we're slowing analysing all of them! Today we're looking at the Enjoy Eco pass which offers free transport and discounts on attractions in Osaka.
What is the Enjoy Eco Pass?
We don't blame you for asking. We're just planning trip three to Osaka and only heard about it when we were writing about another transport and attractions pass, the Osaka Amazing Pass and, Enjoy Eco was suggested as an option for children to use to get around the city.
But, it's not just a kid's pass.
Where the Osaka Amazing Pass is an attractions pass with transport added, the Explore Eco pass is a one-day transport pass with added attraction-based benefits.
It offers unlimited trips on all of Osaka's Metro Lines and buses (with two exceptions).
On top of this if you show the pass at the entrance to a number of popular attractions in Osaka, you'll get a discount – normally around 10 per cent – on the entrance fee.
How Much Does the Enjoy Eco Pass Cost?
It's 800 yen for adults and 300 yen for children if you use it on a weekday.
The price falls on a weekend, or public holiday, where it costs 600 yen for adults.
What Transport Can You Use it On?
Any of the Osaka Metro lines – which are the thick solid coloured lines on the Osaka Metro Map above.
Good ones for tourists include the red Midosuji Line which travels north to south and takes you past Shin-Osaka, Umeda, Namba, Tennoji – covering many of the big touristy stops in our guide to the top things to do in Osaka.
And the green Chuo line which goes west to east and is handy for stopping at Osaka Castle.
It also includes all buses in Osaka – except the ones going to Universal Studios or IKEA (should you need a cabinet or some meatballs on your trip).
How Many Trips Do You Need to Take to Make it Pay?
A short journey on the Osaka Metro – say from Namba to Umeda – costs 230 yen, some of the longer ones are 280 – Namba to Osakako for the Aquarium for example, as such if you're going to just use the Enjoy Eco pass as a transport pass you need to do 3-4 journeys on a weekday to make it pay for itself.
Or, at the weekend you'd be looking at three trips.
But, don't forget, that the pass also offers discounts on attractions… and this can reduce how many journeys you need to take to make back your money.

Which Attractions are Linked to the Enjoy Eco Pass?
As I write this, there are 24 attractions that offer discounts to Enjoy Eco pass holders. They include some that you might have on your Osaka Must- See list like these …
Osaka Castle – save 10 per cent (60 yen per visit)
Umeda Sky Building – save 10 per cent (150 yen per visit)
Tempozan Giant Ferris wheel – save 100 yen per visit
Spa World – save 200 yen per visit
Osaka Duck Tour – save 200 yen per visit
Find the full list of attractions and discounts here. You'll also find some other boat rides, museums and theatres on the list.
As you can see, if you're intending to visit one or two of these, between the discounted entry fee and the cost of getting to and from the attraction on the metro, you might not need to do much more that day for the pass to pay for itself.
For example, to visit Osaka Castle, then the Umeda Sky building from a hotel in Namba would cost you 690 yen in metro fees, then you'd save 210 in entrance fees – that's 100 yen saved. Okay, so it's not going to buy you a house, but it will buy half an egg sandwich in the combini – or, all sorts of exciting things in a 100 yen store!
If you then get on the train again later, or visit another attraction that's included, the savings continue to mount up.
Where Can't You Use the Enjoy Eco Pass?
There are a few exclusions associated with the pass.
Transport not included on the Enjoy Eco pass
It doesn't work on train lines (as opposed to Metro lines) in Osaka, so if you're journey is on the Hankyu Railway, the Kita-Osaka Kyuko Railway or the Kintetsu Railway you'll need to pay for your ticket.
It doesn't work on the line that brings you from Osaka's Kansai Airport into the city. For more details on your options here, have a look at our Kansai transport guide.
It doesn't work on the Osaka loop line that runs in a big circle around the middle of Osaka.
Attractions Who Don't Offer Discounts on the Pass
Some of the big attractions that don't offer discounts with the pass include Universal Studios Japan, the Osaka Aquarium, the Abeno Harakus building or Tsutenkaku tower.
Also note that the discounts are only available the day you use the pass. You can't do Osaka Castle one day, then head to Spa World the next on the same pass.
The Enjoy Eco Pass vs the Osaka Amazing Pass?
You might be wondering which of these is the better option for you.
Well, in a nutshell, the Explore Eco Pass is better if you are looking for more of a transport pass and are intending to use the train at least 3-4 times during the day with the entry discounts as a bonus.
It's also possibly a better option if you like to take your time over attractions, get up late, go back for an afternoon nap – or whatever reason that means you might only visit one or two attractions a day. The Osaka Amazing Pass (which costs 2800 yen) is unlikely to pay for itself in that case.
However, if you're wanting to visit more than 2-3 attractions as well as travel to and from them by the Metro, then the Osaka Amazing Pass might be better for you as it includes free entry to over 50 different Osaka sights.
Have a look at our longer post on the Osaka Amazing Pass to see exactly what's included and how to use it best to save money on your trip.
Where to Buy the Enjoy Eco Pass
You can pick it up in all stations on the Osaka Metro. Either from the ticket machines, or, at the ticket counter or shops.
It looks like the picture above
It will have the following katakana characters printed on it somewhere (they are in green and orange above, you might also find them on the back of the card)
エンジョイコカード
If you're buying it via a ticket machine, swap the machine to English. Choose the option for card (rather than ticket) and pick the One Day Pass (or if it's the Weekend, the One Day Weekend Pass). This will bring up the Enjoy Eco Pass.
Is it the Same as the Osaka One Day Metro Pass?
Confusingly, it's not.
Despite the fact that on a ticket machine you buy a One Day Pass to get the Enjoy Eco card, the Osaka One Day Metro Pass you might see for sale on sites like Klook is not quite the same as the Enjoy Eco Pass.
The Enjoy Eco Pass can be used by anyone travelling in Osaka, however, the Osaka One Day Metro Pass aims solely at foreign tourists, Japanese passport holders can't even buy it, and is mostly booked in advance from outside of Japan, although you can pick it up at the airport.
It does have similar benefits – free travel and discounts on attractions – in fact, it actually has a few more attractions that the EE pass doesn't include.
If you want to see more about that, have a look here – but note, you can't use the pass after the 30th of April 2023. I'm not sure if this is because they are retiring it and a new one is coming out or, if it was just a limited time offer.
Remember, though, Japanese citizens can't buy the Osaka One Day Metro Pass so you won't find it on the machines – if you buy a One Day Pass on the Metro machine it's the Enjoy Eco ticket.
How to Use the Enjoy Eco Pass
The pass is a one day pass – not a 24 hour pass, which means you need to do all of your sightseeing on say, a Monday or a Tuesday – you can't start using it at 7pm on a Monday and have it run until 7pm on a Tuesday.
The pass runs from the moment you first use it. At this point, when you run it through a ticket barrier for example, it will be stamped with an expiration date.
To get in and out of the Metro just use the pass in the barriers like a normal ticket.
When you get to relevant attractions just show them the card before you pay to claim your discount.
What Happens if You Go too Far on the Pass?
Most of the sights you're going to want to visit in central Osaka are within the range of the pass, but if you're going a bit further out, to see the Expo park for example, the pass doesn't quite cover the whole journey.
In this case, you'll get on okay and then when you try and get out it won't let you out.
Don't worry if this happens, you won't be fined.
You show the ticket office your card and pay the difference they'll ask you for.
So there's our breakdown of the Enjoy Eco Pass. It's fabulous that there are so many different discount passes to choose from in this fun city but it can be a little confusing to work out which you need. Hopefully this might help.
---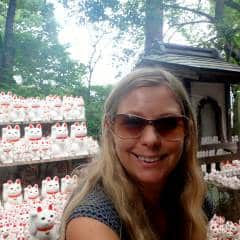 Who Writes This Blog?
My name is Helen Foster and I'm a journalist and author. My travel articles have appeared in publications including The Australian, RAC Horizons, Jetstar Magazine, Sainsbury's Magazine, and more.
I've traveled to Japan five times before, both solo and with my partner – and I've just got back from trip six in June 2023. So, everything here is pretty up to date.
---