Latest posts by Helen Foster
(see all)
Kyoto is many people's favorite city in Japan and I often hear people saying 'I wish I'd spent longer there' – to stop you from making the same mistake, let's take a look at how long you should spend in Kyoto.
Quick Summary
I think the minimum amount of time you should spend in Kyoto is 4 whole days. This will allow you to see each of the main sights in the main areas of the city.
You can do it in 2-3 days if you have to but Kyoto is much larger than you might think and crowds can be large, so ideally you want to arrive at the popular sites early in the morning which is hard on a shorter trip.
You might also be too rushed to take part in some traditional activities like a tea ceremony, an elaborate kaiseki meal, or, staying in a ryokan, if you are only there for a couple of days.
Read on to find out how to schedule those days – and find out if you're someone who needs more, or less time in Kyoto.
Article by Helen Foster. Disclosure: Some links in this post are affiliate links. See our Affiliate Disclosure.
Our 4-Day Kyoto Itinerary
So, now I've suggested you spend four full days in Kyoto, here's a short guide to how I suggest you break up those days.
Day One – Arashiyama Area
Highlights of this area include one of Kyoto's most famous Instagram sites, the Sagano Bamboo Grove; and my favorite sight in all of Kyoto, Otagi Nenbutsu-ji. This temple is famous for its carved figures – and every one of them is different.
You might then want to take a trip on the Sagano Romantic Train which travels above a picturesque gorge – it's stunning in Autumn, or, if you have smaller children, you might want to swap this for the Itawayama Monkey Park.
Finish your day wandering the main street of Arashiyama which is full of interesting shops and sights.
Day Two – Higashiyama Area
Probably the prettiest area of Kyoto, but also one of the most crowded, it's another place you're going to want to start your visit early.
If you want the prettiest photos, start with the Ninenzaka and Sannenzaka slopes before the shops open and the people come out, then head to Kiyomizu-dera, one of Kyoto's most popular temples. If you're a shopper, swap this round.
From here, you can wander the Higashiyama backstreets, exploring all the small temples and hidden sites all over this area. It's also one of the most popular places in Kyoto to wear kimono.
Day Three – Fushimi Inari and Gion
Fushimi Inari Taishi is Kyoto's famous shrine with a line of hundreds of bright red torii gates. Again, it's a good idea to get here as early as your itinerary allows.
If you want to go to Nara from Kyoto, going from Fushimi Inari is a good time to do it. Or head back into town and visit Nishiki Market for a light lunch. Then try a tea ceremony. Doing one of these in the middle of the day is a good way to beat the crowds.
Lastly, head toward Gion around sunset as between 6-8 pm gives you the best chance to spot geisha in this area. Also, stop off at the Yanaka Shrine as they light the lanterns at night. Dine around Gion.
Day Four – Temples & Tastes
Use your last day to mop up some of the sites you haven't yet seen. These might include Kinkaku-ji – aka the Golden Pavillion and the peaceful zen garden temple Ryoanji.
If you have kids, then you might want to head to an area called Yokai Street. The shopkeepers here put out small statues of monsters and it's pretty cute (see more about Yokai Street at Japlanease's sister blog Differentville).
You could head to Nijo Castle and have dinner at Menbaka Fire Ramen or finish your day in the atmospheric dining alley of Pontocho.
We've got a more detailed plan in our four-day Kyoto itinerary, so, you're definitely going to want to check that out next.
5 People Who Might Want to Spend Longer in Kyoto
If You Love Shrines and Temples
There are over 2000 of them to explore in Kyoto. We've just touched on the main ones above, but there are ones with gorgeous mossy grounds, impressive painted ceilings, hidden bamboo groves, and much, much more.
You can add at least 3-4 more fascinating and beautiful shrines and temples to each of our days above. Also, consider collecting goshuin on your trip – these beautiful hand-drawn stamps are available at pretty much every shrine and temple for a few hundred yen, but if you're rushing around, you might not have time or inclination to wait for them.
If You Prefer Traditional Japan
Because it survived the bombing in World War Two, Kyoto is one of the oldest intact cities in Japan and those who want to soak up the traditional atmosphere will love pottering around the backstreets lined with their pretty wooden houses.
Spending a little more time will also allow you to take part in some more traditional activities like attending a geisha performance. having lunch or dinner with a maiko, or collecting goshuin (see above). You also have the time to take some tours around the city to learn more about the history, architecture, and life of a geisha.
If You Hate Crowds
As we have touched on above, the most popular sites in Kyoto can get very busy, especially in the middle of the day. My top tip for enjoying Kyoto is to get to these sites as early in the day as you can or, about an hour before they close, to avoid the majority of the crowds, and if you have less than four days this becomes impossible. The longer you spend, the easier it becomes to take your time, space things out to avoid the majority of the crowds, and, explore some of Kyoto's smaller sites.
If You Want to Stay in a Ryokan
These traditional Japanese inns are designed to be a relaxing, immersive experience. Many of them have private onsens for guests to soak in, a relaxing atmosphere, and pretty tatami mat rooms in which you lounge around in yakuta and, timed, beautifully presented kaiseki style meals. It seems a shame to rush through this because you're trying to cram in sightseeing as well.
If you want to enjoy the Ryokan experience, add an extra night to your Kyoto experience. This is actually a good thing to do on your first day as then you can relax and enjoy the ryokan your first afternoon and evening – and then get up early to hit the big sites the next day.
To Take Some Day Trips
As we mentioned in our piece on whether you should stay in Kyoto or Osaka, Osaka is the better hub for taking day trips to places where you need to use the Shinkansen like Hiroshima or Himeji, but you can easily reach Nara, Osaka, Universal Studios Japan, Uji, and Kanazawa on day trips from Kyoto.
When You Might Want to Spend Less Time in Kyoto
If you're a big city person who is not interested in shrines, temples, geisha, or pretty old buildings and cobbled streets, you don't need that long in Kyoto.
Mr Japlanease, who loves Japan for its gadgets, people, and cheap, cheerful izakayas has only willingly visited one shrine in the forty days he has spent in Japan; he lasted one morning in Kyoto before he was begging to go back to Osaka.
I also have quite a low temple boredom threshold but even I have to say that, you do need 3-4 days here to avoid the worst of the crowds – you'll enjoy your trip much more if you can. Spending a little more time also allows you to find Kyoto's quirky side, which is there – if you know where to look.
So, hopefully, that's helped you with the decision of how long to spend in Kyoto. If it did, you might want to check out our post on how long to spend in Tokyo – or, find out suggestions on how many days you need in Osaka here.
If you have any more questions about staying in Kyoto, please, head over to our Facebook Group where someone will, hopefully, answer them for you.
---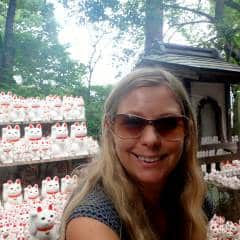 Who Writes This Blog?
My name is Helen Foster, and I'm a journalist and author. My travel articles have appeared in publications including The Australian, RAC Horizons, Jetstar Magazine, Sainsbury's Magazine, and more.
I've traveled to Japan five times before- solo and with my partner – and I've just returned from trip six in June 2023. So, everything here is pretty up to date.
---