If you'd asked me this before my last trip to Tokyo I would have said no… but, after this trip, I do think that saying at Tokyo Disney Resort can be worth it for some people. Here's what changed my mind and, what you might want to consider to help you make the right decision about whether staying at a hotel by Tokyo Disney is worth it for your trip.
Disclosure: Some of the links in this post are affiliate links which means I earn a small commission if you use them to book. This does not cost you any extra. Japlanease is a member of the Amazon Associates program.
Why I Changed My Mind
25.6km – that's how many kilometers I walked on my recent two-day trip to Tokyo Disney Resort – but it would have been far more if I had stayed on the property as, I could have gone back to my room, soaked my poor aching body and then headed back to the park as fast as you can say 'the lines for Beauty and the Beast just dropped to 60 minutes.
As it was though, when it got to about 4 pm each day, after being in the park since 8.15am, things were starting not to be fun anymore. Blisters had appeared, I was done standing in queues and I just wanted a lie-down.
I tried sitting and eating a Mickey Bar, but the 20-minute recharge that gave me wasn't enough. I needed two hours, maybe a nap, to re-energize for parades, second goes on the rides, more shopping, and maybe fireworks – but, Tokyo Disney Resort is an hour away from central Tokyo making 'nipping back to the room' not that easy.
And at that point, my opinion of staying near the Tokyo Disney Resort changed. While I love pottering around Tokyo in the evening, I definitely think there are some times when you definitely want to base yourself at one of the hotels close to Disney itself – and here's when they are…
When Might Staying at Tokyo Disney Be a Good Idea
Here are five situations when I think you definitely want to consider staying at Tokyo Disney Resort for a night or two.
1. If You're Doing Back-to-Back Disney Days
If you're off to Tokyo Disneyland one day, then Tokyo DisneySea the next, then I'd definitely suggest booking a hotel on-property.
Back-to-back days weren't my original itinerary plan which is why I didn't book a hotel near the resorts in the first place, but after traveling four hours to and from my hotel to the parks in two days, I seriously doubted my decision! I was like a local on the 'commute' by the end of it.
Yes, I might have missed out on an 'authentic Tokyo night out' had I stayed by the resort, but, I was so shattered by the time I got back I stumbled up the road to the soba bar, ate noodles, then headed back to the room to rest my feet – so I wouldn't have missed much! And you might not too.
2. If You're There in Rainy Season
Officially the rainy months in Japan are June and September and October. If you're traveling in these months, and want to do long days in the parks, I'd definitely consider booking a hotel near the resort so you can go and dry off/wait things out, if needed.
On the second day of my visit, I was at Disneyland. It was 2.00 pm and I'd been on pretty much all the big rides.
My plan for the afternoon, after eating my cute Baymax curry, was to go on some of the smaller rides, take a load of photos, eat more cute Mickey-shaped snacks, and wait for the Main Street Electrical Parade which I absolutely love – and then the thunder started!
Tokyo Disney will cancel parades, shows, and fireworks in bad weather and, with rain forecast for the evening too, the idea of waiting out five hours for a parade that might not happen suddenly became less appealing and I decided to call it quits.
This was when my opinion about staying at Disney changed. If I'd had a room near the property, I'd have headed back to the room, hid from the rain for a couple of hours, and headed back out closer to parade time to see if it happened.
As it was I'm still a bit sad I missed it. Even writing this makes me desperate to go back!
3. If You Have Kids
I'm pretty sure I don't need to explain to any parent carrying a tired three-year-old why a short bus or monorail ride to your hotel is better than schlepping them on three trains to get back to Tokyo twice a day! Especially as Tokyo stations aren't always super buggy-friendly – although Maihama does have an easily accessible lift.
Plus, it's not just worn-out travel bloggers who need an afternoon nap!
On top of this, the Disney hotels are aimed at families and so you're more likely to find a larger hotel room that sleeps all of you than you might do in other parts of Tokyo.
So, even though for a couple or a solo traveler like I was, staying at Tokyo Disney Resort might seem more expensive than staying in Tokyo, for a family it actually might compare more favorably to having to book two adjoining rooms, or, booking one of the apartment hotels big enough for families.
4. To Extend The Magic
It's the obvious reason you might want to stay close to the parks – especially if you stay at one of the official Disney Hotels which have some level of theming, or in the case of the DisneySea Hotel Miracosta, look directly into a Disney park.
If you get to stay in and around the park, you have longer with the Disney magic from themed rooms to character or Disney-themed dining in your resort.
5. You Might Get into the Park Earlier
At the official Disney Resort Hotels (aka the ones run by Disney themselves) you are entitled to certain perks, like guaranteed entry tickets even on busy days, or Happy Entry, which gets you into Disneyland or DisneySea 15 minutes earlier than the other guests.
When the park is busy, that can help you get ahead of the pack.
Exactly which hotel offers which park differs, so, make sure you ask at your resort what the deal is. Happy Entry is also a perk of the Tokyo Disney Vacation packages
Reasons Not to Stay at Tokyo Disney Resort
Staying at Tokyo Disney Resort isn't going to be for everyone, or every trip and there are some times when I think that traveling back and forth might be a better option. Like these…
1. You're on a Budget
You do pay for the convenience of staying at the resort. The hotel I was staying in during my stay was the no-frills, but very clean and comfy, Sotesu Fresa Daimon Ekimae.
Looking for a date six months from when I type this, that costs AU$163 (US$110 or £85) a night…
In comparison, The Sheraton Grande Tokyo Bay for the same date is AU$317 (US$212 or £165), and a park view room at another Disney partner hotel, the Grand Nikko Tokyo Bay Maihama, is AU$346 (US$230 or £180).
However, as I said, the rooms in this area can be a bit bigger than in Tokyo itself so, while for me as a solo visitor, it costs a lot more, for a family costs might balance out.
2. You Have a Long Gap Between Disney Days
As soon as you leave Maihama station you're no longer really in Tokyo – you're in Disney and, yes, while everyone, including Mickey Mouse still speaks Japanese, the parks have clear Japanese touches, and, are very unique in many ways, it's still not the same as wandering Tokyo backstreets and finding some cool little restaurant with a machine to order from – not to mention all the other things to do in Tokyo.
And, if you do want to go and explore further afield you're then the one going back and forth. For the best visit, I'd definitely split my stay between Disney days at a hotel near the parks and a Tokyo hotel which makes it easier to get out and about.
There are some hotels in Tokyo itself that offer a shuttle to the parks. See more about them our guide to the hotels with Disney Shuttles.
What Hotels are Near Tokyo Disney Resort?
To make the most of the proximity to the parks, you're going to want to stay in one of the hotels within walking distance of the park, or, one of the 'monorail resorts' which, as the name might suggest, are the hotels directly connected to the parks by the monorail!
These include
The Disney Hotels
Four of the five Disney Hotels are located smack bang in the middle of Tokyo Disney Resort.
As well as being able to nip back to your room in these easily when you need to, guests staying at these resorts get access to Disneyland or DisneySea 15 minutes earlier than other guests (which does make a difference in beating the crowds). Check with your hotel for the exact terms and which park is included.
Tokyo Disneyland Hotel
Walking distance to the gates of Tokyo Disneyland and the monorail station that takes you to Tokyo DisneySea, this is one of Disney's Deluxe Resorts. Some of the rooms have a view of Tokyo Disneyland. Some rooms can accommodate up to five people.
Themed rooms include Beauty and the Beast, Tinkerbell, and Cinderella.
The Disney Ambassador Hotel
An eight-minute walk from Maihama Station (and the monorail), this hotel is also connected to the parks by the Disney Bayside Shuttle – buses run every 10 minutes during peak times and every 15-20 minutes at other times of the day. It's also possible to walk to DisneySea from here – I discovered this when I got lost on my own trip!
Tokyo DisneySea Hotel Miracosta
Overlooks the Tokyo DisneySea park, with a special entrance for guests, you can't get a hotel much closer to one of the parks! It's also a short walk to the monorail that takes you to Tokyo Disneyland.
Tokyo Disney Resort Toy Story
The closest Disney Value Hotel to the resorts, this is incredibly popular – and not surprisingly, is heavily Toy Story themed with rooms based around Andy's bedroom in the films. It's located opposite Bayside Station which offers monorail access to both Disneyland and DisneySea.
All Disney Hotels are open for direct reservations three months before the date of your stay. See more, including prices and availability, and make direct bookings at the official Tokyo Disney Resort page.
You can also stay in the official Disney hotels as part of a Disney Vacation Package which includes your room, park tickets and some other perks. And if you've been wondering how this compares to just booking a room, take a look at our guide to the Disney Vacation packages which spells out all the pros and cons.
The Official Hotels
All of these are a short walk from either the Disneyland park gates or the Bayside monorail station which easily connects you to both Disneyland and DisneySea.
They also run a shuttle bus to the Maihama station which gets you to and from the resort from Tokyo.
Other perks include Disney shops on-site and being able to buy tickets at the hotel.
The Official Hotels are the Hilton Tokyo Bay, Hotel Okura Tokyo Bay, Sheraton Grande Tokyo Bay, Grande Nikko Tokyo Bay Maihama, Tokyo Bay Maihama Hotel, Tokyo Bay Maihama Hotel First Resort.
We have more details on what you'll find at these hotels in our piece on Hotels with Disney Shuttles
Or to compare availability and prices for these hotels on your dates is to head over to booking.com and search near Tokyo Disney Resort.
Here's a link to the destination page for you.
Independent Hotels
Hotel Dream Gate Maihama and Hotel Dream Gate Maihama Annex aren't officially linked to Disney in any way, so you won't get the same linked perks as the hotels above, but, they're in a fantastic location as they are right by the Maihama Station.
This is the station at which you arrive to reach Tokyo Disney Resort. It's within walking distance to Tokyo Disney Resort and located right next to the monorail station that takes you to DisneySea.
You can look into booking them via their website.
The Happy Compromise
If I did this trip again, including back-to-back Disney days, and for some reason, I couldn't book into one of the onsite properties, I'd consider staying somewhere near Ginza near a Yarakucho Line station, which is just a short, easy, train ride away but also allows you to have a little bit more of an authentic experience in Tokyo – and, can also save you some cash (depending on what hotel you choose).
Stay at the fun Hen na Hotel Ginza, which is staffed by robots, for example, and you can be at Maihama Station in 25 minutes door-to-door.
Or, if you want a hotel with one room for the whole family, you might want to check out the Mimaru Tokyo Ginza East.
The Mimaru chain specialises in large rooms with bunk beds – admittedly they aren't that cheap, but, they do provide the benefit of space and location. This one also has a special Pokemon-themed room available!
Again, you'll be at Maihama Station in about 25 minutes.
There are lots of choices in this area so check out properties around Ginza on the booking engine of your choice – we also have a few options in our piece in Tokyo Hotels with Large Rooms.
Or Consider Ariake
One of my Facebook Group readers also made me aware of quite how easy it is to get to Tokyo Disney from here – she was asking for advice about the Sotetsu Fresa Grand Ariake as a possible location and I realised it's only 10 minutes by train from here to Maihama.
If you're looking for a location to stay with kids, I'd definitely consider this as there's a lot to do around there – teamLabs Planets is here, you're very close to all the fun attractions of Odaiba, and it's right by Small Worlds, which was one of the favourite things I did on my last trip.
I was very impressed with the Sotetsu brand when I stayed with them on this last trip. Both of the hotels I stayed at (in Tokyo and Kyoto) were spotlessly clean and the staff were very friendly.
The downside would be a lack of places to just wander to in the evening, but, if you're spending all day at the parks, that might not worry you – it's also near Toyosu Market which is a great place for an early morning sushi breakfast.
Hotels With Shuttles
You can also save some money by staying at one of the partner hotels a bit further away from the parks that offer a shuttle service to Disney (see our post containing a full list of those here), but you are looking at about a 30-minute drive.
Plus the shuttles don't always run that often outside of the main park entry and exit hours. See all the pros and cons, plus, find the hotel shuttle timetables via the link above.
How to Get to Tokyo Disney from the Airports
If you are planning on staying at Tokyo Disney Resort, you may want to know how to get there from the airport – and there are a few different choices which we cover in full in two different posts.
If you're flying into Haneda airport, you want to read this guide on getting to Disney from Haneda. Haneda is pretty close to the parks, but, the time of day you're arriving is going to make a big difference as to which option is best for you to pick.
If you're flying into Tokyo's Narita airport, Tokyo Disney Resort is actually nearer than Tokyo itself – but again, you have a few options that will get you from Narita to Disney and we explain them all if you click on that link.

So there you have it, my answer to the question 'Should you stay at Tokyo Disney Resort.' If you have questions, then please head over to our Facebook group to ask them and I, or someone else, can help you out with the answer.
---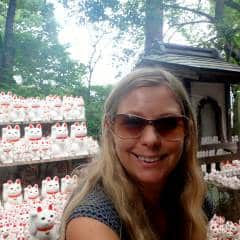 Who Writes This Blog?
My name is Helen Foster and I'm a journalist and author. My travel articles have appeared in publications including The Australian, RAC Horizons, Jetstar Magazine, Sainsbury's Magazine, and more.
I've traveled to Japan five times before, both solo and with my partner – and I've just got back from trip six in June 2023. So, everything here is pretty up to date.
---