Latest posts by Helen Foster
(see all)
I think four days is the minimum amount of time you should spend in Tokyo if you want to see the main sights – but, how should you break up your time? Our four-day Tokyo itinerary includes all the must-sees and a few surprises …
Quick Summary
If you only have four days to spend in Tokyo, I'd suggest splitting it like this.
Day One – Asakusa (see Tokyo Skytree and Senso-ji) and Akihabara.
Day Two – Harajuku, Shibuya, and Shinjuku – Meiji Shrine, kawaii culture, the famous crossing, and lively bars.
Day Three – Toyosu and Odaiba – amazing sashimi and Tokyo's most fun area.
Day Four – Tsukiji Market, Ginza, and Yurakucho – delicious street food and traditional Tokyo.
It's not a deep dive, you could easily spend a whole day in each area above, but if four days is all the time you have you'll get a good feel for Tokyo with the above itinerary – so read on for the details.
Article by Helen Foster. Disclosure: Some links in this post are affiliate links. See our Affiliate Disclosure.
How to Use Our Four-Day Plan
Our four-day Tokyo itinerary is for first-time travelers. It's designed to hit all the major sights in Tokyo that are likely to be on your must-see list – but, also find a few sights you might not have heard about before. We divide it into Must-See Sights, which are the big ticket items, and Optional Stops which are other big sights in the vicinity. Add these if you have time, or, they fit your interests.
And then you'll find our Japlanease Pick. They are the things I've visited in these areas that you might not find on other lists – and, as I like less touristy sights, and slightly weird ones, while they might not be why you came to Tokyo, I bet they're some of the things you talk about most when you get home!
I'm assuming you'll spend 3-4 hours in each area, but adjust things to suit your interests. However, it's not an itinerary that allows for really taking things slow – for that, you need more than four days.
Day One – Asakusa and Akihabara
Asakusa is one of Tokyo's most traditional areas with one of its most important shrines, Akihabara is a shrine to all things electronic, manga, and anime. You'll combine them both on your first day of sightseeing.
Optional Stop: Tokyo Skytree
There are two ways to start this itinerary – if you have a head for heights, you're going to start your morning at 10 am and be among the first people of the day to scale Tokyo Skytree. This 634-meter-high tower will give you a great view over the whole of Tokyo – decide if you want the basic view at the 350-meter-high Observation Deck, or, upgrade and climb another 100 meters to the daredevil level.
Queues at Skytree can build up, but if you arrive first thing you normally won't have to wait that long, but because time is precious on this plan I'd still suggest booking 10am tickets in advance, so you skip the ticket queue entirely.
Once you've finished, you can either walk to your next stop, Senso-ji temple in about 20 minutes, or, ideally jump on the Tobu Skytree or Asakusa Line, or the T08 bus, to get there in about 10 minutes.
Must See Sight: Senso-ji
If you're not a fan of heights, or you want to beat the crowds, then skip Skytree and instead start your day at Senso-ji one of Tokyo's most beautiful and important temples.
Thirty million people a year visit the striking red buildings that are the hallmarks of this temple, and later in the day, it can feel like all of them are trying to get pictures in front of the huge entry gate with its pendulous lantern!
However, the site is open 24 hours, so, if you want to escape the crowds I'd suggest getting here before 9 am. Nakamise, the pathway up to Senso-ji is lined with small shops, and once these open (around 9.30-10), it becomes very, very busy. If you're not a shopper, you can visit Senso-ji and wander the backstreets early to beat the crush.
If you do want to wander around the shops, don't miss, Kikyua, where Hollywood celebrity Eugene Levy tried his first mochi (I also wrote about his other stops) – and, should this be the type of thing you need from your Japan trip you'll also find a cute shop that sells kimono for cats and dogs here!
Must See Sight: Asakusa Backstreets
Once you've finished exploring the main halls of Senso-ji, head back toward Nakamise – but, turn right down the road marked this – 伝法院通 – on the map, toward Hatoya's Vegan Fruit Sandwiches (if this is open and doesn't have a queue, hop in and try the dairy-free version of Japan's famous strawberries and cream sandwich).
If the shops haven't opened yet, keep an eye out for the art painted on the shutters around here. Tokyo doesn't have a street art scene, but there are some pretty murals on the shutters when they are down.
You can easily spend the new few hours just wandering around these backstreets absorbing the more traditional vibe – just wandering has seen me come across festivals, teenagers smashing towers of roof tiles with their hands, the pretty Hatsune Gourmet alley lined with tiny restaurants, places to practice your Ninja skills throwing weapon stars, and a footbath cafe where you can soak your feet with a snack.
Japlanease Picks: Tanuki Dori and Denboin Temple
If you're looking for a cute way to spend 20-30 minutes, visit Tanuki Dori and the nearby Chingodo Shrine: this road and shrine are dedicated to Tanukis the cute, fat-faced little raccoon-like creatures you usually see in Japanese restaurants.
Or, if the crowds are already getting to you, dip into Denboin Temple. It has a pretty garden – it's part of Senso-ji but not that many tourists come here, so, it's a great place to escape the crowds.
Optional Stop: Kappabashi Dougu Street
About a 10-minute walk from Asakua, you'll find Kappabashi Douga Street.
This is where Tokyo's chefs come to shop, so, if you want to stock up on chef's knives, or, pretty Japanese bowls, this is a good place to do it – but it's also home to a great cheap, fun souvenir. Plastic Food
Outside restaurants all over Japan are display cases full of plastic models of the dishes they serve – and they are not rough representations, they are exact models, pretty much down to the size of the prawn on top of your udon. And this is where they are made.
You'll be amazed by the variety and levels of details of these – and, the price of some of the bigger models. A plastic sushi roll won't break the bank though.
Good stops include Ganso Shokuhin Sample-Ya Kappabashi which sells kits to make your samples at home or Sato Sample which is a little bit cheaper for souvenirs.
Afterwards, head to Asakusa Station. To confuse everyone there are two of these, you want the one on the west of Asakusa, by the Asakusa Hotel, that has a train called the Tsukuba Express.
Take (exit A2) and jump straight on the Tsukuba Express to your next stop Akihabara. If Kappabashi Street doesn't sound like your cup of tea (you can probably buy a plastic one of those there too), then, head to the same station, but aim for entrance A1.
Japlanease Pick: Sogenji
When you wander along Kappabashi Street, you'll see statues and pictures of small green frog-like creatures – these are kappa and they are water monsters in Japanese tradition.
About a 4-minute walk from Kappabashi Street, you'll find a tiny shrine called Sogenji. This is dedicated to kappa and you'll find people leaving offerings of cucumbers on the statues outside.
It's most famous though because the small room inside the shrine is said to contain the mummified hand of a kappa – you have to peer through the left-hand window to see it, but it's there in the far left corner of the display case.
Must See Sight: Akihabara
Akihabara is the home of Japan's Otaku culture – this is often defined as geeky or nerdy, but it's more just about having a love (or some would say obsession) about something.
It doesn't have many sights per se, other than the famous bright streetscapes around the Electric Town area look for the Gigo 3 building on the map, so depending on your interest in pop culture, you might only want an hour in Akihabara, in which case, spend longer in Asakusa.
The fun in Akihabara is absorbing the culture and checking out some of the interesting shops and cafes. If you come here after lunch at weekends, the main road through Akihabara will be closed to traffic, but peering in the shops is half the fun so, stay on the pavement.
Talking of shops, you'll find a variety of anime and manga collectible shops here. If that phrase makes your heart sing, you're one of the people who might need a little longer in Tokyo as this plan doesn't give you the time you need to deep dive into all of them – plus, there are other areas not in this plan you're going to want to visit.
See our guide to How Long Should You Spend in Tokyo for more tips.
Akihabara is also the perfect place to try a Maid Cafe. Maid Dreamin' is one of the best for tourists as they have menus in English and have a few different branches in Akihabara.
It's also great for those who love gizmos and gadgets – Mr Japlanease can spend an hour or two here just walking around stores that sell electrical components and bits of wire!
If you want to collect gachapon – the little plastic machine toys you'll see everywhere, then Akihabara has some of the biggest shops in Tokyo and a lot of variety – some of the best ones to visit here include Akihabara Gachapon Kaikan and Akihabara Radio Kaikan.
Optional Stop: Kanda Myojin Shrine
Once you've geeked out over all the shops and cafes, you might want to make a final stop – Kanda Myojin shrine.
This shrine is where you come to bless your gadgets, so make sure you fill in one of the anime-style prayer plaques, but they also have a cute shrine pony called Akita. Her job is to carry the gods around the shrine if they visit.
Japlanease Pick: Tokyo's Weirdest Vending Machines
You'll find strange things in vending machines all over Tokyo, but this corner at the Southern end of Akihabara near the Kanda River, right by Mansei Bridge, is bizarre.
It's like where vending machines go to die! The day I went there was a weird mixture of plastic stag beetles, drinks that might be past their sell-by date, and dubious cans of stew!
But the oddest thing is the wrapped boxes covered in Japanese writing. The stories on these are super random – I read one about the dangers of other drivers that culminated in a tale of someone ending up being fatally poked with the pointy end of an umbrella. Seriously, I have no idea what is going on with these things! Are you brave enough to buy one and see what's inside?
How to Spend the Evening
If you opted to start your day at Senso-ji you could go back to Tokyo Skytree for sunset or a nighttime view. Or, if you don't want to backtrack, you can spend your evening at one of Akihabara's many themed cafes.
There is also a row of izakaya and standing bars under the train tracks around JR Kanda station if you want to do something authentic, and bustling Ueno is also nearby … but, I'd suggest going back to Asakusa.
Here, the izakayas that line Hoppy Street are waiting for you to come and try the drink it's named after. Hoppy is described as a non-alcoholic beer-flavoured drink – but, then they add it to Shochu. And it becomes very easy to drink and definitely not alcohol-free!!
One spot I liked on Hoppy Street was Izakaya Koji, but any busy bar would be good.
Hoppy Street is also famous for its beef tendon stew – I tried it once, but let's just say I didn't feel the need to have it the next night!
To get here from Akihabara just back on the Tsukuba Express to Asakusa and it's a short walk to Hoppy Street.
Japlanease Pick: Kamiya Bar
Another fantastic choice would be to visit Kamiya, one of Tokyo's oldest bars famous for its Denki Bran drink that's located close to (the other) Asakusa Station. This is kind of like a brandy and it's traditional to drink it alongside a beer. You'll be surrounded by lots of local people finishing their day in Kamiya and the portion sizes will fill you up after a hard day's sightseeing.
Kamiya is right by Senso-ji so you can see the temple lit up at night – and, for a different perspective, go to the rooftop of the top of the Asakusa Culture Tourist Information Centre for a fantastic night-time view of Senso-ji and Tokyo Skytower. The Observation Deck is open until 10 pm.
The best way to reach Kamiya from Akihabara depends on where you've ended your explorations. You can either get back on the Tsukuba Line to Asakusa Station and walk about 13 minutes or, if you've been to Kanda Myojin or are on the north side of Akihabara, use Suehirocho Station and take the Ginza Line to the other Asakusa Station.
Day Two – Harajuku, Shibuya, Shinjuku
Must See Sight: Meiji Shrine
Start your day at the venerable Meiji Shrine. Firstly to beat the crowds but also, because there's no point visiting the other areas on our list until the shops open at around 11 am.
This is a Shinto shrine that's also one of Tokyo's most popular spots for weddings.
One of the most photographed spots at Meiji Shrine is the row of sake barrels close to the front entrance. these are known as kazaridaru and they are empty. The sake is drunk at festivals in the shrine. The designs on the front make for great pictures though.
The closest station in Harajuku on the Yamantoe Line
If you still have time to kill, take some time to wander around Yoyogi Park, one of Tokyo's biggest green spaces.
Optional Stop: Takeshita Street
If you're traveling with teenagers or, have any interest in the cute side of Tokyo culture, head to Takeshita Street and try the latest food trends. Expect to queue for the giant cotton candy, but I also like the rainbow cat toast from Amo Amo, or the poop-shaped ice cream. See details and more things to do in Takeshita Street here).
If you want to visit an animal cafe, Harajuku is a good place to do it. Popular choices include the MiPig Cafe (bookings essential) or Harry Harajuku Terrace (bookings suggested).
Japlanease Pick: Anakuma Cafe
I love the adorable Anakuma Bear Paw Cafe where you're not served by a human, but a giant fluffy bear paw. The idea started in Osaka to help people with social anxiety work in hospitality jobs and it's the cutest thing.
The 'bears' interact with you via chalkboards, and some of them can speak English.
It's not a sit-down cafe, but there is a bench outside for you to enjoy your drink.
Anakuma opens at 11am on weekdays, 9am on weekends, so, either go here before you enter Takeshita Street from Meiji Shrine or before you get the train back to Shibuya.
Must-See Sight: Shibuya Crossing and Hachiko
Now, walk (it takes about 25 minutes), or, to save your feet catch the Yamanote Line from Harajuku, down to Shibuya.
The first stop here is the famous Shibuya Scramble Crossing. Up to 3,000 people cross this at the busiest times of the day (another reason why I saved this for the afternoon when more people appear) and walking across it is an iconic Tokyo experience, but you only really get a scale of it when you see it from above.
I talk about my favorite views in our post on the Top 10 Things to do in Tokyo, but, the closest to the crossing itself is Mags Rooftop. They charge the price of a drink to get in, but it's nice and chilled up there.
Before you leave the crossing area though, visit the Hachiko Statue.
If you don't know the story of Hachiko, he was a very loyal dog who waited for his master at the station for years after he'd died. See our guide to Tokyo's Hachiko sights for more details and some other Hachiko sights you can check out if you have time.
With these two sights ticked off, you can spend a few hours simply walking around the backstreets and shops in Shibuya. Expect everything from amazing clothing stores to 3D billboards of cute pandas. But if you want to get some real only in Tokyo memories, try our Japlanease picks…
Japlanease Picks: Blue Soup, Robots and Bananas
These are three of the fun things I did in Shibuya on my last trip.
Try Blue Soup at Kipposhi. If you haven't yet had lunch, Kipposhi is a small restaurant located a short walk from Shibuya Scramble and Mags Rooftop. It's famous for its vibrant-colored blue ramen soup. A bowl costs 1200 yen.
Kipposhi is open from 12-2.30 or 6-8.30 every day except Wednesday. You'll find it on Google Maps – it's inside the arcade up the small set of stairs to the back. This is Kipposhi's website if you want to check any details – but it won't tell you how they make the soup blue – that's a secret.
Visit Peppa Parlor: Peppa is a white humanoid robot and, at the Peppa Parlour cafe in Shibuya you get to play with them, while other robots deliver drinks and snacks. You can make Peppa dance, ask them questions, and play games.
Find Peppa Parlor on the 5th Floor at Tokyo Plaza Shibuya. It's open from 10-9pm, I didn't make a booking, just turned up at 5ish on a weekday.
Buy a Banana from a Vending Machine: Where else in the world could you do this? The banana vending machine is located by the Village Vanguard shop in Shibuya. Go down the stairs at exit A3a of Shibuya station and you'll find it.
Evening Plans
Sunset is one of the most popular times to visit the Shibuya Sky observation deck – and if you have teens who spend any time on Instagram or TikTok chances are this viewpoint, and its famous escalator, are on their must-see list.
If you do want to visit at sunset (you'll need to book a month in advance). If you don't like crowds, go here after lunch and do Shibuya's other sights as the afternoon progresses.
If sunset views, or heights, aren't your thing, then head back to Shinjuku for the evening to see the lights and the roaring Godzilla above Hotel Gracery in Kabukicho. He lets rip on the hour, every hour from noon to 8pm.
The easiest way to get back is the Yamanote to Shinjuku Station. Come out of Exit B13 and you'll also spot Shinjuku's famous 3D cat billboard on your way to Kabukicho.
There are lots of bars and restaurants in Kabukicho so you won't lack somewhere to eat or drink around here.
Japlanease Pick: St James Hotel
If like me, you're a big fan of people-watching, then set up camp at the St.James pub on Kabukicho Ichiban Gai. It has some outside barrels – and window tables that look out into the street. I can sit here all night and watch Kabukicho do its thing.
This is also right by the location of the Kabukicho cam live feed so if you want to make friends and family jealous get them to log on and wave at them – note: there's a little bit of a delay.
For more atmospheric dining, see if you can grab a seat at one of the small izakaya in Omeido Yococho
Night owls might then carry on to the bars of Golden Gai.
If you do start drinking in and around Kabukicho, then just read our guide on what to be aware of in Kabukicho so you don't get caught by surprise.
Day Three – Toyosu and Odaiba
Odaiba isn't going to be a place for history lovers or those who want to discover the Tokyo of old, but, if you're traveling with kids, are a big kid yourself, or just want to spend a day with Japanese people having fun and maybe see a side of them you hadn't known about, this is where you go. But first, let's start with breakfast in Toyosu – and some of the freshest fish you'll ever taste.
Must See: Toyosu Fish Market Restaurants
Toyosu is the new location for the Tokyo Fish Markets and, if you want to get up very early, you can apply to see the tuna auction here at about 5.30am (find details of the process here) – but, in my opinion, the rest of the market isn't worth seeing. You're just peering over some awnings onto a wet pathway.
However, the restaurants here are worth a visit for an amazing fresh fish breakfast – if you come early the queues are less than in Tsukiji Outer Market. I picked Tsukiji Oedo where I had their best seller – this amazing Itadaki Don for just 2400 yen.
Optional Stop: teamLab Planets
Toyosu is also home to the digital art installation teamLab Planets. Book this well in advance to try and get the first slot of the day.
It's open from 9am to 10pm most days of the year.
You can get on the Yurikamone line from Shijo Mae station to Shin Toyosu, but it's only a 12-minute walk from the Toyosu restaurants to teamLab so I'd just walk there if I were you.
A Note About teamLab Borderless
Once the new teamLab Borderless opens in January 2024 this will become the most-seen teamLab destination in Tokyo. That will reduce the queues for Planets. Of the two, Borderless has always been the bigger, better attraction and I don't expect that to change.
If you want to see Borderless over Planets and don't want to visit Toyosu, visit teamLab Borderless first thing on this day of your plans, then head to Odaiba. Or, try it before, or after, visiting Tsukiji on tomorrow's plans. You will have to book in advance for this – and it will be extremely popular for about the first six months of the year as the local tourists go in to see it.
Must See: Odaiba
Now jump on the Yurikamone Lane into Odaiba. The list of things to do on Odaiba is vast, so I'm going to pinpoint what I think are some of the must-dos.
For educational pursuits visit the Miraikan Science Museum, for less educational pursuits you might want to visit the Poop Museum which is a very 'only in Japan' experience. You'll definitely see a different side to Japanese ladies at the first 'exhibit' in this museum where you have to sit on a toilet and produce your souvenir poop!
If poop doesn't sound fun, then you might want to visit the Trick Art Museum, again, the way that Japanese throw themselves into posing with the paintings here is just fabulous and as much fun as creating your own magic pictures.
Odaiba is also home to the giant transforming Unicorn Gundam robot. The show happens at 11am, 1pm, 3pm and 5pm if you want to catch it.
The malls around Odaiba are also good for fun food trends, souvenir shopping – and, strange little touches like a Wagyu beef vending machine even locals were taking pictures of.
Japlanease Pick
Don't miss Small Worlds. This exhibition of miniature cities was one of my favorite things I saw on my last trip. The airport area where the planes 'take off' is an absolute joy. 
The level of detail is incredible, you can make things move around and they have areas based on Sailor Moon and Evangelion.
You can even make your own tiny figure to add to the display.
See more pictures and buy tickets in advance here.
Evening Plans
If you didn't get to go to Shinjuku last night, then take the time to visit tonight. Otherwise, another good area to spend an evening in Tokyo, that's easy to reach from Odaiba is Shimbashi which teams with izakayas.
Day Four – Tsukiji and Ginza
Today's plans see you eating more delicious fresh food – and then, heading to Ginza where a few different delights are in store depending on your likes…
Must See: Tsukiji Outer Market
While Toyosu is all about fresh fish, Tsukiji Outer Market will allow you to try all sorts of other street food dishes many of them cooked while you wait.
To understand the soul of the market I'd suggest taking a food tour. They help navigate you to the best stalls and have systems in place to beat the queues which can be very long.
I did this half-day Tsukiji tour on one of my trips and it was excellent.
If you don't take a tour, make sure you stop off at the interesting Namiyoke Shrine – you might also want to take a look at Honganji which is notable for its very un-Japanese architecture.
Oh and, if you're in Tsukiji for the 'gram – the two most viral stalls are the giant prawn cracker and the strawberry daifuku.
The giant prawn cracker stall at Tsukiji is at the corner of Namiyoke Dori and Tsukijazuma St.
The strawberry daifuku stall at Tsukiji is at Soratsuki (marked on the map).
The queues for both are ridiculous!
Must See: Ginza
From Tsukiji, it's an easy walk to Ginza where you can pick from two different itineraries…
If you like Traditional Japan
If you're looking for the sights of a more traditional Japan, this is the perfect time to take a tour of the Imperial Palace (you can apply in advance here), or, visit Hama Rikyu Garden, one of Tokyo's prettiest gardens.
Its' beautiful tea house is also a good place to try Japanese tea in Tokyo. Find the opening hours here.
If there's a performance on, you might also want to stop in at Ginza's Kabukiza Theatre to watch some kabuki. You can line up on the day for single-act tickets which allow you to experience part of one of the performances – the whole plays are very long. Or, you can buy tickets in advance. See more about single-act tickets here.
Devices that offer subtitles might be available for some performances and ticket types.
If You Like Things Cute and Modern
Start by visiting this year's big trend – the Art Aquarium with its amazing displays of neon-lit fish tanks. Then wander over to the cafe located on top of the Nissen showroom at Nissen Crossing. Not only is it nice and quiet, but they will take a photo of you and recreate it on top of your drink!
If you're hoping to visit the Pokemon Cafe, it's a fairly easy walk or train trip from here so, you could try and snag your spot this afternoon – although don't be too fussy as times are very hard to get.
See more about snagging a spot at Pokemon or the other popular hot ticket spots in Tokyo in our longer post on what you should book in advance.
Evening Plans
Finish your day, as many Japanese office workers do, by getting a yakitori meal under the train tracks at Yarakucho. The alleyways here are lined with small bars and restaurants grilling skewers of meat and vegetables.
If you only have three days, you can pick from day three or day four depending on your interests, and still leave Tokyo feeling like you've seen a great snapshot of all it has to offer.
So, that's our 'whistlestop' four-day Tokyo itinerary – it ticks off almost every sight in our First Time in Tokyo Must See List, and a few added extras. If you have longer in Tokyo you can easily spend a day in each of the areas above, or, add some other areas.
We talk about a few of these in our guide to deciding how long to spend in Tokyo. If you haven't firmed up your plans yet, you'll want to read that next.
---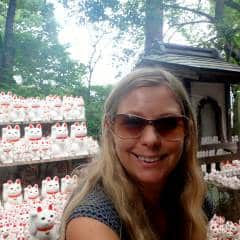 Who Writes This Blog?
My name is Helen Foster, and I'm a journalist and author. My travel articles have appeared in publications including The Australian, RAC Horizons, Jetstar Magazine, Sainsbury's Magazine, and more.
I've traveled to Japan five times before- solo and with my partner – and I've just returned from trip six in June 2023. So, everything here is pretty up to date.
---