The last time I went to Tokyo Disney Resort, I just kind of rocked up at the entrance, bought a ticket, and went in. As I plan my next visit, a lot has changed about how you visit the resort, how you buy tickets, how you get onto rides without big queues, even how you get into some shops and restaurants – and if you want to make the most of your day, you might need to do some planning in advance…
So, here's my simple guide to understanding how the Tokyo Disney ticketing system – and its extras and add-ons – works.
Disclosure: Some of the links in this post are affiliate links which means I earn a small commission if you use them to book. This does not cost you any extra. Japlanease is a member of the Amazon Associates program.
Where is Tokyo Disney Resort?
Tokyo Disney Resort is located in Chiba, a little over an hour's train ride from Shinjuku station on the east of Tokyo, and slightly less from Asakusa on the west side.
It consists of two main theme parks.
Tokyo Disneyland: This is the Disneyland of your childhood with a Japanese spin. It contains many rides that will sound familiar like Splash Mountain, Space Mountain and It's a Small World.
But you'll also find a few unique rides like Pooh's Hunny Hunt and The Enchanted Tale of Beauty and the Beast.
Tokyo DisneySea: This park's theming is unique to Japan and based around ocean tales and legends. But you will also find rides similar to those in the US like the Tower of Terror and Soarin'
If you only have time to visit one park, and have visited Disneyland in the US (and aren't taking small kids), then it's generally suggested that you pick DisneySea as it is very different from anything anywhere else in the world.
Tokyo Disney Resort Entry Tickets Explained
All the info on Tokyo Disneyland tickets and Tokyo DisneySea tickets is on the Tokyo Disney Resort website, but, you have to click around round a lot of different places to find it all which is why I thought it might be helpful to have it all in one place. So, let's get started…
To get into either park at Disney Tokyo you need a basic entry ticket, known as a Park Ticket – and as I write this in early March 2023, you can't buy same-day Tokyo Disney Resort tickets on the gate of the park. You must buy your ticket in advance for a specific date.
Tickets for a date go on sale at 2 pm Japanese time, two months before the date you want to visit.
So, if you want to visit on May 15th, you can buy your tickets from March 15th. For August 7th, you can buy your tickets from June 7th, etc, etc.
How Far in Advance Should You Buy Tokyo Disney Tickets?
Unlike Universal Studios which can sell out fast, there's not so much of a panic to buy your Disneyland or DisneySea tickets the minute they go on sale – I'm looking at the charts now and even during Golden Week, one of Japan's busiest travel periods, tickets are still available (but, I'm seeing the same dates sold out for Universal).
However, if you are traveling during busy periods like Golden Week (April 29-May 6), Japanese Spring Break (March 25-April 6), or Christmas and New Year, the earlier you book the better just to be sure.
Buying early will also be more important after Spring 2024 when the new Fantasy Spring area opens in DisneySea – crowds then will go up for this park.
The exact opening date hasn't been announced yet, but, if you're traveling from March 2024 onwards, keep an eye on announcements and if it's open by your dates, buy your ticket EARLY.
You can check the availability of tickets here.
If you see a circle there's still plenty left. A triangle means you'll want to get a move on as they are selling out. A cross means they are sold out. A hyphen-like line means they aren't on sale
Types of Tickets Available
Right now, you must buy tickets to each park separately, there's no such thing as a Park Hopper or a multi-day ticket currently on sale.
You can buy a one-day ticket – which allows you entry to one park from doors opening to doors closing.
If you're tight on time/money, you can also buy slightly cheaper tickets that let you in the doors later in the day. There's a weekend pass that allows access from 3 pm, or a weekday pass that lets you in from 5 pm.
Are Afternoon Tickets a Good Way to Save Money?
Maybe if you live in Tokyo, but if you're flying thousands of miles to visit the park, they might not be.
The difference between a full-day ticket and a 5 pm weekday entry is only 3800 yen (US$27, AU$42, or £24).
It's still money saved I'm aware BUT the lines for rides at any Japanese theme park can be long, and the afternoon is when they are usually longest.
I'd only consider getting one of these passes if you're not that bothered about riding everything and are mostly going to check out the atmosphere, buy some of the amazing Disney-themed foods, get on smaller rides, and/or maybe hop on one of the more popular rides before the park closes.
If you want to ride/see everything, you'll need a whole day. I did two days, one at each park from 8 am to 4-5 pm (when either blisters or rain stopped play) and there's so much that I missed. In fact, the next time I go, I decided I would stay at the resort for this very reason.
Where to Buy Tokyo Disney Tickets
There are a few different ways to get Tokyo Disney Tickets. But, if you don't have a Japanese credit card these are the easiest options.
Easiest Option: Buying Disney Tickets From a Third Party
You can buy them from third-party resellers like Klook and Get Your Guide. Both of these are super legit and charge the same price as Disney for tickets to Disneyland and DisneySea.
It used to be less convenient to buy tickets from a third party as you had to wait until you got into the park to load your tickets to the Tokyo Disney App, but this is no longer the case.
They also play well with all foreign credit cards which isn't always the case with buying tickets via the Tokyo Disney App and website.
Another Easy Option: Buying Tickets on the Disney Resort App
In February 2023 it became easier to book with foreign credit cards using the English version of the official Tokyo Disney Resort App.
Just click the 'Buy Ticket' option and follow the process.
You will need to create a Disney account before you buy them – or, if you have a Disney account already from, say the US Parks, or in my case it seems Run Disney, you're already in the system you just need to log in with your normal details.
Not So Easy: Buying Disney Tokyo Tickets at the Convenience Store
If you decide at the last minute to go to Disney and don't want to use either of those methods, you can also buy tickets at convenience stores like 7-11, Lawson, and Family Mart but you might need some help from someone who speaks Japanese.
Not So Easy: Buying Disney Tickets Online
If you have a Japanese credit card you can easily buy tickets via the Tokyo Disney website, but, this doesn't work brilliantly with foreign credit cards.
If you want to buy direct, use the app
Can You Buy Tokyo Disney Tickets at the Gate?
No. I mentioned this briefly above but in case you missed it, you can't buy tickets at the gate right now, you have to buy tickets in advance for a set date.
So far too easy, so now let's talk about add ons which is where things get a bit more complex as Disney have their own language for their extras!
Understanding the Tokyo Disney Ticket Add Ons
Once you've bought your ticket you might think you're good to go for a day of magical fun – and, technically you are. Woot woot!
But, if you want to make the most of your day, there are a few extras and add-ons you need to be aware of that can help you access things faster, and get into certain areas that you might not be able to visit without these add-ons.
These include Disney Premier Access, Priority Pass, Entry Requests, Standby Passes, and Priority Seating. And here's your Disney dictionary to help you understand them.
What is Tokyo Disney Premier Access?
Premier Access is a way to jump lines, you could also call it the Tokyo Disney Express Pass. You get a ticket that allows you to come back to a ride at a set time and use a separate, shorter queue. Or, to view shows from a separate area.
If you've traveled to one of the US Disney Parks, then this is like the new Genie+ System (and kind of like the old Fast Pass) at the US Disney Parks –
Like Genie+ it's a paid-for service, but, the difference is that in Tokyo Disney you pay for each attraction individually – and you can only make bookings once you have entered the park on the day of your visit.
It's currently available for the following rides and shows
Tokyo Disneyland Premier Access Rides: Splash Mountain, Enchanted Tale of Beauty and the Beast, The Happy Ride with Baymax, Tokyo Disneyland Electrical Parade, and Disney Harmony in Colour Parade.
Premier Access DisneySea Rides: Soarin: Fantastic Flight, Tower of Terror, Toy Story Mania, Journey to the Centre of the Earth and the nighttime Believe! Sea of Dreams show
Premier Access Costs and Rules
The cost of a Premier Access pass is between 1500-2500 yen – around US$11-18, AU$16-27 or £9-15 – per ride or show. Prices vary depending on the popularity of the ride/show.
You can book Premier Access via the app once you enter the park in the morning.
Choose your order for booking Premier Access carefully as, when you buy one pass, you can't buy another one for a different ride for another 60 minutes, or, once your access time begins (whichever is sooner). Pick the rides you want to ride most first.
And if you want to ride the same ride twice using Premier Access the rules differ slightly, you can only buy your second pass, once you've actually used the first one.
You can however have Premier Access for a show and a ride at the same time. So, if you want to use it for, say, the Believe! Sea of Dreams show, book that as soon as you enter the park.
---
If you do want to buy Premier Access in the park, you need to have some kind of internet connection – and, if you haven't quite decided how you're going to do this, take a look at our easy guide comparing eSIM, SIM Cards and Pocket Wifi to help you decide which you need.
---
If You Only Buy One Premier Access Pass
If you only have cash for one Premier Access Pass, which should you choose? Well, it's probably the ride you want to do most, but, if you want to do everything, here are my suggestions.
In Disneyland: If you have any inclination to ride Beauty and the Beast, book that one. Because it's the newest ride in the park it has the longest line of anything in both parks right now.
As I sit here, most rides are tracking well below an hour. Splash Mountain is at 70 minutes, but Beauty and the Beast is at 150 – and I've seen it go higher.
It's also absolutely brilliant – I actually cried on it (and I'm not a BATB fan). It moves like no other ride I've been on and it's just Disney Park magic at its absolute finest.
In DisneySea: Soaring is usually the ride with the longest lines in DisneySea so it might be worth using it for that – it ends slightly differently from the US version.
Or, for a more unique ride, use it on Journey to the Centre of the Earth.
I tried both and, loved them both for different reasons. If I had to pick one though, I'd probably get the pass for Soaring – just because I've ridden it before in the US and so waiting two hours for something I'd already done might feel a bit too long.
---
Read This Next For More Premier Access Tips and Tricks
If you do want to buy Premier Access, there are a few steps you need to complete before you can hit purchase, so, you might want to check out our guide to how to use Premier Access at Tokyo Disney – especially if you bought your tickets from Klook or GYG.
It also gives some more tips from when we tried it on our recent trip.
---
Tokyo Disney Priority Pass
This started in the park on July 26th, 2023 – and, it's not yet known how long it's going to be in place, but, it's basically a free way to skip the lines – so like the old FastPass was in the US parks.
It's run through the app, and you use it the same way as Premier Access, but it has its own button (it says 40th Anniversary Priority Pass) and two slightly different rules.
The main difference is that you have to wait two hours between grabbing Priority Passes – Premier Access only sees you waiting one hour. You can get another one once you've used your first one though if time allows.
You don't choose the exact time to come back to the ride – it's allocated within a time frame for you.
Priority Pass Rides at Tokyo Disneyland: Monsters Inc Ride and Go Seek, Buzz Lightyear Astro Blasters, Space Mountain, Pooh's Hunny Hunt, Haunted Mansion, Star Tours, Big Thunder Mountain
Priority Pass Rides at Tokyo DisneySea: Nemo & Friends SeaRider, Turtle Talk, 20,000 Leagues Under the Sea, Raging Spirits, Indiana Jones Adventure, The Magic Lamp Theatre, and Aquatopia.
As you'll notice, the passes that have the paid-for Premier Access passes aren't included in the free Priority passes, you'll still have to pay to queue jump on those.
How long this is going to run for we don't know, it might just be a summer thing, or, run as long as the 40th Anniversary celebrations as its official name is the 40th Anniversary Priority Pass.
What is an Entry Request?
Right now Tokyo Disney is limiting crowds for some shows and, to get into them you need to apply for an Entry Request which will allow you to access the show.
This is free, but, even if you apply the second you walk through the park gates, there's no guarantee as these are on kind of a lottery system so, even if you see times available, you might not be lucky enough to get one.
Shows this applies to include
In Tokyo Disneyland: Jamboree Mickey: Let's Dance! Mickey's Magical Music World, Club Mouse Beat
In Tokyo Disneysea: Believe! Sea of Dreams, Big Band Beat: A Special Treat, Jamboree Mickey: Let's Dance!
This page on the Tokyo Disney website explains how to make an Entry Request.
Some shows will allow people in even without an Entry Request if they aren't full, so if you don't get lucky, it's always worth trying at the door when the show starts, but if it's something you absolutely want to see, then, apply for an Entry Request to maximize your chances.
Sneaky Show Viewing Tips
While Believe! Sea of Dreams, Harmony in Colour and, the Disney Electrical Parade are Entry Request shows, this only applies to one viewing area and they can be seen from other areas around the park that don't need any special access tickets or passes, so don't panic if you don't get into that.
One of the very popular shows at DisneySea is Jamboree Mickey: Let's Dance – but, there are two places you can see this if you don't get an entry request. The picture of Mickey above was taken from the walkway to the SS Columbia ship, or, head to the far right side of the stage and you'll see a viewing area. This one is really fun as a lot of Disney fans dance along to the show here – it's amazing to watch.
---
If you're finding this guide helpful, and are also going to visit Universal Studios in Osaka, then you're going to want to check out our guide explaining Universal Studios tickets too – trying to get your head around what tickets and add-ons you might want there makes Disney look easy!
---
What is a Standby Pass?
Some shops and restaurants in the Disney Parks require you to have a Standby Pass to enter them.
It's often related to very busy seasons or days when new merchandise is going to be released into the shops. You'll find an exact list of dates on the Tokyo Disney Resort website.
Again, you book these on the app and it will tell you a time to line up in the queue to get into the shop or restaurant.
While it can still be possible to get into the designated shops or restaurants without a standby pass, on other days it's the only way you're going to get in there – so, it's worth just booking them in any way.
Unlike Premier Access, there don't seem to be any rules about how many Standby Passes you can apply for.
Shops That May Need Standby Pass
Disneyland: Disney & Co, Adventureland Bazaar Capsule Toys, Kingdom Treasures, Gag Factory (both outlets),Treasure Comet, Planet M.
Disneysea: Il Postino Stationary, Emporio (the biggest shop), Galleria Disney and Aunt Pegs (if you want Duffy Merchandise). Steamboat Mickey's, Tower of Terror Capsule Toys. McDucks Department Store, Lost River Outfitters, The Sleepy Whale. Mermaid Treasures Capsule Toys
Restaurants That May Need a Standby Pass
Disneyland: Sweetheart Cafe, Tomorrowland Terrace,
Disneysea: Zambini Brothers Ristorante, Cape Cod Cookoff, Dockside Diner, New York Deli. Miguel's El Dorado Cantina, Yucatan Basecamp Grill,
There are still plenty of other shops and dining places around that you can visit without a Standby Pass but, your other option for dining is to book Priority Seating.
What is Priority Seating?
If you're looking around the restaurants in the Disney Resort, you will notice some of them are marked as having Priority Seating – so, what's that when it's at home?
It's basically like a table reservation in a normal restaurant.
You can book a set time to dine and be seated as fast as possible when you arrive (although you might still have a small wait on busy days or times).
If you want to schedule your day carefully, need to eat at a set time, or have a restaurant you really want to go to, then it's a good idea to take advantage of Priority Seating.
It opens up to non-hotel guests, at 10am Japan Time one month before the date of your visit and seating bookings are supposed to close at 11.59 the night before the day of your visit.
But don't despair if you're more spontaneous – I reserved my seat for the Center Street Coffee House (I wanted a Baymax-shaped curry) an hour before I needed it. Not everything books out in advance.
Again, you can make these bookings on the Disney Resort App.
Restaurants That Offer Priority Seating
Disneyland: East Side Cafe. Center Street Coffee House, Restaurant Housaki, Crystal Palace Restaurant, Blue Bayou, Polynesian Terrace, The Diamond Horseshoe
Disneysea: Magellan's, Ristorante di Canalleto, SS Columbia Dining Room, The Teddy Roosevelt Lounge, Restaurant Sakura (main dining room), Horizon Restaurant
A Note About Tokyo Disney Food
Even if you're not planning on splashing out on sit-down meals in the park, you might want to take a look at the menus on the Tokyo Disney website and make some plans as to where to grab things as Tokyo Disney food is next-level in its theming (see exhibit A of the Alien Mochi above!).
If they can make a dish into a Mickey, or another character, or incorporate something cute into the design in some way, they will.
What Are Attraction Tickets?
If you book a Vacation Package at Tokyo Disney Resort, one of the perks is Attraction Tickets that let you skip the queues, there are three types of these and you can choose which ones you'd like to book when you book your package. For a fuller explanation of the different types and how many of these you get with the different packages, take a look at our guide to the Vacation Packages at Tokyo Disney.
Is the Genie System Available at Tokyo Disney Resort?
Genie is a system that allows you to plug in the rides, shows, restaurants, and shops that you want to visit at Walt Disney World in Florida into the app and it'll come up with a plan of attack for you.
Right now, that system is not available at Tokyo Disney Resort, unfortunately, you'll have to come up with your own touring plans.
---
If you're looking for somewhere to write all your Japan plans check out our Japan-themed notepads on Amazon.
With 120 lined pages they are perfect for planning all the elements of your Japan visit.
---
So, I think that's everything I need to cover in this post trying to explain the Tokyo Disney Ticket system as simply as possible.
If you do have any questions though…
Have you joined our Japlanease Facebook Group yet? It's the perfect place to ask questions and get answers from me, and other Japan fans and travelers. Join it here.
What to Read Next
If you're considering staying near Tokyo Disney Resort and using a shuttle to get to the parks, then check out our guide to the hotels with Disney shuttles. It gives you information on the bus timetables, links to help you reserve seats, and a lot more.
If you're a theme park fan, but don't have time to travel out of Tokyo for long you might be wondering whether you can visit Universal Studios Japan in a day from Tokyo – well, here's what we think.
If you already know you're going and just want to know where is best to buy your tickets, then have a look at our guide to buying USJ tickets.
Check Out Our Travel Planners Shop
Trying to plan your Japan trip? Visit our Japan travel planners shop on Etsy. We've made printable planners containing simple Japan-planning advice and fillable travel planning sheets to help you plan your itinerary, packing, spending etc. If you love travel printables, check out the Japlanease Shop on Etsy.com.
---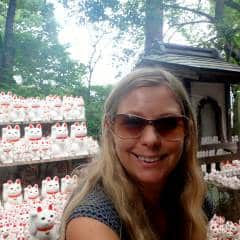 Who Writes This Blog?
My name is Helen Foster and I'm a journalist and author. My travel articles have appeared in publications including The Australian, RAC Horizons, Jetstar Magazine, Sainsbury's Magazine, and more.
I've traveled to Japan five times before, both solo and with my partner – and I've just got back from trip six in June 2023. So, everything here is pretty up to date.
---