Booking a place to stay for your Japan trip takes a little bit more planning than some other countries. Not only do you have to decide what area to stay in, you also need to think about what type of accommodation in Japan you want to stay in as there are a few different options.
This post explains the difference between the types of hotels in Japan – and also explores some other accommodation types in Japan that aren't strictly hotels, but still offer a place to rest your head – so you can decide what type is best for you.
It'll give you an idea of what to expect from this type of accommodation, including the main pros and cons. Some of the options are more complicated to explain than others and so if we think you need a bit more detail to help you make your choice, you'll find a link to a more explanatory article to fill in the gaps
So, let's get started with the different types of actual hotel in Japan.
Types of Hotel in Japan
Hotels are one of the most popular types of accommodation to stay in for tourists travelling to Japan.
Benefits include a choice of room types. lots of availability and easy booking from English speaking countries, but there are a few diferent types of hotel in Japan and some may be a bit different from that which you might be used to – so, here's what to consider.
1. Capsule Hotels
The archetypal 'only in Japan' experience, staying in a capsule hotel is an experience many traveller wants to tick off, but they aren't like a normal hotel so you do need to be prepared before your stay.
Capsule hotels began in Japan as a place for business travellers to stay overnight. The first ever one was the Capsule Inn in Osaka which was built in 1978 and still takes (male) guests today.
Most capsule hotels consist of two rows of sleeping pods, lined up on top of each other, which contain a futon-style bed, a light and sometimes extra touches like a TV or air conditioning.
Your pod is closed with a door, or a curtain.
Each pod usually sleeps one person and many capsule hotels are either single gender (so make sure you book into the right one), or, at least divide the sexes into different areas or floors.
Obviously, there's no bathroom in your 'room' and the toilet and shower (or bath) facilities are shared with the other guests.
You also store your luggage in a locker outside your pod.
Pros of Staying in a Capsule Hotel
They're quintissentially Japanese! This is the big one and the main reason why you'll pick this as your accommodation choice.
They're generally cheaper than a normal hotel room.
Great option for a one night stay.
They are often located close to main transport like stations or airports.
Cons of Staying in a Capsule Hotel
You (usually) can't stay with a partner of the opposite sex.
They might be a bit noisy, pack earplugs
Not for the claustrophobic
You can't keep your luggage with you, nor can you lounge in your room during the day.
Capsule Hotels to Consider
Across Japan: Nine Hours
This chain offer modern capsule hotels in a number of locations around Japan.
One very a good option for Tokyo tourists is their Otemachi-Imperial Palace location – which is in a good central location, but also scores major instagram points.
That's it above – it looks like something out of the Matrix!
If that location doesn't fit into your plans, you'll find a full list of Nine Hour locations here.
In Tokyo: First Cabin
If you are a bit nervous about the smaller pods associated with normal capsule hotels, have a look at First Cabin who use the capsule concept, but with the option of booking much larger pods.
They say they're the option between a capsule hotel and a business hotel – and just like a plane you have a choice of 'class' – First Class cabins are the largest, Premium Economy are more like a normal pod
The picture above is from their Akasaka location in Central Tokyo.
Click on the picture above to see more details on rooms and rates.
They also have a location in Osaka's Namba district which would be good to try.
You'll also find a branch at Haneda Airport – perfect if you need to get to the airport early for your flight home, or, if you are arriving early evening and might be too tired to explore, but still want to start your trip in a very Japanese way.
If neither of those locations quite work for your plans, you'll find a list of all of First Cabin's locations, and different room types on the First Cabin website.
2.Business Hotels
Business Hotels is a good way to categorise local Japanese chains like APA, Tokyu Inn or Dormy Inn.
As the name suggests, they tend to aim at Japanese travellers visiting on business, but, because they can be found in many, many locations around Japan, they're also a good holiday choice.
Rooms and beds can be on the smaller size (which is common in Japan anyway), but this is also reflected in the price which is usually less than other touristy-style hotels.
I think they're a great choice for solo travellers, those who are happy with twin beds (and aren't carrying much luggage!) or a couple who don't mind getting cosy!
A nice thing about business hotels is that they tend to supply lots of little extras like pyjamas or a robe, combs and toothbrushes which is handy if you're just on a short stay.
Pros of Staying in a Business Hotel
Fantastic choice of locations
Prices are usually pretty reasonable
Some offer baths or onsens
They often have single rooms which can cut costs further

Cons of Staying in a Business Hotel
Rooms and beds can be small so double check
They can still have smoking rooms
Don't expects lots of fancy amenities like pools or gyms
In smaller towns, chains like Super Hotel may only have a Japanese website, and English might not be widely spoken. Google Translate is your friend.
Business Hotels to Consider
You'll find business hotel chains all over the main booking websites, but brand names to look for include APA, Dormy Inn, Super Hotel, Toyoko Inn, B Hotels and Daiwa Roynet.
Good options for tourists include…
In Tokyo: APA Hotel Shinjuku Kabuchiko
Located in the middle of Tokyo's nightlife district, you can't beat the location for the price.
The standard rooms sizes are small, even by Japanese standards – just 11 square metres – if there's more than one of you book the Deluxe Twin to gain an extra 10 square metres.
In Kyoto: Daiwa Roynet Hotel Kyoto Shiijo Karasuma
The name is a bit of a mouthful, but with a good central location about 5 minutes away from Nishiki Market and relatively large rooms that start at 18 square metres, it's a good place to start your Kyoto hotel hunt.
In Osaka: Dormy Inn Premium Osaka Kitahama
A nice touch about the Dormy Inn brand is that they tend to have onsens in their hotels.
Dormy Inn Premium is their slightly more upscale offering so prices are a little higher than the basic Dormy Inn brand.
This one is in a fairly central location near Osaka Castle, has relatively large rooms and a nice onsite onsen – and, as we're checking rates today , costs about a third of the price of the chain's branch in Namba!
If you're really tired, you can also enjoy free nightly ramen onsite!
3. Western-Style Hotels
These probably don't need heaps of explanation as they'll be very much like any other hotel you'll find around the world.
You'll find a western-style bed, sometimes a desk and chair – but, because this is Japan, you'll probably find that even the smallest room will have a bathtub rather than just a shower.
Talking of small rooms, if you want space, a Western-style hotel is more likely to offer it than one of the Japanese chains, but do look carefully.
Hotel rooms in Japan can be as small as 11 square metres – and that's pretty tight.
If space matters to you, check out our guide to hotels that have larger rooms in Tokyo here.
We've also covered the same advice for Osaka (mostly because I'm travelling there with Mr Japlanease and we need a biiigggg room when there's two of us). See our list of larger Osaka hotels here.
Costs for Western Hotels can vary massively – as with anywhere else you travel, location, season and local events and the star-rating will play a big part in how much you should expect to pay.
Pros of Staying in a Western Style Hotel
You know what you're getting
Room and bed sizes can be larger
Often come with extra facilities like pools, bars and room service
They are used to foreign guests
They may have interconnecting rooms for families.
Cons of Western-Style Hotels
You know what you're getting! There's nothing surprising or new
Western-Style Hotels to Consider
This list could go on for pages, so, I've just picked some of the most popular hotels for tourists in Tokyo to give you some ideas if you think you want to stay in a more western-style hotel on your trip.
In Tokyo: Citadines Central Shinjuku
I am a big fan of the other Citadines Shinjuku location and so was looking forward to also trying this Kabukicho locationone my last trip to Japan – but, guess why that got cancelled! I have a soft spot for them though as, even though we had booked a non-cancellable room (unusual for us, but we got an amazing deal), they happily refunded our stay.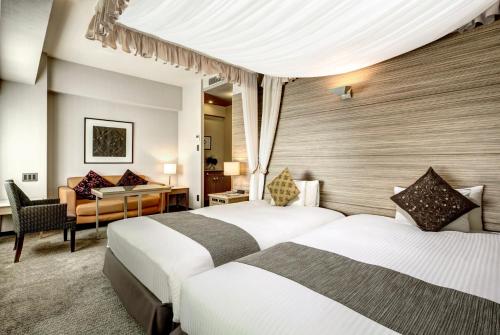 However, it's also one of the most popular hotels in Shinjuku according to the reader's of TripAdvisor with over 2000 excellent, or very good, reviews.
Rooms start at 18 square metres and apparently the staff are ace at restaurant recommendations!
In Tokyo: Hotel Sunroute Plaza Shinjuku
Incredibly popular in all the Japan groups I belong to, Hotel Sunroute has a super convenient location just a few minutes walk from Shinjuku Station.
It's also one of the stops on the Limousine Bus, one of the easy transfer options from Haneda or Narita Airports.
The smallest rooms are 16 square metres, but if you book a twin, you'll get 23 square metres.
There are a couple of restaurants in the property – and tons on your doorstep!
In Tokyo: Hilton Tokyo
The hotels above don't offer a lot of added extras, but if you're looking for a pool, a gym and a sauna to relax in – as well as somewhere to sleep, the Hilton is another very popular hotel in Tokyo with excellent reviews.
It also has a rooftop tennis court should you need it!
Beds and rooms are on the large side, starting at 30 square metres.
Don't forget to check our post on larger hotel rooms in Tokyo for some other options in this hotel-type.
4. Robot Hotels
Another, very Japanese experience, the Henn na chain of Robot Hotels has expanded from the original branch at the Huis Tens Bosch theme park near Nagasaki, and now has 19 hotels in major cities around Japan (and one in New York and one in Seoul).
As the name suggests, their USP is that you're served by robots.
When you arrive at the hotel you'll be greeted by your robot check in assistant, which may look like a human, or, if you're lucky, will be a dinosaur in a fetching little white hat.
You scan in your passport and are then given your room key.
Once in your room, a robot assistant helps you turn on and off the lights! – admittedly, some criticisms of the robot hotels is that this fella sometimes doesn't work quite as well as it should!
They also offer Robohon tour guides in some destinations – and, if you have ever seen James May's Our Man in Japan, you'll know this as the 'Hey Bim' device (and if you're anything like me, you're now already giggling, if not, check out the series on Amazon Prime as it's great)
There are also human staff on hand if you need them.
Pros of a Robot Hotel
Why would you not want to be checked in by a dinosaur in a little hat?
Despite their fun theme, they don't charge much more than a traditional hotel
They tend to be in central touristy-focused locations.
An in room device offers free internet – and free calls to six international countries.
Cons of a Robot Hotel
If you're fussy about your room type, your robot assistant probably won't care!
Forget early check in. If you arrive before check in time, the robots are literally asleep.
The in-room assistant can be a bit temperamental!
There's no traditional concierge.
Robot Hotels to Consider
Henn na Hotel Asakusa Tawaramachi
Located in the atmospheric, historic, part of Tokyo, Asakusa, this is very close to major sightseeing spots like Senso-ji Temple and Tokyo Skytree.
The twin rooms are pretty reasonable in size.
Henn na Hotel Ginza
Walking distance from the fantastic Tsukiji Outer Market and the shopping strips of Ginza, this was the first robot hotel in Tokyo.
The robots on the front desk are human in form (not dinosaurs) but everything else is as fun as the other branches.
Hen na Hotel Osaka Namba
The dinosaurs are back at this branch which is 1300 feet from the famous Glico man bridge with its illuminated signs.
Rooms here are around 17 square metres.
If you're staying elsewhere in Japan, or, want to stay in a different location in Tokyo or Osaka, you'll find other robot hotel locations at the Henn na Hotel website.
5. Love Hotels
Japan is a space deprived country and so trying to find privacy to erm, do couple things (that aren't just ask each other what's for dinner), is limited – and so, Love Hotels were born.
They were a place for couples to spend an evening – or just a few hours – in absolute privacy without worrying that other family members, or the neighbours might hear what's going on.
The first one opened in Osaka (there again) in 1968 but now you'll find Love Hotel districts in most major cities – you'll know if you're in one of these as lots of hotels will be crowded together and there will be a lot of neon!
Traditionally, these establishments were booked in short blocks of a few hours, or just overnight and aimed very much at locals – but, now they're also appearing on many travel websites as an option for couples wanting a bit more of an adventurous hotel on their holidays too.
If you see a hotel in Japan marked as 'adults only' on a website – and it's not an exclusive ryokan – it's probably a love hotel.
Expect to find a large room, sometimes with a few interesting accessories – but also things to pass the time like spa baths, saunas, games consoles or karaoke as some couples use them as a place to spend a quiet evening together.
Some are also fantastically themed – if you've ever wanted to stay the night in an alien galaxy or pirate ship this could be your answer.
Pros of Staying in a Love Hotel
Rooms are normally bigger than the average Japanese hotel room
Rates are cheap for the size of room and location
Another fun experience – and/or a honeymoon with a difference!
Walls are thick, there's often no windows and some level of soundproofing, so, if you love hotels but hate people they might be perfect (NB: I am describing Mr Japlanease right now).
Cons of Staying in a Love Hotel
You might see a few interesting sights in the room, on the television
While most hotels are used by couples, some commercial transactions might go on there
There's usually some smoking rooms and odours can travel.
Don't expect much storage space as the hotels weren't designed for unpacking
Many rooms won't have windows
Love Hotels can be in, or next to red light districts which may be off putting to some.
A Few Tips on Booking a Love Hotel
If you decide to book a love hotel in person when you're in Japan, note there is two room rates – Rest which is for a few hours or Stay, which is overnight – but, you can't normally get into your room until the evening.
It's important to known this in advance as many Love Hotels are booked via machine, without speaking to another person.
If you book a love hotel in advance on one of the international booking sites like booking.com or Agoda, you'll get a normal check in time and can just treat it as a normal hotel, coming and going as you please, but you might have to hand in your room key each time you leave.
If you choose to book a Love Hotel once you're in Japan, and it's not one that also targets tourists, note that services like luggage storage or a concierge aren't going to be available (in fact you might not see another human at all).
Many will also only take cash for payment.
Love Hotels to Consider
Hotel & Spa J Mex in Shinjuku
You didn't want to leave your room and sightsee did you? Rooms in this hotel are not only large and spacious, they come with their own sauna, hot tub and karaoke device!
Reviews praise how friendly and helpful the staff are, which considering you don't normally see the staff at a Love Hotel is a definite bonus if you're feeling a bit lost!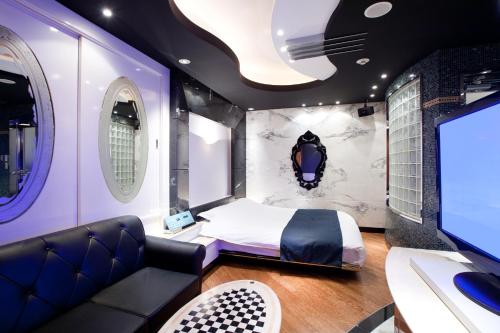 Hotel Rose Lips, Osaka
If Hotel J Mex is a bit too plain for your tastes, check out Hotel Rose Lips in Osaka.
I took the photo of the exterior of this above on one of my first trips to Japan with no clue what it was about – and now, you can book to stay in it – and, it's fantastically OTT!
Look
6. Apartment Hotels
Combining the facilities of a hotel – like a concierge, sometimes a pool and onsite restaurants, but with the space and extra facilities of an apartment, apartment hotels are a great choice for those staying a bit longer in a destination, those who might want to make some meals in the room, families or, just those that like a bit more space.
The options in Japan are very similar to the apartment hotels you'll find else where.
Pros of Staying in an Apartment Hotel
You usually have more space
You can pick a room with two or more bedrooms
Some apartments have a kitchen and a small laundry
Cons of Staying in an Apartment Hotel
They aren't the most adventurous option!
Apartment Hotels to Consider
This was an easy list of recommendations to write as when I travel with Mr Japlanease, this is the category of hotel we book as we like the extra space.
In Tokyo: Citadines Shinjuku
I've talked before about how this is my go-to hotel in Tokyo and I thoroughly recommend it.
Rooms are light and bright and spacious.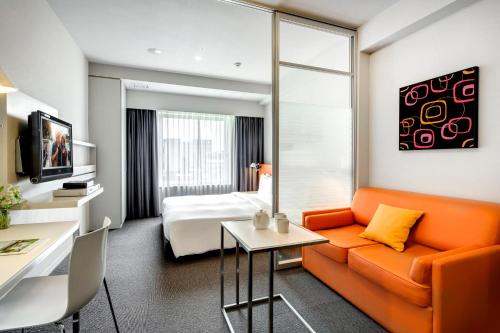 One thing to be aware of is that even though it's technically in Shinjuku, it's a bit of a walk from the main station or entertainment area.
There is a nearby metro that makes things much easier though.
In Osaka: Fraser Residence Nankai
Located close the fabulous Kuramon Market and surrounded by bars and restaurants, this is a nice modern hotel in a great location.
I only wouldn't recommend it to you if you are planning on lots of day trips as it's a short train ride from the main bullet train station, and that gets a bit tiring at the end of a long day.
In Kyoto: Citadines Karasuma-Gojo Kyoto
Yes, it's another Citadines but I had a great stay here last time I was in Kyoto!
Rooms are lovely and big and it's just one stop from Kyoto station and very close to a metro station which makes it easy to get around the city – and a short walk from the train with tired legs is much appreciated.
Rooms start at 27 square metres.
If you do stay here, take a walk around the Karasuma area a little west of the hotel to find lots of local bars and restaurants
Other Common Accommodation Types in Japan
As well as the different types of hotels in Japan there are also some other accommodation options that visitors might want to check out depending on budget, or, the type of experience you want to have on your trip. So, let's explain some of the most common…
1. Ryokan
Ryokans are the traditional style inn that Japan is famous for – and in this section, we're talking about the smaller personalised style inn that most travellers think of when they say ryokan.
There is also a sub-genre of a ryokan hotel (or hot springs hotel) which is larger and works in a slightly different way that we'll talk about in a minute.
Staying in a ryokan can be a romantic and special part of your Japan trip, and it's most definitely not like staying in the hotels you're probably used to.
Traditional ryokans are usually in a small building with a handful of rooms and you'll be greeted and served by your host, or a room attendant, throughout your stay.
Your room will, usually, be Japanese in style.
That means you'll enter into a small tiled area, where you leave your shoes and luggage.
The rest of the room will have a tatami mat floor and be minimally furnished – with no bed!
At night, your hostess will come and turn your bed into a bedroom with a futon-style bed.
Evening meals and breakfast are usually included in a ryokan stay and will often be served in your room, or a private dining room. These are generally multi-course meals with very high quality ingredients.
Many ryokans also have onsens – public baths – on the premises. These might be communal (although usually segreated by gender), private baths might be bookable or, some rooms might have their own private hot tub.
Pros of Staying in a Ryokan
A very special Japanese experience.
Lots of personalised service, you won't need to think about anything.
Meals are provided and are usually beautiful presented kaiseki-style meals which are very expensive in restaurants.
Great if you just want to take a break from frantic sightseeing and relax as, you'll spend a lot of time onsite.
Cons of Staying in a Ryokan
Rule breakers need not apply. Ryokans have rules – like where and when to wear shoes – and you should abide by them
You are expected to live on Ryokan time for things like dinner, breakfast and when your room is, or isn't, a bedroom!
You also don't choose your meal which could be tricky for picky eaters. Thoe will allergies must notify the ryokan in advance of arrival.
High-end ryokans can be very expensive.
Ryokans charge by person, not by room so some don't allow solo travellers
Children aren't welcomed in all ryokan
Those with visible tattoos might not be welcome in a ryokan, or, turned away from the communal onsen.
Not all ryokan rooms have a private bathroom as the onsen is used for bathing.
Some Ryokan to Consider
In Hakone: Yoshimatsu
Hakone is a short train ride from Tokyo and it's a popular way to add a ryokan to your trip if you're not planning to visit Kyoto
Yoshimatsu offers traditional Japanese-style rooms and futon-style beds.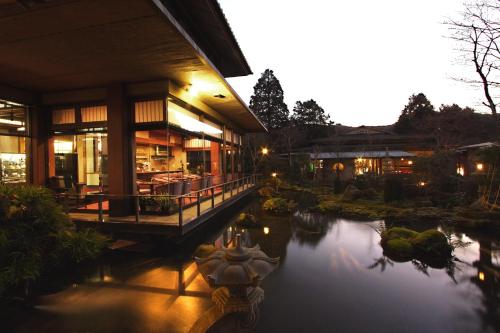 It also has both indoor, outdoor and private onsens on site.
In Kyoto: Arashiyama Benkei
Highly rated on booking.com and offers indoor and outdoor onsen and dinner can be served in your room.
It's not inexpensive, but if it's a honeymoon, or a one night, once in a lifetime experience why not splash out! It looks gorgeous.
If you're looking for other suggestions for ryokans in Kyoto, then check out our post on the best things to do in Kyoto which has some other options to consider.
2. Ryokan Hotels aka Hot Springs Hotels
So you like the idea of the ryokan experience, but not the rules or formalities, then a Ryokan Hotel might be the answer you're looking for.
These combine some of the tradition of a ryokan with the informality and flexibility of a normal hotel.
So, you might still sleep in a tatami mat room on a futon, but once you've checked in you probably won't see people again.
Formal dinners are available, but, they are often served in a larger dining room and timings are a bit more flexible.
There's still an onsen, you still go barefoot and you still wear a robe and slippers around the place – but, it's just less formal.
They're often bigger than a ryokan, with over a hundred rooms and combine a mix of western and Japanese style rooms – and the larger ones even have inbuilt entertainment like karaoke, theatre or bowling.
See our full post on what it's like to stay at a Ryokan Hotel here.
Pros of a Ryokan Hotel
A Japanese experience without the formality
Children may be more welcomed
Prices are by room and so solo travellers are more welcomed
More flexibility than a ryokan
Usually cheaper than a ryokan
Cons of a Ryokan Hotel
May not feel as unique as a traditional ryokan.
Some still have smoking rooms.
Even with the less formal feel, tattoos are still frowned upon and there may not be rooms with private baths.
They don't tend to be in cities.
Ryokan Hotels to Consider
In Hakone: Tenseien
Tenseien is one the most popular hot springs hotels in Hakone.
It has 105 rooms offer Japanese-style rooms, Western rooms and hybrid rooms where you can sit and relax in a tatami room, but sleep in a full bed.
It has four onsen baths – two indoor, two outdoor baths which are segregated by gender.
They also have sky baths on the roof of the hotel. These are shared gender.
You can also book private onsens and some rooms have their own private outdoor baths.
Dinner is buffet style with over 60 dishes to choose from.
Children have a games room to enjoy – adults have a bar with a karaoke room where you pay by song!
In Nikko: Hoshino Resorts Kai Nikko
Nikko is another popular day trip destination from Tokyo and, if you want to stay in ryokan hotel when you're there, Hoshino Resorts Kai Nikko is a fantastic option.
The rooms are gorgeous and many of them have a lake view.
There are three different types of hot springs bath on the premises, you can also book a massage – and lots of cultural activities are put on by the hotel to help you pass the time during your stay.
If you do want to head out and sightsee, check out our local's tips to Nikko here.
If neither of those fit into your plans, have a look at our post on hot springs hotels in Japan which gives some other suggestions in Hakone, Kyoto and Mount Fuji.
3. Hostels
Japan has a reputation as being very expensive and, while you can find cheaper hotel rooms in the Business or Capsule Hotels, if you're really on a budget then you might be wondering whether Japan has hostels – and it does.
The concept is the same as anywhere else.
Accommodation is no frills and rooms are usually shared with others. Sometimes genders are segregated, other times, dorms are mixed.
Showers and toilets are usually shared.
As in other countries, some 'flash-packing' hostels do offer private rooms or rooms with private bathrooms.
Hostels are good if you're travelling alone and want to connect with other travellers, or simply want to keep the cost down.
So at this point you're probably asking..
Is there anything different about hostels in Japan?
Well some hostels in Japan have a pretty cool bed layout.
Instead of open bunks in a dorm, they have little pod-like beds stacked in rows like a capsule hotel which gives you a bit more privacy than the traditional hostel layout.
One thing to watch out for, particulaly in smaller towns, is that some hostels will ask you to leave the property between 10-4pm.
This is something many hostels used to do wherever they are located, but Japan has hung on to the tradition.
Just double check on this if you do like to come back to your bed to chill out during the day.
Pros of Staying in a Hostel in Japan
They're great if you want to keep the costs down
You'll meet other people
Beds are a bit more private than you might be used to
Cons of Staying a Hostel in Japan
Sharing space with others
Some hostels will ask you to vacate between 10-4pm
Hostels in Japan to Consider
If you want to book a hostel in Japan, it can be worth going through a booking site as not every hostel has a website in English.
Agoda and Booking.com do sell hostels, but, the experts in this area are Hostelworld.
You'll find a full list of hostels all over Japan on Hostelworld.
Like anywhere, hostels in Japan sell out fairly quickly so you should book in advance – and it's essential in a busy period like Golden Week (if you don't know what that is, then check our article on Golden Week in Tokyo here).
But there also a couple of interesting hostels to check out.
Across Japan: Book and Bed
There are Book and Bed hotels in Tokyo, Osaka, Kyoto and more – and they call themselves 'accomodation in a bookstore'
If you want to stay elsewhere, you'll find the other locations listed on the Book and Bed website here.
Across Japan: We Base
Another hostel chain, but, they have some serious cool designs involving cats – that's their hotel in Fukuoka above.
The rooms are pod style.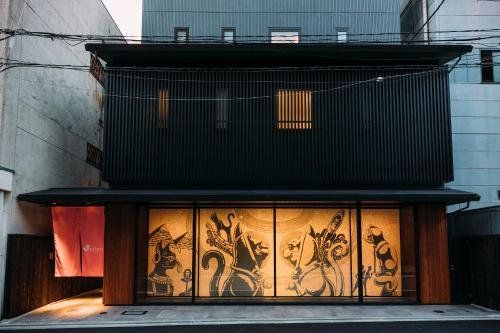 Have a look at the Kyoto branch here.
If you're staying elsewhere in Japan just search for We Base on Hostelworld.
4. AirBNB
AirBNB is available in Japan and is particularly good if you want a larger place to stay with your family, and/ or use of a kitchen.
Properties need to be registered with the authorities and so there might be less choice than you are used to as many hosts dropped out of the programme when this happened.
Rules as to when properties can be rented out are particularly strict in popular areas like Shinjuku and Shibuya
Look at pictures carefully as, even if a place says it sleeps six, that might not be in a configuration you'd want to use – make sure you know exactly how many bedrooms, and actual beds there are, if you don't want to find yourself doubling up on any of these things!
You might find a few more rules than you're used to when it come to staying in an Airbnb in Japan, particularly around things like noise and rubbish removal.
This post from Notes for Nomads is very good at explaining what to expect.
Pros of Staying in an AirBNB in Japan
Can offer more space than a hotel room
Better for families
A more local experience
All AirBNBs must be licensed so they are regulated
Cons of Staying in An AirBNB in Japan
You have to pay upfront and cancellation fees may apply
Rules mean supply in popular tourist areas may be limited
Other Less Common Places to Stay in Japan
The above list covers the most common accommodation types in Japan used by travellers, but, if you're heading off the beaten path a bit more, you might also want to know about these other choices.
1. Machiya
These are old wooden houses, most commonly found as accommodation in Kyoto.
Originally, the houses would have been used both as a home and a business such as a shop or artisans workshop.
They have a very distinct design and lovers of history or architecture might get a lot out of staying in one.
Machiya Residence Inn is a chain that specialise in restoring Machiya and turning them into accommodation. They have over 40 sites around Japan.
See more about their accommodation here.
It's also a great site to visit to learn more about the distinguishing features of a Machiya.
2. Sleeper Buses
If you're really trying to keep the costs down, and have the luxury of time on your trip to get from A-B, spending a night on one of Japan's sleeper buses kills two birds with one stone.
See more about the service from Tokyo to Osaka here.
3. Temple Stays
It's possible to stay at some Buddhist temples in Japan. The accomodation is known as shukbuko.
You don't have to be Buddhist to stay at the temple, but you may be invited to take part on prayers or meditation and you will be expected to forgo meat – some temples may also not serve alcohol.
The most common destination that tourists are likely to stay in a temple is Koyasan or Mount Koya.
This is the one of the most sacred sites for Buddhism in Japan and the start of a spiritual walk known as the 88 Temple Pilgrimage.
Temples here are more likely to speak English and some are available on booking.com
Have a look at the options in the area here.
4. Manga Cafes
Okay, this is probably not going to be your ideal holiday experience, but if you get caught out by Japan's notoriously early-ending trains and need somewhere cheap to crash before the next train, you can sleep in certain manga cafes known as Manga Kissa.
Manga Cafes are coffee shops that have manga comics for their patrons to read and buy – but, some of them also have small sleeping areas where you can catch a nap during the day, or, crash for a few hours at night.
There is a bit of a process involved in staying in a Manga Kissa, especially if you don't speak Japanese, so, if you are interested in trying in, have a look at this article which explores what you might be asked to do.
5. Glamping Sites
Okay, it might not be what you expect to find in Japan, but I've noticed a few of these launching in recent years – and, if you're going to one of the locations in which you'll find them, you might want to check them out.
Glamping is basically posh camping and so you'l find tents containing actual beds and other home comforts.
Most glamping sites in Japan are in more rural areas, but a few in touristy locations that you might want to investigate include
Sana Mane on the art island of Naoshima which offers bubble-style tents. There are also yurt style tents on Naoshima.
Inn the Park in Fukuoka and Nuzuma, Shizouka, sees you staying in floating ball like tents suspended between the trees.
6. Minshuku
These are guesthouses, rather like a B&B in the UK.
Located mostly in rural areas, they are often family owned with just a few rooms.
You'll sleep in a Japanese-style room on a futon on the floor, but unlike a ryokan, you'll make up your own bedding yourself.
Dinner and breakfast are usually included in your room rate.
Mishuku are pretty no frills, but they are a way to meet local people, and give back to the local economy and are often the only choice of accommodation in small towns.
See more in this guide from the JNTO
So there you have it – a guide to all the different types of accommodation in Japan that you might pick to stay in. I think! If I forgot a type of hotel, or other sleep spot, you're interested in checking out, let me know in the comments and I'll investigate.
---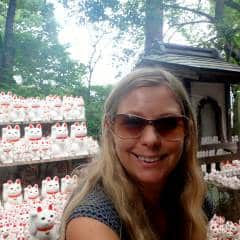 Who Writes This Blog?
My name is Helen Foster and I'm a journalist and author. My travel articles have appeared in publications including The Australian, RAC Horizons, Jetstar Magazine, Sainsbury's Magazine and more.
I've travelled to Japan seven times before, both solo and with my partner – and am just planning trip number eight