There are a lot of hotel rooms in Osaka, but, like the rest of Japan, space can be a bit limited in many of them – so, what if you want a little bit more erm, room, to your room? Our guide to Osaka hotels with large rooms helps you find the perfect spot for you…
As I explained in the post on this subject I did on Tokyo hotels with larger rooms, this is something Mr Japlanease and I try to find when we travel together, and sometimes, it can take a bit of hunting, especially in the less spendy end of the market – in fact, I might actually have written this post just so I could book my next trip!
Disclosure: Some of the links in this post are affiliate links which mean I earn a small commission if you use them to book. This does not cost you any extra. Japlanease is a member of the Amazon Associates program.
Our Favourite Hotel with Space in Osaka
If I had to pick one hotel with large rooms in Osaka to stay in it would be the Fraser Residence Nankai. It was where I stayed on my first trip to Osaka, and the one I always try and book into since.
The entry level rooms in this hotel start at 28 square metres and I love the clean, white look to the hotel.
If you have a bit more to spend, then the one bedroom apartments are 40 square metres and the fantastic two bedroom executive apartment, which sleeps two adults and two children is a whopping 77 square metres – and has a full kitchen and dining area.
Although you might not need the kitchen as the hotel is right smack in the middle of Namba which means you've got restaurants literally on your doorstep.
It really does have everything. The only issue is that it's a little bit on the higher end of our budget for this trip – although it fits into my 'moderate' budget below – although if you catch it early, you can get some great deals.
These go fast though – we found a great one here for our next trip but hadn't quite sorted out our final dates yet and by the time I went back the next day, it had been snapped up. So, if you see a good deal for this hotel, don't hang around!
Other Hotels in Osaka with Large Rooms
If that one doesn't work for you though, there's plenty of other spacious hotels in Osaka. And we're about to pick a heap for you.
We're using 23 square metres as our cut off for a large room – that might not seem huge when you can get suites at 40-50-60 square metres in other countries, but considering some Japanese hotel rooms can be as small as 12 square metres, and most of the doubles we see measure up at around 16-17 sq metres, 23 is relatively roomy.
Also note, I am only including traditional hotels (or apartment hotels) on this guide rather than any kind of individually-held apartment or AirBNB – or some of the other types of hotel in Japan like ryokan (see a full list of Japanese accommodation types here).
Nor am I picking hotels where the only large room in the inventory is one super pricey suite. Everywhere on this list has a choice of large rooms available.
A Guide to Pricing
When I describe a room as reasonable, that means that, when I looked it was under AU$200 (around US130) a night – which is my normal budget for a hotel. Rooms described as moderate are between AU$200-400 a night and anything described as Spendy is over AU$400 (around US520) a night.
I don't quote more specific prices as prices vary between dates, but, the range at least lets you gauge where, in the scheme of things, each property sits when comparing them against each other.
We're also only looking at hotels in the most popular areas for tourists to stay in Osaka – namely Namba and Shinsaibashi (and I've split those up), the area around Shin Osaka, the main bullet train station in Osaka, and in the businessy area of Umeda – and then, there are a couple of outlying hotels you might choose for other reasons.
Namba Hotels
Why Stay in Namba?
Namba is one of the most popular areas to stay in Osaka. It's located south of Dotonbori, the canal that divides the southern side of Osaka.
Not only does staying in Namba surround you with bars, restaurants and the bright lights of Dotonbori, it's also close to many of the other Top 10 sites in Osaka like Kuramon Market, Den Den Town and Shinseikai.
There are also easy transport links to day trip destinations like Nara and Kobe from the local train lines and the JR line at Namba station.
We've already talked about the Fraser Residence in this area, but here's a couple of other options…
3 Namba Hotels with Large Rooms
Citadines Namba – Reasonable
If you've read our post on larger hotel rooms in Tokyo, then you'll know I'm a big fan of the Citadines brand so it's no real surprise that they appear in this post too.
The only reason they don't appear as my first choice on this one is I like my hotel rooms all white and clinical and the Citadines Namba has a more colourful decor, but when it comes to excellent value, large rooms and location, especially if you're going to be using local trains, it's scoring top marks.
The hotel is located in an older building, so it's not a super tall high rise, but, this was only converted into a Citadines in 2020 meaning the interior is still modern and new.
Rooms start at a roomy 27 square metres for a premium twin and go up to 63 square metres for a two bed suite.
There's also a fitness room on site.
Hotel S Presso Central – Reasonable
The starter rooms in this hotel are called Deluxe Suites. They start at 26 square metres and contain a small kitchen as well as two beds.
The next rooms up are 30 sq metres, but have an interested curved design for not much money.
If you're travelling as two couples, or with children, they also have one and two bedroom apartments.
Do note that the S Presso have a couple of different locations in Osaka including another hotel in Namba. That one has much smaller rooms so make sure you're booking the Central if you like the look of this one.
Mimaru Namba Osaka Station – Spendy
Mimaru are the hotels for you if you're travelling as a family – they sleep a lot of people, in various configurations.
If you've got a bit more money to splash you can book an apartment, if you're trying to keep the costs down, and don't mind sharing a room with your kids they come equipped with bunk beds!
Rooms start at 35 sq metres for a room that sleeps four – but with a clever design that sees the bunk beds tucked away in alcove, or above the other beds, there's still a light airy feel.
They also have a kitchen and a microwave if you want to eat in a few nights.
If you'd prefer a little more privacy, then you'll want to look at the apartment style rooms that start at 51 sq metres.
If this branch is booked on your dates, they have numerous other hotels around central Osaka that you can also check out.
Shinsaibashi Hotels
Why Stay in Shinsaibashi?
Namba and Shinsaibashi are both parts of the Minami (South) area of Osaka and the selling points of Namba also apply to Shinsaibashi in that you're not far from Dotonbori and definitely in the most vibrant part of town.
I've separated them here though as while Namba is south of the Dotonbori canal, Shinsaibashi is on the northern side.
That makes it closer to the shopping area of Amerika-mura and Osaka Castle than some of the hotels in Namba.
Shinsaibashi station is also a great hopping off point for day trips to Nara and Universal Studios.
4 Shinsaibashi Hotels with Large Rooms
Miyako City Osaka Hommachi – Reasonable
If you want a stylish room, and space, at a lower price, then have a look at the Miyako City Osaka Hommachi.
While the entry level room is a little smaller than our cut off (it's just 21 sq metres) the next category of rooms, the Superior Doubles are only a little bit more money – and they come in at 23 sq metres – and they have a balcony.
If you've got a little bit more to spend (but not much as these only just squeak outside our 'reasonable' price range), have a look at the Corner Double Rooms with a Wide View. These are 27 square metres – but are all windows. I want one!
The location is the northern part of Shinsaibashi, but you're still only a 22 minute walk from the famous Dotonbori lights.
Hotel The Leben Osaka – Reasonable
With standard twin rooms starting at 30 square metres, a double at 37 square metres and bigger twin rooms having 40 square metres, you're going to have plenty of room to spread out in this hotel.
I particularly like the layout of the double and superior twin rooms that divide off the sitting area from the bed slightly.
It's close enough to the Dotonbori action to make it super close for a night out (a 17 minute walk) but because the actual area it's located in is a bit quieter it's perfect to escape the hustle and bustle.
Osaka Excel Hotel Tokyu – Moderate
Situated close to Namba Shrine, in the far north of Shinsaibashi the standard rooms here start at 23 square metres.
The hotel has a modern look and a small fitness centre – if you haven't managed to walk enough during your sightseeing!
The hotel was only built in 2019 and has an interesting design in that it is actually integrated into the main gate of the nearby Minamimido temple. Some rooms therefore have a 'close up' temple view.
Takuto Hotel Osaka Shinsaibashi – Reasonable
Entry level rooms start at 32 square metres in this modest, but spacious property.
They like to add extra beds, so it's another one to look at if you're travelling with children and don't mind sharing a room.
You'll also get a small kitchen, a balcony -and, an in room washing machine (the importance of which can't be underestimated if you're travelling light to Japan).
Like most of our larger hotels in Shinsaibashi, it's located north of Shinsaibashi station close to Namba shrine – yet still only a 15 minute walk to Dotonbori.
It might not look quite as glitzy as some of the others on our list, but it's clean – and you're not going to beat it for value for money.
Shin Osaka Hotels
Why Stay Near Shin Osaka?
Shin Osaka is the main bullet train station to and from Osaka.
It doesn't have the bright lights and glitz of Namba or Shinsaibashi, but, if you're spending most of your days using up your Japan Rail pass taking day trips to Kyoto, Nara, Hiroshima, Himeji or any where else that requires a shinkansen trip, staying here is going to save you 20-30 minutes in travel time from a hotel in Namba – and that adds up on a long day.
If you want space though, it's not exactly brimming over with choice!
Hotels Near Shin Osaka with Large Rooms
Courtyard by Marriot Shin Osaka Station – Moderate
Rooms at this popular chain measure 30 sq metres with either king beds or two singles per room.
The selling point of the hotel is how close it is to Shin Osaka station, but, that comes with a downside in that you might hear some train noise from your room.
If you are concerned, then pick one of the room categories specifically named as a higher floor.
If you're travelling as a family, this is also one of the properties in Osaka with adjoining rooms.
Umeda Hotels
Why Stay in Umeda?
Can't decide which is better – being near the bright lights for your evening entertainment or the station for your day time ones – them Umeda could be your solution.
It's located kind of between the two and, while it doesn't have many touristy sights of it's own – just a giant ferris wheel and the Umeda Sky building (above), it does have a lot of business hotels – many of which do have larger rooms.
It's also a great place for shopping – and, if you're taking day trips from JR Osaka station (different from Shin Osaka) then this is on your doorstep.
---
PS: If the Umeda Sky Building is on your Osaka to do list, you might want to look at our guide to the Osaka Amazing Pass which can get you in for free.
---
3 Hotels With Large Rooms in Umeda
Harmonie Embrassee – Moderate
With just 40 rooms this hotel feels like a boutique hotel but because it's located on top of another building it gives off 'big hotel' vibes – and views.
There are four room types and they start at 34 square metres – each has a different colour scheme.
This view from the bath in the super swanky Ever White Suite (80 square metres) looks amazing!
All the rooms also have balconies.
Conrad Osaka – Spendy
What's that? You'd like a 50 square metre room to run around in in Osaka. And you'd like your hotel to have a swimming pool, a decent gym, a spa and a bar with views of the city – well, step right up, the Conrad Osaka ticks all your boxes!
Located on the highest floors of an office tower, all the rooms have floor to ceiling windows with an amazing view.
It's not the cheapest hotel on our list, but if you're looking for something with a touch of luxury, it could be the one for you. The Trip Advisor reviews are glowing with 780 excellent reviews – out of 953 total reviews!
Intercontinental Osaka – Spendy
Another property with a touch of luxury, the rooms at the Intercontinental start at 41 sq metres and go up to two bedroom apartments measuring 90 square metres.
There's an on-site indoor pool, a spa, a well-equipped fitness room – and a public hot bath for soaking away the day's aches.
It's also an excellent hotel for transport links as it's next to the JR Osaka station and the Umeda metro station and the Nakatsu line for Kobe.
Other Hotels with Large Rooms to Check Out
While the above are the main areas most tourists choose to stay in while visiting Osaka, there's a couple of other hotels you might want to consider depending on your holiday plans – or, your love of heights!
Osaka Marriot Miyako
If you like your hotels on a high floor, this one will make you very happy – as the Marriot Miyako is located on floors 38-57th of the Abeno Harukas building, aka Japan's tallest skyscraper (and one of the top sights in Osaka).
That's it, towering over the skyline above.
The standard rooms start at 38 square metres, and not suprisingly every one of them has an amazing view.
The hotel is located in the far south of Osaka, but is a short metro ride to the bars, restaurants and sights of Shinsekai and, with a direct link to the Tennoji metro station, everywhere else you want to see is also a short train trip away
The Park Front Hotel at Universal Studios Japan
Universal Studios is only around a 30-minute train ride from central Osaka so it's easy to travel to as a day trip, but, if you do want to stay at a hotel on site and want both space and convenience, you need to look at the Park Front Hotel.
It's located just a minute from the park gates and the same distance from Universal City station.
A standard room starts at 30 square metres, or upgrade to a Park View room and you'll get an extra 10 square metres and a chance to plan your route around the park as you overlook the Studios themselves.
They also offer rooms that sleep three or four if you've got the kids with you and don't mind sharing a room.
So there you have it. Our guide to the 13 best hotels in Osaka if you want a larger room. Did we miss your favourite though? In which case, then please add it to the comments to give people some extra options.
And if we didn't quite find a room that worked for you, check out these top tips…
Top Tips to Find a Large Room in Osaka
Having spent quite a lot of time doing this, here's a few ideas on how to find a hotel with larger rooms in Osaka – or Japan in general – relatively quickly.
Look in Businessy Areas: It's not always the case, but generally areas with lots of western-style business hotels have larger rooms (Japanese business hotels are completely the opposite though – they tend to be tiny)
Check the numbers: Many sites such as Booking.com actually show you the square footage of the room. I'd class anything over about 25 sq metres as pretty large for Japan.
Check the bed size: Anything offering a queen or king bed is likely to generally be on the larger side. Note though, an extra-large double is often not a king as it is elsewhere, it's usually a 160cm bed. If you want a king-sized bed, look for the word king. Sometimes you need to go to a couple of sites to work out what size the bed is… or, look for these clues.
Check where the bed is positioned in the pictures. If one side is against the wall, it's going to be a smaller room.
Check the pillows in the pictures. Some photos can make a room look really big, but then you realise what looks like a king size bed in a large room, has just one pillow in the middle of the bed and, it's actually against the wall. The pillows always give you a good idea of bed size which helps you judge the room.
Consider a twin room: If you're looking for space on a budget, this can be one way to gain a few square metres. Twin rooms are generally 2-3 sq metres bigger than a standard double.
Or try a Hollywood Twin: You might see a Hollywood twin mentioned in some hotels – I only discovered when researching my new trip what this actually is. It's when two single beds are pushed together – which gives you a bit more space to sleep than a double.
---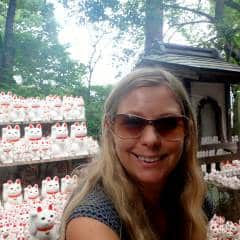 Who Writes This Blog?
My name is Helen Foster and I'm a journalist and author. My travel articles have appeared in publications including The Australian, RAC Horizons, Jetstar Magazine, Sainsbury's Magazine and more.
I've travelled to Japan seven times before, both solo and with my partner – and am just planning trip number eight