The big news in the Japan planning world this week was the announcement that the Japan Rail Pass was increasing its prices – by a LOT. So, what does this mean for your trip – do you need to change your plans, increase your budget or scrimp and save for the next six months to buy your ticket?
We've hashed out the details – and, it might not always be as bad as it first looks…
Disclosure: Some of the links in this post are affiliate links which means I earn a small commission if you use them to book. This does not cost you any extra. Japlanease is a member of the Amazon Associates program.
How Much is the Japan Rail Pass Increasing By?
Over 60 per cent. From some time from October (the exact date hasn't been announced), the price of the passes will go up as follows (children's passes are half this rate)…
| | | |
| --- | --- | --- |
| Type of Pass | Old Cost (outside Japan) | New Cost |
| 7-Day Ordinary Car | 29,650 (US$220) | 50,000 (US$372) |
| 14-Day Ordinary Car | 47,250 (US$351) | 80,000 (US$595) |
| 21-Day Ordinary Car | 60,450 (US$450) | 100,000 (US$743) |
| 7-Day Green Car | 39,600 (US$295) | 70,000 (US$521) |
| 14-Day Green Car | 64,120 (US$477) | 110,000 (US$818) |
| 21-Day Green Car | 83,390 (US$620) | 140,000 (US$1041) |
That's pretty shocking and at first I thought 'well, that just made everything stupid money' – but, then I thought about things a bit, and realised that while yes, it's true that it will cost some people a lot more to do their trip (which sucks), it might not be as bad as it looks for everybody.
What Does The Increase Mean to You?
First up if your trip is before October, don't stress, you can buy your pass at the current prices no problem as the increase only comes into play in October.
You just need to decide where is the best place to buy your pass for the amount you want to spend and how you like to travel – and we have a post on where to buy passes here that helps you decide.
However, if you're travelling after October, it may no longer be cost effective to buy the Japan Rail Pass.
Busting the Golden Rule
The old rule with the Japan Rail Pass used to be that, it broke even if you were doing a round trip between Tokyo and Kyoto or Osaka – and, one other day trip. Travel even more than that and it saved you money. That no longer applies.
For most tourists doing the traditional Tokyo – Kyoto – Osaka route (with some small day trips like Nara thrown in), the newly priced 7-day Rail Pass won't even come close to paying for itself.
Here's the numbers…
Return trip Tokyo to Kyoto – 27,300 yen
Day trip to Osaka – 1160 yen return
Day trip to Nara – 1400 yen return
Total – 29,860 – nowhere near the amount of the new 7-Day Pass
Admittedly, if you add in a day trip to Hiroshima, the new pass would break even – as that's 22,200 yen (but see below on why even that might be the best use of your cash…).
So, Here's the Surprise…
While at first the price rise looks pretty shocking, and I really feel for anyone who has budgeted their trip on the old prices and are a bit upset/annoyed right now, to analyze the real effect of things, the first thing you need to do is get out of the 'we have to have the big JR Pass to get around Japan' mindset and take a look at your trip costs.
The fact is that many people doing the traditional Golden Route tour of Japan won't end up spending that much more not buying a Japan Rail Pass and instead buying a return Shinkansen ticket between Tokyo and Kyoto/Osaka, then paying for their day trips with cash or on a Suica/Pasmo/ICOCA card (like Opal cards in Sydney or Oyster cards in London).
In our example above, the cost of buying a return Shinkansen ticket to say Kyoto – and paying locally for day trips to Nara and Osaka will only cost you 29,860 yen – that's just 210 yen more than the old price of the pass.
So, while the rise in price does look pretty shocking when you first see it, if you get out of the idea that you HAVE to have a Rail Pass, depending on your itinerary you might not end up spending that much more than you would have just buying normal tickets.
It's also got easier to buy tickets in advance with companies like Klook offering the chance to book in advance – see more about that here.
It's pretty easy to work out how to book tickets with Klook, if you do want more advice, we've also done a longer post on how to buy Shinkansen tickets in advance or your options to buy them in Japan itself.
Longer Trips Will Need Some Research
If you're going further afield, planning day trips to Hiroshima, Okunoshima (Bunny Island) and/or Naoshima (above) from Kyoto or Osaka for example, it is going to cost you more to do your itinerary now than it would have buying the 7-Day Pass at the old price, and I'm sorry, it sucks when you're super excited to have a spanner thrown into the works – but, you also don't have to buy the newly-priced Japan Rail Pass to do your trip.
Japan has a lot of what's known as regional rail passes that focus on different trips around a single area of Japan, and combining these with other tickets can work out cheaper than just buying the new Rail Pass.
For example, great pass for the day trips above – Hiroshima, Okunoshima and Naoshima – for example is the Kansai Area Hiroshima Pass which could take you to all three of those destinations across five days for 15,000 yen (and get you to Nara, Osaka, Himeji and a few other places too). Add your round trip from Tokyo and you're paying 42,000 yen. More than the old pass, but less than the new one.
There are a few different Kansai Passes and we explain the difference as simply as we can in this post on the different Kansai Pass options.
If you have a bit more time to get to Kyoto or Osaka, you could also look at the Hokuriku Arch Pass which will let your travel from Tokyo to Osaka and Kyoto (and back if you can fit it in) via Kanazawa (below) for 24,500 yen – half the price of the 7-Day pass at its new price.
But you will have to take it slow as you can't use the Tokaido Shinkansen – the normal train you'd get between Tokyo and Osaka which does the journey in 2 hours.
The Hokuriku Arch Pass is a sightseeing pass designed to let you see more of the areas of central Japan. To be honest, you'd probably use it to go one way and then get a single rapid shinkansen ticket back to Tokyo – but that would still be less than the Rail Pass.
Admittedly, one reason that people tended to buy the country-wide Japan Rail Pass in the first place was that trying to work out which of the regional passes goes where and how you can use them can be very complicated, and if you're short on time and not so worried about money, you might think the extra few thousand yen buying the country-wide pass is better than spending time poring over train route maps.
But, if you do want to save as much as possible, those spending time in one area doing lots of day trips or short hops between cities, might want to look more closely at the different regional passes in the area you're visiting.
Right now, these haven't had the substantial price increases that the Japan-wide Rail Pass has experienced.
What Will It Mean to Itineraries?
One of the nice things about the Japan Rail Pass was that it allowed you to add extra cities to an itinerary for not much extra money.
I don't think Kyoto, Osaka or Nara are going to suffer from the change – but, it's possible that fewer people might hop on the train to visit Himeji Castle for a few hours when they have to pay an extra 4600 yen, or go to Hiroshima for the day (21500 yen or 15,000 with the Kansai Hiroshima pass) than when those trips felt like a free bonus.
But maybe the temptation to not try and pack everything into seven days might be good for us all. We'll get to slow down and explore where we are staying a bit more deeply rather than rushing from one big sight to another.
And as for longer trips – the 7-day pass does pay for itself if you're going from Tokyo to Nagasaki and back – but, with the journey taking eight hours meaning two days of that journey spent on the train, flying might starts to sound a lot more appealing – although of course that brings up a whole host of other issues, I'm not getting into here.
Can't You Just Buy Your Pass Now and Beat the Rise?
The voucher you exchange for your JR Pass has a 90-day window from when you buy it to when it has to be exchanged for the pass itself. Add to this the fact that when you do exchange your pass, your first day of travel (ie the day when your 7,-14 or 21-day period begins) can be 30 days after the day you exchange it made people wonder if they could buy passes early to beat the rise.
When I first published this post, we had no guidance on this, but as of July 4th, we now know the situation officially as some of the main companies selling the pass have come up with their policies.
And the advice is yes you can – if you are arriving in Japan before December 28th.
Here's what the companies who have come out with advice have said
Advice from Klook
'Customers will be able to purchase the Whole Japan Pass at the current price until September 30th, 2023 for travels before December 28th.
Customers must exchange the voucher physically in Japan before 28th December 2023 and activate within the next 30 days.'
Remember though, the voucher is only valid for 90 days. Do not buy it more than 90 days before you're going to be in Japan and able to exchange it for your pass or it will expire.
Advice from JRPass.com
'The final date of sale is yet to be announced, what we do know is that old vouchers will be honored up to 3 months after the issue date. As the changes are set to go live in October, we highly suggest ordering your passes before September 28th where possible. Note that exchange orders placed by this date can be activated in Japan until Dec 28th, 2023.
After the updated price goes live, it will no longer be possible to order vouchers at the old rates.'
Remember again though, the voucher that you exchange for your pass is only valid for 90 days so don't rush into buying this before then.
You do also still have a 30-day grace period after the voucher is exchanged to set up your start date so, theoretically, someone arriving on, say, December 26th, 2023, could start using their pass on, say, January 20th 2024 as long they've exchanged their voucher by December 28th and nominated the pass start date as January 20th.
Right now, JR themselves haven't announced a policy about buying from their official site at the old price.
Is There Any Good News?
Trying to look on the bright side here, the price rise might reduce our reliance on the rail pass a bit and that has some positives.
You'll Save Hours of Queuing!
Right now the process to swap the voucher for the rail pass itself is a bit laborious, and, if you choose to swap your pass at the airport (Big Mistake, Huge) you can be standing in a queue for a couple of hours.
Buying your ticket from the ticket machine is going to be much quicker – and as we explain in our post on managing in Japan if you don't speak Japanese, they are in English so it's not that scary.
You Can Buy Tickets from Your Sofa
If you're worried you might get stressed out with a queue of people behind you at a machine, being free of the rail pass opens up the option to buy tickets on the Smart Ex app (if it's available in your country) which allows you to book seats in advance for the Tokaido Sanyo Kyushu line Shinkansen (the one that goes between Tokyo and Kyoto/Osaka) while sitting at home.
And if you do it early you can get a discount. I just bought a single to Kyoto, while writing this, to try it out and it's really easy to use even with a foreign credit card.
Find the app in the app store.
Klook is also offering Shinkansen tickets to order in advance if you don't want to use an app, are in a country where SmartEx doesn't work, or, are traveling on a line it doesn't cover.
See more about Klook Shinkansen tickets here.
Speedy Trains
You'll be able to get to places faster. The JR Pass hasn't traditionally allowed people to travel via the Nozomi trains to Kyoto and Osaka, but, if you're buying your own ticket you can now pick from these too opening up the number of trains per hour that you can pick from.
And, you're also going to be able to use the faster Shinkansen – the Nozomi and Mizuho on the Rail Pass with the purchase of a 'special ticket' aka an upgrade fee – again, they haven't said how much this is yet.
Equal Pricing
If you do decide to buy the JR Pass it will be the same price to buy the pass in Japan, or from the official Japan net website which allows for online reservations (as we said in our piece on where you should buy your Japan Rail Pass, this has benefits for some types of travelers and at certain times of year).
Discounts and Offers
The JR Company also say they are going to be introducing discounts for holders of the Rail Pass – exactly what these will be hasn't yet been announced, but as soon as the information is out there, we'll update this section.
If these are substantial, this could counteract at least some of the rise in the JR Pass.
So, that's what we know about the price rise right now – so to summarize…
The Pass is going up a lot, but, depending on your itinerary, buying individual tickets might not cost much more than the old pass would have.
If there is a big difference then learning your way around the regional rail passes might save you some extra money.
We're working on guides to the regional rail passes that make those easier to understand and help you work out what you need to save the most cash!
Watch this space, or sign up for our newsletter and you'll get an email letting you know exactly what posts we've added across the month.
If you have any more questions about the new rail pass, you might also want to join our Facebook group and ask them there. Official information is a little limited so, the answer to your question might not be available yet, but, definitely ask it.
---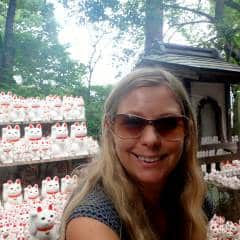 Who Writes This Blog?
My name is Helen Foster and I'm a journalist and author. My travel articles have appeared in publications including The Australian, RAC Horizons, Jetstar Magazine, Sainsbury's Magazine, and more.
I've traveled to Japan five times before, both solo and with my partner – and I've just got back from trip six in June 2023. So, everything here is pretty up to date.
---
---