There seems to be as many places to buy your Japan Rail Pass as there are shinkansen lines – so, where's the best place to buy your Japan Rail Pass? Well, that kind of depends on how much you want to spend and the type of traveler you are – here's what you might want to consider.
Disclosure: Some of the links in this post are affiliate links which mean I earn a small commission if you use them to book. This does not cost you any extra. Japlanease is a member of the Amazon Associates program.
Where Can You Buy Your JR Pass?
It used to be that you could only buy the Japan Rail Pass outside of Japan from third-party websites.
The reason for this was that the pass is only available to people travelling to Japan (who have a tourist stamp in their passport) and so, as everyone using it had to be coming in from abroad, there wasn't a real need to offer it in Japan itself.
However, that changed in the last couple of years so now (and until at least March 31st 2024) you can buy the Japan Rail Pass in Japan as well – either in person from a JR Pass ticket counter, or online in advance of your trip.
This opened up the options of where to buy your JR Pass even further – but also made it a bit harder to decide which was the right place for you to buy your JR pass.
So, we've come up with a few situations where there might be an advantage from booking via a third party, or when you might be better getting your pass direct from Japan, to help you decide which choice is best for you.
How to Decide Where You Should Buy Your Pass
1. Do You Want The Cheapest Pass?
Then there's no question, you're going to want to buy from a third-party supplier.
One of the most fundamental differences between buying the pass from the Japanese supplier and a third party supplier is the cost.
Buying the pass in/from Japan is around 12% per cent more expensive than buying from a company like Klook or JRPass.com.
Here are the exact prices in yen for a selection of adult passes. There's a similar difference for children's passes and other lengths of Green Car passes
| | | | |
| --- | --- | --- | --- |
| Type of Pass | Price in Japan | Price Outside of Japan | Difference |
| 7 Day Ordinary Car | 33610 | 29650 | 3960 |
| 14 Day Ordinary Car | 52960 | 47250 | 5710 |
| 21 Day Ordinary Car | 66200 | 60450 | 5750 |
| 7 Day Green Car | 44810 | 39600 | 5210 |
Note – this will change later this year when new pricing comes in for the Japan Rail Pass. This is going to change a few things, once of which is that it'll be the same price to buy the pass in/from Japan as it will to buy from a third party – see more about what the new pricing might mean here.
Which Third Party Supplier Should You Use?
There are lots of suppliers out there – but here's a few to consider
Klook
I just bought my passes for my next trip via Klook.
I did this partly because I tell you guys to do this and so I wanted to make sure that was I recommending to you actually worked (I've used them for lots of other things in the past, but not the Rail Pass).
And I was impressed.
They came within four days and they come with a handy digital guide that helps you understand how to use the passes.
JRPass.com
I also suggest JRPass.com because of a couple of extras that they can add – more on that in a minute.
JTB
I've also used JTB in Australia the past – and they also have offices in Canada, the USA and the UK and probably elsewhere as well – I have no relationship with them other than as a shopper, but they are on the official list of suppliers from Japan Rail.
To find your nearest JTB office, or a list of other official suppliers in your region, check the list here.
Other Options
That doesn't mean there's anything wrong with other companies. Get Your Guide, for example, now also sell Japan Rail Passes and they're established, legitimate and trusted.
You'll also find lots of other sites with some version of JR Pass or Japan Rail Pass in their name online that are also completely legitimate to buy from, but as I haven't tried them all, I'm sticking with directly mentioning companies I have experience of.
Do Prices Vary Between Companies?
Generally prices are pretty similar between the companies as they based on the cost set by the Japanese rail companies – I'd be suspicious of any company offering the JR Pass a far lower price than the others for that reason.
The thing that changes the price is usually how the pass is shipped to you – courier will always cost more than post or express post.
Here's an idea of how much some of the main companies are charging for a 7-Day Pass today (this is Australian dollars as that's what I can see, but click the links and you'll see prices in your local currency).
| | | | |
| --- | --- | --- | --- |
| Company | Cost of Pass | Cost of Postage | How to Buy |
| Klook | AU$330.40 | Quick Post included | Buy from Klook |
| JRPass.com | AU345 | Courier included | Buy from website |
| JTB | AU$341 | Free or $20 couriered | Contact Your Local Office |
| Get Your Guide | AU$355 | Courier included | Buy from GYG |
| | | | |
If cost isn't so much of a factor though, then there are a few other situations you might want to take into account when buying a pass.
2. How Soon is Your Trip?
If you're going to Japan in less than 14 days, then you're probably best to buy in/from Japan directly. In fact, some third party sites won't even sell to you if you're going in less than 14 days.
The reason is that when you buy a Japan Rail Pass you don't buy the ticket directly, you buy a voucher that you must exchange for the real thing in Japan. This is to prove that you are a tourist and have the eligible stamp in your passport.
When you buy from a third party site, this voucher is a physical bit of paper that they need to post out to you – and so, you need to allow time to ensure it gets there.
When you buy direct from the site in Japan, JapanRailPass.net, you get an electronic version of the voucher there and then – although you do still have to go and swap this for your actual ticket and show your passport once you arrive.
If you're on a budget, but have left things a bit late, and can get to a big city, some rail pass sellers might have an office where you can physically pick up a pass – JTB used to do this in Sydney and I can see Klook offer a Sydney pick up at certain hours – so it's definitely worth asking.
If your trip is further away in time, then you can choose whether to buy direct or from a third party. But don't buy more than 90 days before the day you need to use the pass or the voucher will expire before you get to Japan!
3. Are You a Bit Flummoxed By Japan?
If you're a bit worried about the language barrier, or the whole process of swapping your voucher for your pass and making your first train reservation then you might want to buy your pass from a third party supplier like JRPass.com who also offer a meet and greet add on.
In this service, someone will meet you off the plane, walk with you to the Rail Pass office and help you exchange your voucher for your Rail Pass and assist you with making your first rail booking if you need them too.
If you've order your portable wifi from them, they will also help you pick that up too.
And then they'll take you to whatever transport you're using to get to your hotel and make sure you're on the right train/bus whatever.
It does have a fee, AU$132 (US$89 or £106), but if you're worried that it's all going to be a bit much to deal with after a long flight, having someone to walk you through things could be really helpful.
Get Your Guide offer a similar service.
4. Are You Travelling in Golden Week?
Golden Week is one of the biggest travel periods of the year in Japan.
It occurs around April 29-May 6 (although the exact dates vary by year) and if you're travelling around this time on popular routes like Tokyo-Kyoto-Osaka trains can be very busy. (See more about Tokyo in Golden Week here)
During this time it would be a good idea to buy your pass direct from JapanRailPass.net if…
You're travelling in a larger group and want to ensure you sit/travel together.
You have to get on a particular train
You have luggage that requires space in the oversize luggage area (see our piece on the Shinkansen luggage rules here)
Or if you need to get on a train the day you arrive or the next dayhen you might like the security of being able to make reservations online before you get to Japan.
In any of the above situations you might like the security that buying from Japan offers with regards to being able to make reservations online before you get to Japan.
If you're in Japan for a week before you need to travel or at least a bit flexible with times or days. Or are travelling alone, or as a couple, and travelling with small cases that don't need to use the oversize baggage areas on the train, chances are you'll be fine with a pass bought from a third party so long as you book seats as soon as possible when you arrive in Japan.
5. Do You Hate Queues/Have Lots of Journeys?
Then, you might not worry about paying extra for the pass to pay for the convenience of being able to book your trains and seats from the convenience of your hotel room – which means buying the pass directly from JapanRailPass.net and using the site to make your reservations.
Remember though you do still have to queue to swap the original e-voucher for the pass itself. There's no way around that.
How to Beat the Queues with a Cheaper Pass
One of the biggest mistakes I think anyone can make with a Japan Rail Pass is picking it up at the airport.
It usually doesn't save that much money (especially from Haneda where the journey to town only costs 500-700 yen), the queues can be huge and may only be able to make one onward train reservation. If you can avoid picking your pass up at the airport then do.
Instead, go to one of the other stations to change the pass over – you'll get a full list of stations that have Exchange Offices with your pass, or you can find one here.
Tokyo station is the obvious choice but you might want to try Shibuya, Shinjuku, Ueno or Shinagawa. Try and pick a quiet time like mid afternoon if you want to limit queuing time.
Also, to save time once you do get to the counter, take some time beforehand to use the Navitime app to get a good idea of what time you want to travel – and, even what train number you'd prefer to catch and have things listed.
---
If you want a planner to help with all of that, have a look at our Japan Rail Pass planner at Etsy which offers printable planning sheets (and lots of tips and tricks) for just a couple of bucks.
---
Are You in Transit?
If you're travelling from somewhere that isn't your home base before you reach Japan, then you might not have an address that it's safe or convenient to send the voucher to – in that case, you'll probably want to buy the electronic version direct from Japan.
Final Pros and Cons List
Still not quite decided which is the right place to buy the Rail Pass for your trip, here's a brief summary of the pros and cons for you in a different form.
Buying Direct from Japan
Pros
You don't need to wait for a voucher to be delivered.
You can make seat reservations online which cuts down on queueing
Cons
It's more expensive.
Buying From a Third Party
Pros
You can buy your voucher up to 90 days in advance of needing to use it – which helps with budgeting.
It's around 12 percent cheaper
Cons
You can't book trains online – you have to queue up or use the seat reservation machines
You might find seats sold out on busy lines at very busy periods
So I hope that has helped you decide where is the best place to buy your Japan Rail Pass.
If you do have any questions though please join our Facebook group and ask them there. Either I, or someone else in the group, can then help you out.
What to Read Next
If you're still confused about whether you need a Japan Rail Pass, then have a look at our comprehensive guide on how to make sure it's the right choice for you. Find that here.
If you're just staying in Tokyo though, there's a shorter version that will help explain whether you need a JR Pass in Tokyo – and, spoiler, the answer is probably no!
If you're a bit confused by all the stuff about exchanging vouchers, what trains you can use or how to make seat reservations then you need our guide on How the JR Pass Works.
---
---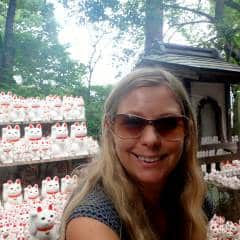 Who Writes This Blog?
My name is Helen Foster and I'm a journalist and author. My travel articles have appeared in publications including The Australian, RAC Horizons, Jetstar Magazine, Sainsbury's Magazine and more.
I've travelled to Japan seven times before, both solo and with my partner – and am just planning trip number eight