When you're planning your Japan trip, especially if you're trying to work out things like how long you need to spend in places, how long it takes to get from A-B or, whether the Japan Rail Pass is worth it, you'll need to use one of the bullet train planning apps. One of the most popular of these is called Navitime and here's what you need to know to make it work for you…
I've just booked my next Japan trip which means the frenzy of planning has begun – and, the first thing I had to decide was whether the cost of an extra week's Japan Rail Pass, plus spending nine hours on a train, to get from Tokyo to Nagasaki outweighed the cost of convenience of flying (spoiler, it did).
Normally to do this I would use the desktop version of an app called Hyperdia. Back in 2022 though they stopped offering exact train timings and so I had to find a new way of planning things.
It wasn't a smooth process – I knew that the two main apps people use to do this were Navitime and Jourdan – but, I was still trying to use the desktop versions of both – which, frankly was a disaster. Swearing a lot, I decided to download the apps – and, that made everything much easier! So, here's my guide on the main issues I faced when trying to use Navitime, so you don't have the same problems.
I'll also highlight some of the really neat little features on the app – it's like a little planning rabbit hole once you're in it.
Forget the Desktop Version
It's in Japanese, if you try and use google translate the formatting goes haywire. Just save yourself the hassle now and download the app.
Choose the Right App
My next mistake was downloading the app CALLED navitime – this is also all in Japanese, and while my Kanji might get me from Tokyo to Kyoto, it's not going to cut in when I'm working out how long it's going to get to Bunny Island!
The app you want is actually called Japan Travel by Navitime.
The icon looks like this.
I'm only using the free version right now.
When you first download and open it, you'll be granted with a screen that looks like the one below
Again, at first I thought that meant I'd downloaded the wrong app and it actually was a travel site selling me things – but, no. If you look along the bottom of the screen, you'll see five icons – Explore, Map, Route and Trip.
The one you want right now is Route. This is where you plan your trains.
How to Research a Train Journey on Navitime
It's actually very simple (a picture of the screen is also below).
Make sure the bubble at the top of the screen marked transit is filled in blue.
2. Add where you're departing from to the first box
3. Add where you're going to in the second box
You'll Love This Feature
A nice touch here is that you can put tourist spots and even hotel names – I was trying to find out how to get to Universal Studios Japan and it came up as an option.
That's even better than Hyperdia where you had to know the name of the nearest station.
4. Next click on the box with the clock on.
5. Add the date you're travelling – it was looking for things well into next year so it goes pretty far out (oh, and the date in the pics is not when I'm going in case anyone is worried I might be revealing when I'm going to be there).
Now choose a rough time – if you don't know for sure, just decide if you think you'll want to travel morning or afternoon and pick a sensible hour to use as a starting point.
6. Lastly, there's a box that says Tourist Pass. This lets you select any kind of Rail Pass you might be trying to use which means that the app will pick the trains you can travel on.
Remember, if you're using a Japan Rail Pass (and some of the local tickets) you can't use the super fast Nozomi trains so it's important to screen those out if you're planning a pass.
If you're thinking about a Japan Rail Pass, then tick this – you'll still see the ticket prices if you do, but it means you only see trains you can actually use.
7. Push Search.
---
Get Our Quick Guide to the Shinkansen
If you need an easy reminder of rules on the bullet trains like what trains you can get or how big your luggage should be, sign up for our Shinkansen Cheat Sheet here.
---
How to Read The Results Screen
When you clock to the next screen (below) you'll see five options that you can pick to get to your destination.
The first line is the time you leave and the time you'll arrive.
The second line is the types of vehicle you'll take – bullet trains are purple and pointy. Other types of trains are the square blue, red, green icons (I think they look like buses or trams) but they are trains. Actual buses are grey and clearly have wheels!
Then you'll see how long the journey takes in minutes – in case you don't fancy doing any maths.
Lastly, you'll see how much the ticket would cost if you bought it yourself
That's all the information you need to plan your trip – and also to calculate if the Japan Rail Pass is worth buying on your trip (see more about this in our much longer post on determining whether the rail pass is going to save you money)
However, a lot of things are going to change after October when the Japan Rail Pass is increasing in price – by a LOT. To check on what that might mean for your trip, have a look at our post on the price increase.
Filtering Your Results
By default Navitime will show ALL the ways you get to your destination and depending where you're going that might include planes.
To stop these coming up, click the dots and lines icon next to the Tourist Pass box.
This allows you to filter your results to remove planes – and any other transport you don't want to use.
Note: Don't just filter it to Shinkansen. Some routes might see you changing on to different types of trains and if you haven't got that box ticked you won't get accurate results.
You can also change which results you choose first – I have Best Route ticked, but there are also options for wheelchair accessible, the shortest distance or even ways to avoid rain (now I know why I was once the only person on a Tokyo train looking like a drowned rat.)
What Does The Paid Version Offer
There is a paid upgrade for Navitime, but if you're just going there on holiday, you probably don't need it as the main extra benefit seems to be GPS.
Google maps probably does the same thing for free.
I managed to plan a month long trip including seven different cities with no issues on the free version.

Other Features to Check Out
So, that's all you need to know to use Navitime to research your travel around Japan. But there are some other cool features on the app that you might want to have a play with.
There's a railway map – which, while it's possibly the most complicated one you'll ever see is super handy to just have quickly to hand. I'm always googling Tokyo metro map on the trains!
You can use it to check smaller trips too like how to get round Tokyo by Metro, or Kyoto by bus. If you're using one of the tickets in these areas like the Tokyo 72 Hour Subway Ticket (click the link to see our full post on that) it'll show you exactly which parts of the trip are covered for that too.
You can also use it to check if other passes like this or the Enjoy Eco pass in Osaka are going to save you money on your trip (see more about Enjoy Eco here)
There's lots of travel information on there – and it's full of tips (even very specific ones like how to use a Japanese air conditioner) and also interesting places to visit and stories behind some big sights.
The map function helps you find free wifi spots, ATMS and other useful spots (although I need to check if it works offline once I get there). You can also click on tourist sites and find out more about them…. hang on, this is thing is going to put me out of business.
That's enough of selling that then!
No seriously, it's a really neat app and I am no longer mourning the loss of Hyperdia.
You'll find it both of the app stores.
Make Planning Your Trip Easier
Organise your trip essentials like Japan rail passes, Sim cards and wifi, airport pick ups and advance tickets to the most popular attractions in Tokyo, Osaka and Kyoto in one place via our trusted suppliers in the Japlanease shop.
---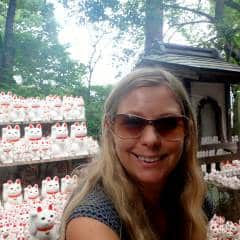 Who Writes This Blog?
My name is Helen Foster and I'm a journalist and author. My travel articles have appeared in publications including The Australian, RAC Horizons, Jetstar Magazine, Sainsbury's Magazine and more.
I've travelled to Japan seven times before, both solo and with my partner – and am just planning trip number eight