When you're deciding where to stay in Tokyo you'll often hear people say that you must stay on the JR Yamanote Line. But what does that mean, why do people suggest it – and, is it even true? We investigate…
What is the JR Yamanote Line?
It's a train line that runs in a circular route around the middle of Tokyo.
It's run by the JR Rail train company and some of the 30 stations on it include Shinjuku, Harajuku, Shibuya, Akihabara, Ueno and Tokyo station – probably all places that you need to visit on your trip (and home to many of Tokyo's Top 10 Sights).
It's very regular with trains running every couple of minutes so you never have to wait ages to get started on your journey.
This is one of the reasons why so many people suggest that you book a hotel on the Yamanote Line, but, before you rush off to do the same – you need to know the pros and cons about using, and staying near, this essential piece of Tokyo transport.
The Yamanote Line Map
This gives you a rough idea of where the JR Yamanote Line stops and how those places relate to each other around Tokyo – there are other stops in between, but these are the ones most of us tourists will want to use.
.
If you want to see all the stops, or how the line relates to the other lines around Tokyo you can use to get around Tokyo, then download a Tokyo Subway Map – the Yamanote Line is marked as the grey and white checked line on this – even though in reality the stations use a lime green like the one above.
Pros of Staying By the Yamanote Line
Convenience
The main one is the point above, it provides easy transport to many of the stations that the average tourist wants to go on their first trip to Japan.
You can just get on one train and sit on it, reducing the risk of getting lost, and cutting down the number of steps you need to take changing lines.
Using the JR Rail Pass
Because it's run by the JR Company, trips on the Yamanote Line are covered by the Japan Rail Pass.
This doesn't mean you need a Japan Rail Pass to get round Tokyo on the Yamanote Line (as we explain in this post on whether you need a JR rail pass in Tokyo, it'll only pay for itself if you take two long bullet train trips) but, if you have a day or two left over on a pass before or after your big trips, then it's worth using the Yamanote Line as often as possible so you can travel for free and get more value from the Rail Pass.
It Has a View
The Yamanote Line is an elevated line which means it often has a view. Which gives you a chance to look out the window and see more of Tokyo.
One thing I do need to measure when I go back to Tokyo though is if this means it's actually fewer steps to the platforms than the underground subway lines – in which case, that would be another selling point for using this over the subway.
Cons of Staying Near the Yamanote Line
People
It's estimated that around 5 million people a day use the line and sometimes it can feel like all of them are in the same carriage as you!
If you're travelling anywhere near the Tokyo rush hour, the Yamanote Line is going to be very, very full. In fact, according to figures the trains are at 97 per cent capacity between 7.40 and 8.40am – with over 37,000 people travelling.
Although to be fair, the same figures show a number of other lines at over 100 per cent capacity – so, perhaps the moral here is more don't travel anywhere in Tokyo during peak rush hour!
Hotel Popularity
Because people get into their head that they need to be near the Yamanote Line hotels that are near the Yamanote stations often cost a little bit more than those that aren't – and they sell out fast.
For example, my favourite hotel in Tokyo, the Citadines Shinjuku (see more about this in our guide to larger Tokyo hotels) is a 16 minute walk from Shinjuku Yamanote Line station – and usually a bit cheaper than its sister hotel, the Citadines Central Shinjuku, which is just a 6 minute walk away from Shinjuku station.
Ah, but you have to walk more, I hear you say.
Well, not necessarily, as, my nearest subway station Shinjuku Gyoemmae is only a five minute walk from the hotel – and, you're less likely to get lost trying to exit and find yourself at completely the other side of the suburb – which may have happened to me a couple of times traversing Shinjuku station in the past.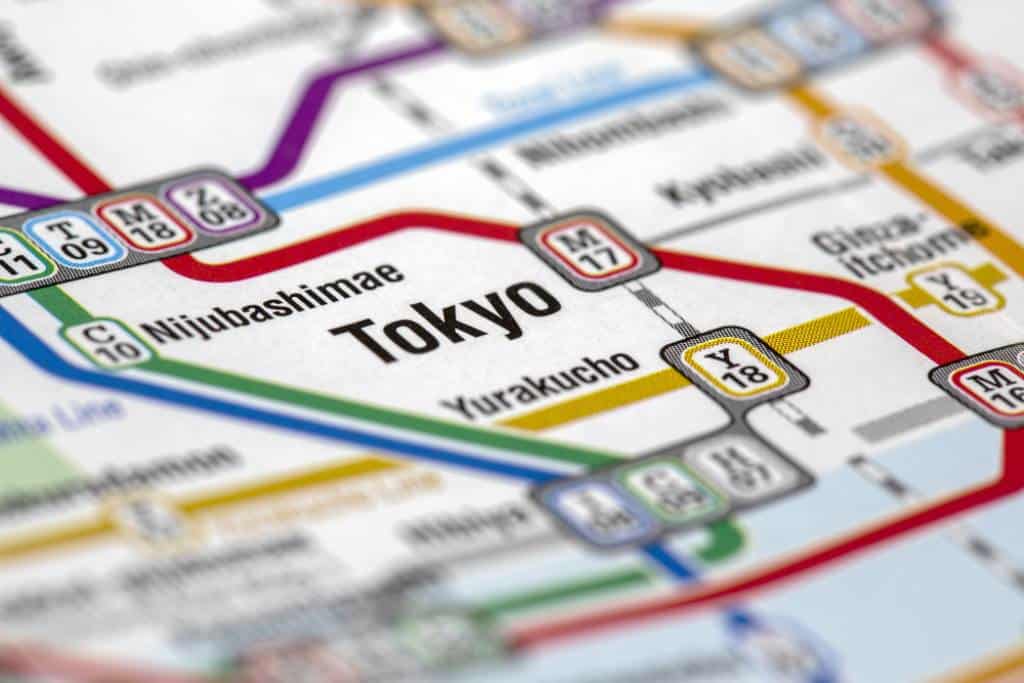 Convenient Doesn't Always Mean Quickest
The Yamanote Line is not always the fastest way to get somewhere – because there are a lot of stops on the Yamanote Line, and because it circles the city to the north and south it can sometimes take longer to get between two points using it.
Mostly this happens when you're trying to get across Tokyo from east to west – or vice versa.
For example, it'll take 13 minutes to get from Shinjuku to Tokyo station using the JR Chuo Line (also included in your Rail Pass), but around 30 minutes to cover the 14 stops it takes do the same journey on the Yamanote Line.
Same as going from Shinjuku to Akihabara – you can do it in as little as 12 minutes on other JR lines, but it'll take closer to 30 minutes on the Yamanote.
And that doesn't factor in whether there's a subway station closer to your hotel – or the sight you're going to see – than the Yamanote Line station is.
In fact, when I punched in a whole load of journeys to the Navitime app, only a few came up with the Yamanote line as the quickest option, even when I said I wanted to use the Japan Rail Pass.
Airport Access
It's not so bad if you're travelling light, or if you're flying into Narita and choose to stay near Shinjuku, Shibuya or Tokyo station as the Narita Express connects directly to these. There are also good connections to Ueno from Narita, but if you're staying anywhere else on the Yamanote Line you'll have to change lines.
Ditto if you're coming into the city from Haneda. Unless you're staying at Hamamatsucho you'll need to change from the monorail to get onto the Yamanote Line to reach your hotel.
So, check how easy it is to do this with luggage – or, book a hotel that also has a Limousine Bus outside, or nearby to get the best of both worlds.
---
If you haven't looked into getting from the airport to your hotel yet, have a look at our guide to getting from Narita to Central Tokyo.
IF you're flying in to Haneda, we also have a similar guide with the easiest ways to get from Haneda to the city.
---
So the Yamanote Line is Rubbish Then?
No, I'm definitely not saying that. There's a reason it's the most used train line in Tokyo, and it's all those pros above… all I'm saying is that don't base your choice of hotel solely on being able to stay near one of its stations.
The main thing when you're deciding where to stay in Tokyo is that your close to any station, so that when you're off out sightseeing you're not already racking up thousands of steps getting to and from any trains you're going to use.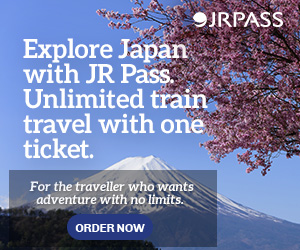 In fact, if you're staying in Shinjuku, avoiding the behemoth that is Shinjuku station and getting on one of the smaller metros like Shinjuku Gyommae or Shinjuku Sanchome or Tochomae might actually be quicker and easier than battling your way through the crowds to get on the Yamanote line at Shinjuku.
Using the 'I must stay near the Yamanote Line' criteria would also rule out staying in Asakusa, one of the most popular, and atmospheric, areas to stay in Tokyo.
I get why people say to use the Yamanote Line as a marker. It's generally a good way of determining whether you're staying centrally rather than out in the boondocks, but, it's not the be all and end all of choosing your hotel location
How to Decide if You Should Stay Near a Yamanote Station or Elsewhere?
These are the four questions I think you should ask yourself when deciding how important proximity to the Yamanote Line is for you…
How are you getting to your hotel with your luggage? Does where you're choosing to stay make this fairly easy or a mission that's going to make you grumpy and with a bad back for the rest of your trip? Admittedly, if it's the latter you might want to look our Japan Packing List guide!
Are you a nervous traveller? Would you rather just get on one train and sit on it than risk trying getting lost changing lines – then, you'll probably enjoy the security of mostly using the Yamanote line and so staying by it would be handy.
Do you have spare days on your Rail Pass and want to maximise this? Then easy access to the Yamanote line, and the other JR lines, is more important for you than someone paying their way round the city. PS: If that's you, have a look at our guide to see if you'll save money with the Tokyo Subway Ticket.
Do you want to limit how much walking you have to do? Changing lines can mean trekking around stations and that can rack up some serious mileage, so, again, in that case you might be better staying near a Yamanote line station and just using it to get from A-B even if it does mean doing a bit of a Tokyo tiki tour to get there.
If you don't fall into these groups then I don't think it's going to ruin your trip to not be right next to the Yamanote line, So long as you are close to another station you'll be able to get around just fine.
Which Main Tokyo Sites Will You Find on the Yamanote Line?
So, if you do decide to stay by, or even just use, the Yamanote line where will it take you? Here's a list of some of the most popular Yamanote line stops for tourists – and a few of the things you'll find nearby…
Shinjuku
You know that Bladerunner image you have of Tokyo – here's where you find it after dark.
Don't miss the giant roaring Godzilla, the atmospheric restaurant lane of Omoide Yokocho and the views from the top of the Tokyo Metropolitan Tower.
Harajuku
Trend central – come here to see quirky shops, food trends like giant stacks of crisps or ice creams shaped like bunnies. Harajuku Yamanote line station is also the closest station to the entrance to the Meiji Shrine – one of Tokyo's best shrines and temples.
Shibuya
The famous crossing is steps outside the door as is the statue of the famous dog Hachiko (see more about him here)
Other highlights include the Shibuya Sky tower and lots and lots of shops!
One of my favourite quirky Japanese vending machines is also hidden in Shibuya – the banana vending machine.
And if you click it yes, that's me in the picture – this is my other blog which covers the more quirky side of Japan and some other places around the world.
Shinagawa
A handy place to board the Shinkansen to Kyoto and Osaka (although it's good to have a reserved seat if you join here as it's not the first stop).
Keep an eye out if you're train comes or goes from Yamanote Line Platform One. You might notice a tile on the floor with what looks like a dinosaur on it.
It's actually supposed to represent Godzilla as Shinagawa was where he first came ashore in his first movie back in 1954.
Takanawa Gateway
There's not a lot of obvious tourist sights here, but, if you're travelling with a techy you might want to jump out for a look around.
The station was one of the first to use robots for cleaning and passenger support and is also the sight of Tokyo's first Touch and Go convenience store where you don't check out your goods, instead, you're scanned as you leave and the money immediately comes off your Suica card.
Hamamatsucho
If you're arriving at Haneda Station and catching the monorail into town you'll change at Hamamatsucho.
If you're looking for the quirky side of Japan, don't miss the peeing boy statue on this station.
As you can see above, the staff dress him up in little outfits that change by the season (thanks to the fantastic Tokyo expert Jonelle Patrick who told me about him)
It's also close to Kyushiburiku garden
Yurakucho
If you're looking for somewhere interesting to spend the evening in Tokyo, jump on the Yamanote line to Yurakocho where, under the train tracks you will find rows of yakitori bars selling drinks and chargrilled skewers.
Wandering around the smoky alleys taking in the sights then pick your favourite to order some goodies.
Tokyo Station
Another important transport stop – you'll come through here on the Narita Express from Narita airport and it's the starting station for the Shinkansen to Kyoto and Osaka
The station itself is also home to one of the best places in Tokyo to buy KitKats (see details here), a row of ramen restaurants from some of Japan's best ramen sellers and Character Street, a great stop for those into Pokemon and other popular manga and anime characters.
Tokyo Station is also a good stop if you want to explore the grounds of the Imperial Palace.
Akihabara
Manga, anime, gadgets, Maid Cafes, video games, lots and lots of Gachapon – and a shrine where you can bless your computer that also has a pony. It's easy to have fun in Akihabara.
Ueno
Ueno Park is one of the Tokyo's biggest green spaces.
You can also enjoy a wonder around the Ameyoko Shopping Street – and then get back on the train at Okachimachi where the street ends (or vice versa)
Sugamo
You won't find this on every guide, but I love this traditional area of Tokyo.
Sugamo is where the elderly of Tokyo go to shop and it's like another world.
You'll find family owned businesses, old ladies chatting with friends on the chairs that are dotted around the street – and a lot of red underwear as it's classed as lucky to wear red next to your skin.
If you have a spare afternoon in your itinerary and want to see a different side of Tokyo, you might want to add Sugamo to your plans.
Ikebukuro
Another good place if you like manga and anime. It's also home to an aquarium, and the sense-assaulting Namco Namja Town (see more about that in our beginners guide to manga and anime)
Takadanobaba
Best known as the birthplace of Astro Boy and a must stop for any fans as the theme song is the jingle at the station. There are also some Astro Boy murals outside.
What Sights Aren't On the Yamanote Line
As I said, one of my issue with the 'you must stay on the Yamanote Line' trope is that for a lot of places you might want to visit you can't get there just using the Yamanote Line or there are subway stations a LOT closer than the nearest Yamanote Line station is.
These include Toyosu Fish Market, Tokyo Disneyland and Disneysea, Senso-ji Temple and Asakusa, Tokyo Skytree, Tokyo Tower, Yanaka District and Tsukiji Outer Market
If the following are on your list of things to do see in Tokyo, just bear in mind that the Yamanote Line stations are not the closest option, you're going to have to change lines or get on different ones to get there – and so it doesn't really matter if you stay right next to it when you're travelling to them.
So What Does This All Mean?
It doesn't mean you shouldn't stay close to a Yamanote Line station, it just means that it shouldn't be the be all and end all of picking a hotel.
So long as you are near a station – and even better if it's a station with a couple of different lines that criss cross it, or close to a couple of different options, you'll still have a great time and get everywhere you want to see.
How To Recognise a Yamanote Line Platform?
The Yamanote Line is pretty easy to use so don't worry about this. You'll see big signs directing you to the right platform.
You're definitely going to find English used on the Yamanote Line trains and platforms (see more here about getting around Japan if you don't speak Japanese).
You'll see signs on the platform and the front of the train which say which way around the loop its going – so, keep our map of the main stations handy as it will pinpoint those main names and you can check that you're going to shortest way.
If you are using the Yamanote Line, can't see an English sign and want to be sure you're on in the right place there are a few extra signs that will help reassure you.
The colour – the trains and many of the signs on the Yamanote Line are a vibrant lime green,
Look for the letters JR – that signifies that you're on a JR line, which is at least a good start.
Know the Kanji. This is the Kanji for the Yamanote Line 山手線 – you might not be able to decipher the third one that easily but the first two are easy.
How to Buy a Ticket on the Yamanote Line
You can use the machines in the ticket hall before the entry barrier, or, pick up a Suica or Pasmo card, load this with some yen and just tap in and out like the locals do.
If you're using your JR Pass, just put it through the barriers like a normal ticket and they will open. Be careful you don't forget to pick up at the other side in all the busyness – they're like cash, if you lose them, they're gone.
So there you have it, our guide to the Yamanote Line and a few ideas to say whether it's a good idea for you to base yourself near it.
If you want to see something really fun, have a look at this graphic representation of where the Yamanote Line would take you in some other cities in the world by my friend Jonelle. Then you'll realise quite how far it covers (and quite how big Tokyo really is).
But if you do have any further questions, please ask them in the comments.
---
---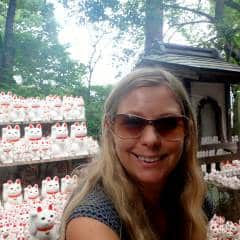 Who Writes This Blog?
My name is Helen Foster and I'm a journalist and author. My travel articles have appeared in publications including The Australian, RAC Horizons, Jetstar Magazine, Sainsbury's Magazine, and more.
I've traveled to Japan five times before, both solo and with my partner – and I've just got back from trip six in June 2023. So, everything here is pretty up to date.
---